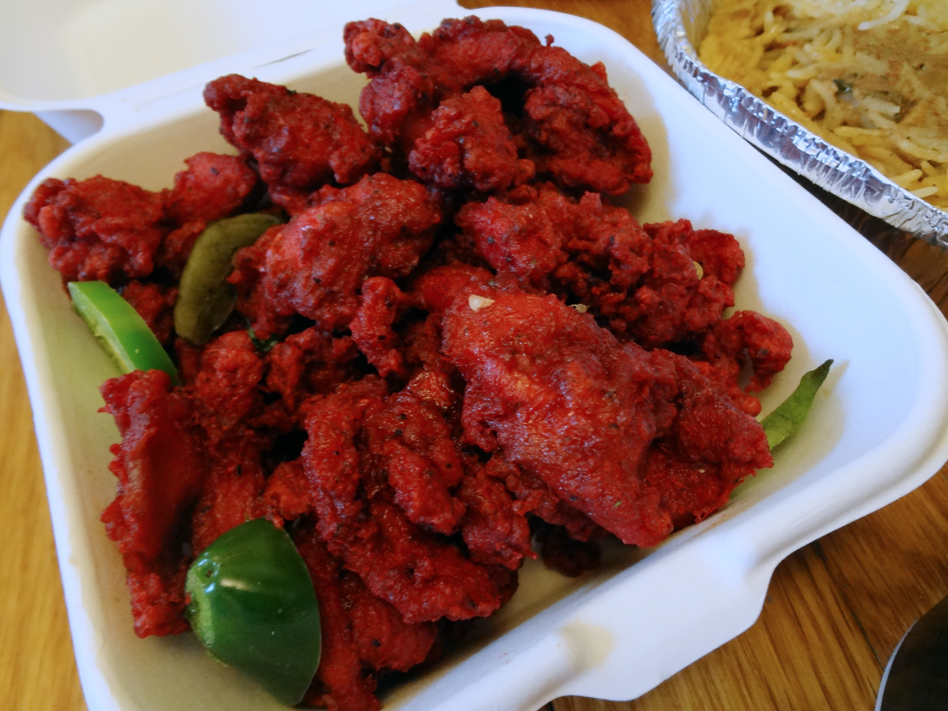 Recently, Adam and I made our way over to Zyka in Decatur, where Scott Boulevard and Church Street meet, which we have heard an awful lot about over the years – and all of it praise. This local favorite is located in what was once a decently-sized church, taking up most of the former church space with restaurant, kitchen, and banquet hall space. The complex also houses a childcare and until recently, a Montessori school.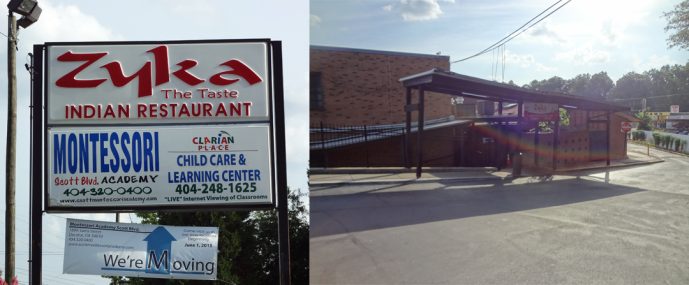 Needless to say, it's an atypical arrangement, and it's not abundantly clear where the restaurant is when you first pull into the parking lot. The entrance near the curving driveway that takes you around the corner of the building from one parking area to another, down a flight of stairs. There is some signage.
The interior is spacious and while there was a number of people ordering and eating, there was plenty of room to go around. However, on this particular weekend, we were feeling antisocial and lazy, so we got the food to go, went home, and curled up with piping hot indian food.
Or, possibly I curled up with indian-pakastani food. I have seen a large number of people refer to this place as an indo-pak restaurant, but I am not savvy enough about pakastani food – the regional differences of indian food for that matter – to recognize the influencing ingredients or dishes that lead people to say this. Anyway, enough about my lack of indo-pak knowledge and on to the delicious food. Because it was delicious.
I know chicken 65 is a dish you see around on indian menus, but it has such a whitebread name that I have always avoided it, presuming it to be some sort of indian food version of General Tso's chicken. It is a dish that actually originates from India, but with so many origin stories that it doesn't seem anyone really knows what's what. At any rate it is very flavorful and just the right amount of spicy – definitely a dish I will look out for on other indian restaurant menus in the future. No wonder it is so popular.
The biryani was quite yummy, though it doesn't stick out in my memory as much as the one I had at Cardamom Hill does. Still a solid choice, and a nice way to work an uncommon ('round here at least) protein into your diet.
Saag paneer is one of my all-time favorite dishes. All indian dishes feature spinach please me, I feel like the cuisine really knows how to handle spinach. This one was creamy and a bit oily and completely satisfying. Soul food.
To top it all off, I had a mango lassi. To be honest, I don't remember as much about the subtleties of it as I do the one I had at Naanstop, but that's probably because this one was more normal. It was delicious and I drink it very quickly as a result, I do remember that.
I am glad we finally got acquainted with this neighborhood gem. I really liked Zyka, and while I am still likely to order from other local indian spots that deliver to my home on evenings when it's yucky outside and I have a yen for a pre-made meal, I do genuinely intend to visit Zyka in the future. There are several items on the menu that caught my eye, including a 14th-century stew that I really want to try. So, if you've never eaten at Zyka before, or never eaten at a restaurant in a former church before, I urge you to go. 4 stars!
emily
Nerd. Foodie. Gamer. Homecook. Perpetual planner. Gardener. Aspiring homesteader. Direct response graphic designer. I use too many damn commas.