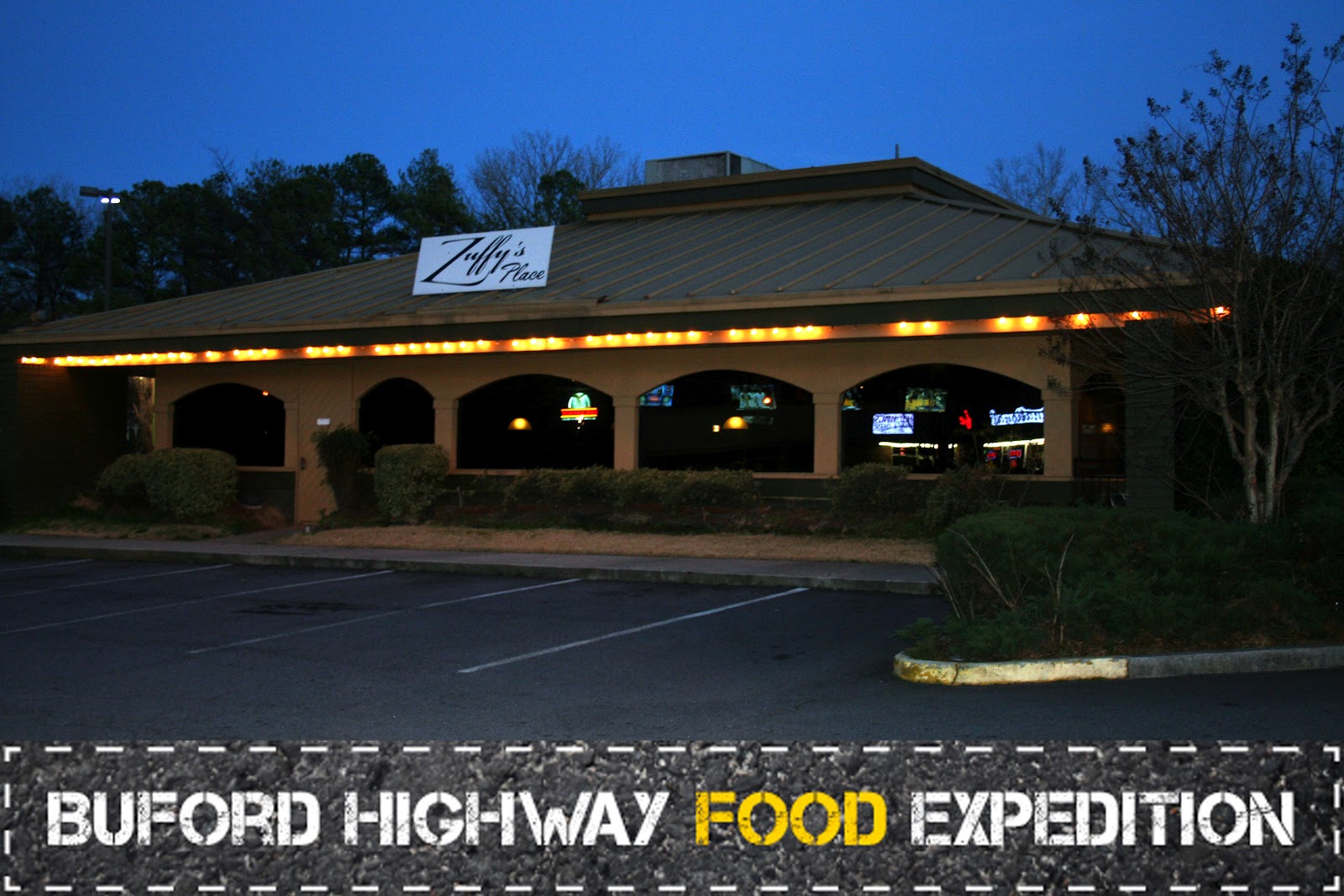 Zuffy's Place is no longer.
The latest spot on the BHFE is Zuffy's place. Eyeballing it from across the street at China Feng last week, we weren't sure what it would be like – the windows are very dark and the exterior, while well-appointed, give very little away. We actually thought it was a strip joint momentarily, since a mobile experience on their website made it hard to tell that the little picture of the stripper cake-topper wasn't actually a stripper.
For Zuffy's, we had husband and I, Ash and Steve, and Lauren (you'd recognize her face from Meat Week). Lauren had eaten recently, so she stuck to booze and dessert (always a winsome combo). We grabbed some tables in the corner near the band pit and the foosball table. There were also booths, bar seating and a decent-looking patio to choose from. Everything looked pleasantly bar-y, but not dive-y. I spotted a shuffleboard and a Golden Tee machine on the way to the restroom, so it looks like there are plenty of fun things to do besides eat and drink. In fact, according to their website, they regularly have live music, open mics, dancing, euchre and texas hold'em.
Front door and patio view.
We started the festivities off with three appetizers and a pitcher of Swamp Juice ($20), which is apparently a variety of flavored rums and fruit juices. We loved it. It had a grapefruity-pink appearance and a very sweet smell. The five of us actually made our way through two pitchers of the stuff (there was a bit of a snaffu where we didn't quite order the second pitcher, but we all loved the stuff so we didn't make a fuss, and then we were slightly under-charged for both pitchers so it came out really drunk well in the end), plus a draft Newcastle.
As a result we were probably the loudest and giggly bunch in the place, though we noticed plenty of people sitting around the bar having a good time, as well as couples and small groups in the booths.
General interior shot. It filled up a bit more later on.
Our appetizers were Kari Kari ($6.95), Cajun Egg Rolls ($7.95), Calamari ($7.95).
Kari kari is supposedly a Japanese dumpling kind of affair, but I couldn't find anything about it on the internet, so maybe it's a fusion invention. Here's what the menu says about them: "Six Japanese-style dumplings, stuffed with fresh crab meat and cheese, and served with our homemade Ponzu sauce." They were crispy on the outside and surprisingly creamy on the inside. Dipped in the ponzu, they were quite tasty and were met with general approval.
The cajun egg roll was a big meaty thing cut in four pieces and drenched with sweet chili sauce. It also was met with general approval, despite not resembling a plate of egg rolls, which is what we were expecting.
The calarmari arrived also drizzled with sweet chili sauce, which was a pleasant twist. Both Steve and I liked went back and forth between using the chili sauce and the marinara sauce, enjoying both combinations. The calamari pieces were mixed (I always like to see/nom on the tentacle parts as well as the rings) and not at all rubbery.
L2R: Kari Kari, Cajun Egg Roll in the back, Calamari in the front, and a glass of the Swamp Juice.
Adam and I did splitsies with a Shrimp Po Boy ($8.95) and a Reuben ($9.95). No photos, because I had had too much Swamp Juice and forgot I was supposed to. The po boy was pretty good, as was the garlickly spinach I subbed in place of steak fries. Given the choice between the po boy and the reuben, however, it would be the reuben hands down. It was quite meaty and delicious, and the (also subbed in) garlic smashed potatoes were a big favorite at the table.
Ash and Steve split a cup of gumbo that they found to be quite tasty and surprisingly filling. It was not too spicy, and had a good amount of meat in addition to the seafood. None of the protein was overcooked.
I should take a moment out to say that Zuffy's is undergoing a menu change. Some of it has already gone into effect (the etouffee I spotted on the website and planned to order was already gone), and some in incoming. I don't know what the goal is, but it seemed like all the more cajun or ethnic items are going away and being replaced by more typical bar fare. Perhaps this is too assumptive (and I am bitter about my etouffee-less dinner), but that is how it seemed to us, especially on the heels of Big Tex's extremely disappointing move to get rid of all the truly unique offerings and become a slightly text-mex burger joint (no more tacos or enchiladas?!). I'll try not to rant about either restaurant's decision, since I have never run a restaurant and had to call the shots, but as a consumer, I am extremely disappointed in any attempt to dumb down a menu and pander to the lowest common denominator. AKA burgers. But anyway, all that to say that the food parts of our review are probably fairly time-sensitive, since the menu is changing.
For dessert, we wrapped it up with a massive, hot bourbon bread pudding. Here look, I took a misleadingly nasty photo of it (I was no longer drunk and remembered what I was supposed to be doing).
Don't let this photo dissuade you from the bread pudding… great drunk food.
This bread pudding was definitely enough for the five of us – it was a giant dense square smothered in a strong bourbon sauce. A very nice way to finish off the experience.
Our waitress was nice and was very understanding and flexible about splitting up the check. Though the second pitcher thing was kind of awkward, it turned out in the end. Collectively, we give Zuffy's Place 4 stars. Mathematically, that's 3.8 stars, but we're only doing wholes and halves. Basically, for a bar it was pretty awesome! i bet the live music and game nights are fun, too. In truth, it's likely that just about everything is fun when there's swamp juice involved.
1860 Corporate Boulevard NE
Atlanta, GA 30329
emily
Nerd. Foodie. Gamer. Homecook. Perpetual planner. Gardener. Aspiring homesteader. Direct response graphic designer. I use too many damn commas.