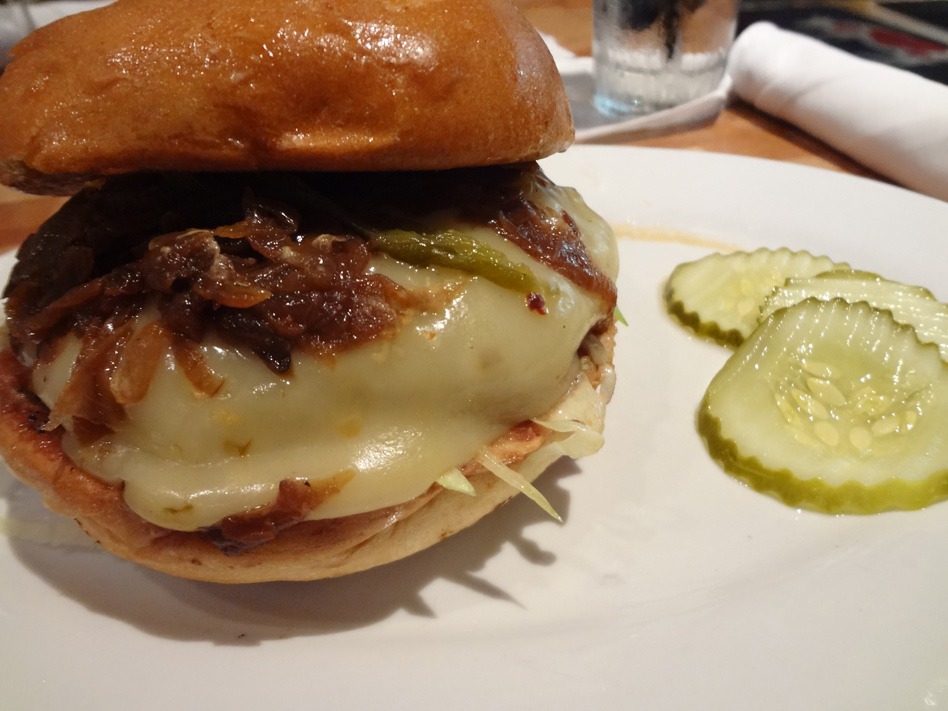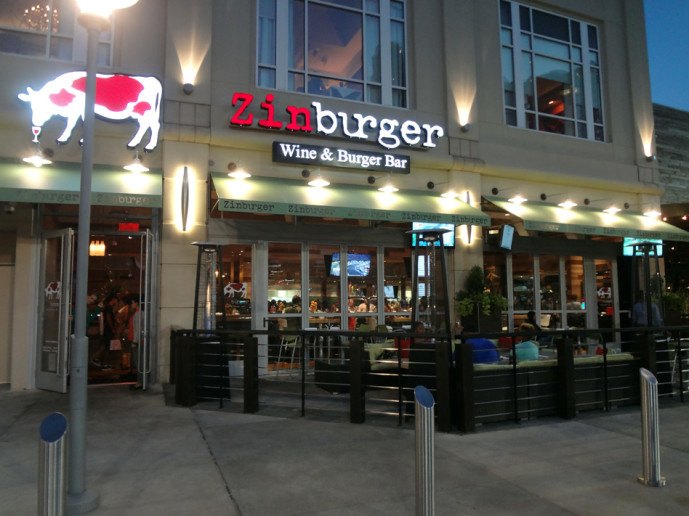 Zinburger Wine & Burger Bar opened in the newly remodeled Lenox Mall in mid-June. After watching its construction and regaling my coworkers with tales about how I would have done the logo if I could have designed it, I finally got to visit a couple of weeks back with my parents on a Friday night.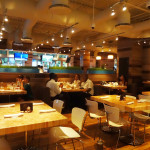 It was loud and boisterous, as you might expect at a mall on a Friday night. Our server was super-nice and launched through a run-down of the extensive list of weekly and daily specials with a great attitude. One of the specials was 50% off of a $20 bottle of Riesling, so needless to say we picked up this $10 bottle of wine to get our evening kicked off.
For our main meal, Dad and Adam got the Breakfast Burgers: fried egg, applewood smoked bacon, avocado, american cheese, and mayo on a certified Angus beef patty ($12). Actually, all of the burgers are certified Angus beef, unless stated otherwise or you buck up the extra $5 for an american knockoff of Kobe beef. I ordered the El Diablo burger: fire-roasted jalapeños, pepperjack cheese, caramelized onions, and chipotle mayo ($11). My mom got the Kobe Burger: an american-style Kobe beef patty with cheddar cheese, wild mushrooms, and mayo ($15).
Everyone enjoyed the Breakfast Burgers. Egg and avocado make everything better. Adam and I preferred the El Diablo more, but that is to the spicy burger's credit and not due to an insufficiency of the Breakfast.
The El Diablo was so tasty! I really enjoyed it. The sweetness of the caramelized onions, the spicy jalapeños, and the savory and salty burger and cheese made this a multi-taste sensation.
When our server saw that Adam and I had laborious cut our burgers and swapped halves (as we are always wont to do), she informed us that ordering two burgers split between couples is a standard thing and that we should just let them know next time and the burgers would come out of the kitchen that way. Neat!
Here are my parents' thoughts about their burgers and Zinburger overall:
Dad– "For the quality, taste and presentation of the food we ordered, I would give Zinburger's a 3.75, that being the average between the outstanding medium-rare Breakfast Burger that was cooked to perfection with a great combination of toppings including fried egg, apple smoked bacon and avocado (a strong 4.5), and the medium-rare "Kobe" Burger that had very little garnish, was overcooked, quite plain and simply a disappointment (a 3 at best).

For atmosphere, I would give it a 3 as well; very noisy even before we were treated to a screaming child with great lungs. (Not that that restaurant can do anything about that –Emily). However, the $10 Riesling helped take the edge off the screaming child and we were kept entertained by a waitress spilling most of a bottle of wine in a patron's hair and a tween that kicked the hell out of a Rubik's cube. Overall I give it 3.5 stars."
Mom– "Dad and Adam's Breakfast Burger was the bes-tasting! My Kobe was overcooked and not worth the extra money. I will stick with the Angus next time! The wine was good, the facilities clean and our server was very pleasant. The only other negative was that the music volume made conversing difficult. 5 stars – two negatives = 3.5 stars (because Dad's burger was that GOOD)!"
Sides are sold separately and are portioned for two, so we got zucchini fries and sweet potato fries to share. My parents got the sweet potato fries and preferred them, but wasn't big on the yogurt dipping sauce they came with and I really liked the zucchini fries. They were also sprinkled with parmesan and that always helps in my book!
For dessert, Dad and I split a creme brûlée milkshake to go. The staff was totally cool with this very specific request and seemed to indicate that it was something they often do. The ease of splitting items here is really nice.
Adam was out of town during this writing, but he helpfully sent along his thoughts on Zinburger Wine and Burger Bar. I have to say I think he really nailed it:
"A half-price wine is a deal worth taking. We got a whole bottle of riesling for about $10. Restaurants love to gouge you on the alcohol, so seeing a regular weekly offering of booze closer to sane prices is great. The El Diablo was fantastic. The spiciness made the burger all the more desirable. The breakfast burger was okay, but nothing really made it stand out like El Diablo. I do feel it was also a bit too greasy. The Zucchini fries were good and the shake was fine, but nothing truly unique. Service was great.

All that being said, they need to better marry the burgers and the wine. Since those two things are their schtick, I was disappointed to see the wine really being not too much more than your standard fare. Put them together. Give me a flight of sliders with a wine pairing. Really push the envelope of burger-making to provide good matches with all the types of wine that are out there. 3 stars."
A great spot to hit up if you're in the area – you will have a fun time. But I wouldn't drive far just to give it a try, because they really aren't quite living up to their unique proposition of being a burger and wine bar. I think with a little more creativity and effort, they could definitely get there. Adam and I are in agreement at 3 stars, but my parents are lovely people who aren't as jaded, so Zinburger receives 3.5 stars.
Disclosure: We received a $50 gift certificate to Zinburger from DFPR, which we used to fund most of the meal's cost. The rest was paid out-of-pocket, however, and our thoughts and words here are always our own.
Zinburger Wine & Burger Bar
Lenox Square
3393 Peachtree Road NE
Atlanta, GA 30326
emily
Nerd. Foodie. Gamer. Homecook. Perpetual planner. Gardener. Aspiring homesteader. Direct response graphic designer. I use too many damn commas.