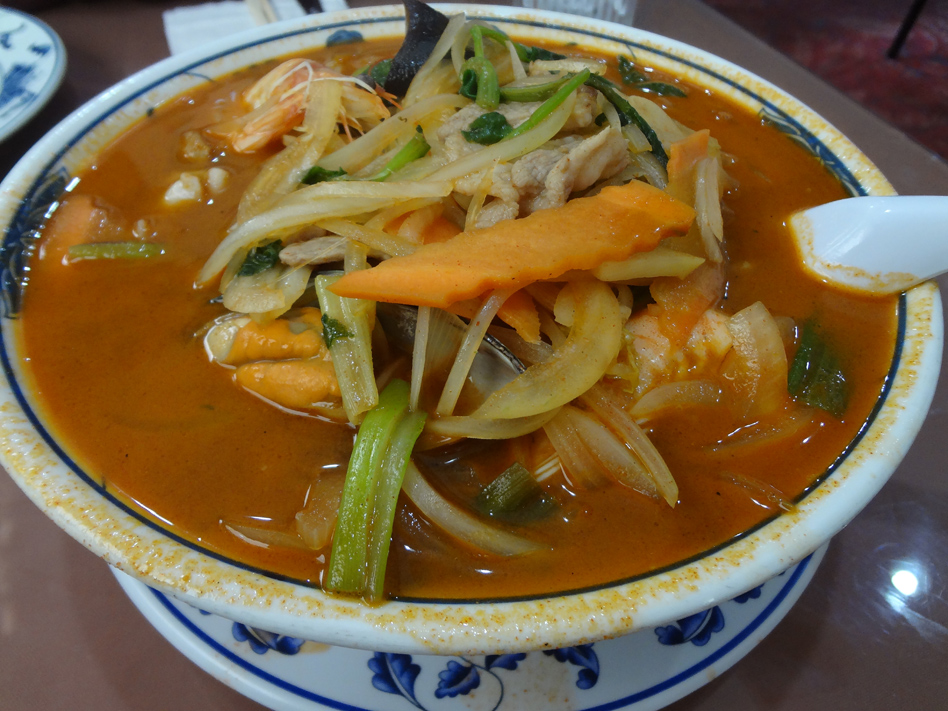 This week for our Buford Highway excursion, Adam and I visited Yen Jing Chinese Restaurant, replete with a super-precious sign on the front door. This place is surprisingly huge (full width of the photo below), and has the air of a place that was once very, very nice and very busy, but isn't as much anymore.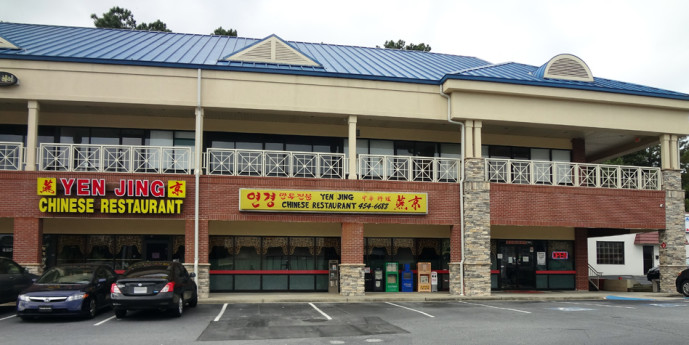 This may sell itself as a chinese restaurant, but it is situated on the korean section of Buford Highway, and you can tell. We received some banchan to start – kimchi and what I think was pickled cabbage or thick seaweed. They were both tasty and since we were starving, we only just remembered to photograph them!
I spotted shark fin soup on the menu ($5.95) and, having never had it before, immediately decided to order it – only to later remember some of the ecological/ethical issues associated with shark fin soup. As it turns out my guilt was unfounded, as I am 99% sure that what we received was in no way associated with sharks.
Perusing the Wikipedia page while waiting for the soup to arrive, I came to an understanding of what to expect, and I believe we got a modern, shark-less approximation as described on the Wikipedia page. That's fine since I wasn't prepared to be part of "the problem" just right then, but I think the menu should have specified, since it seems a bit deceptive not to.
For our main meal, we ordered san shan noodles ($5.95), which turned out to be a soup dish as well, and salt and pepper squid ($11.95).
The spicy noodle and seafood soup was impressively large and pretty good. Definitely a high-value item, given the price. There were a few shrimp, some squid, a mussel, and some other proteins, probably beef and chicken. It was tasty and large enough for the leftovers to provide lunch the next day.
The salt and pepper squid was good. It had fantastic breading – I think it was a rice-based breading. The texture and spices were very good. However, I was not a fan of the cut of the squid. There were a couple large rings, but the rest of the pieces were little piddling, fiddly things. Nothing wrong with that per se, just not my preference. (Reminded me of this a bit.
All in all, this place had some points against it and some for it. The pros: the portions were good, the selection was good, and the quality was satisfactory. The cons: the place was a little dirty and a little dubious. I made the mistake at looking at the side of the tablecloth that was draping down in front of me; it was disgusting. The whole not-quite explaining the shark fin soup thing didn't impress me much either. The neutrals: nice inside, decent service and decent food. In the end, I think it all levels out at 3 stars. I wouldn't travel to visit Yen Jing, but it's probably a solid choice if you live nearby.
Yen Jing Chinese Restaurant
5302 Buford Hughway, #A6
Doraville, GA 30340
emily
Nerd. Foodie. Gamer. Homecook. Perpetual planner. Gardener. Aspiring homesteader. Direct response graphic designer. I use too many damn commas.