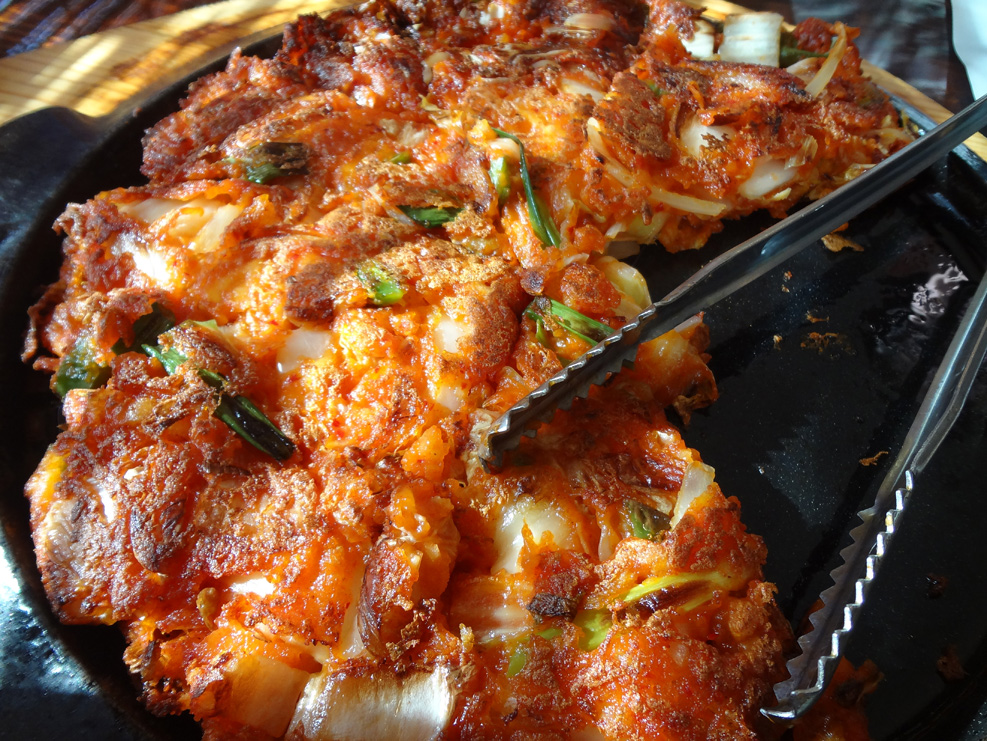 Today's post offers two takes on a little korean spot I'd heard about long in advance of getting to the appropriate portion of Buford Highway: Yet Tuh.
This spot is a little tricky to locate – we only the potential of the shopping center it from the parking lot of Woo Nam. From Buford Highway, turn on to Oakcliff going east, then make a nearly immediate left into the shopping center. Then, keep heading down and around to the right until you've gone as far as you can, and you'll be at Yet Tuh.
On our first visit back in October, we dined at Yet Tuh with Grant, Marie, and toddler, too. The food was fine, but our experience was a little off-putting and lackluster. When we arrived, the service was a little frosty ( though, insert my typical rant about service not needing to be fake-friendly). To be seated, we wended our way between tables and over newspaper sheets on the floor.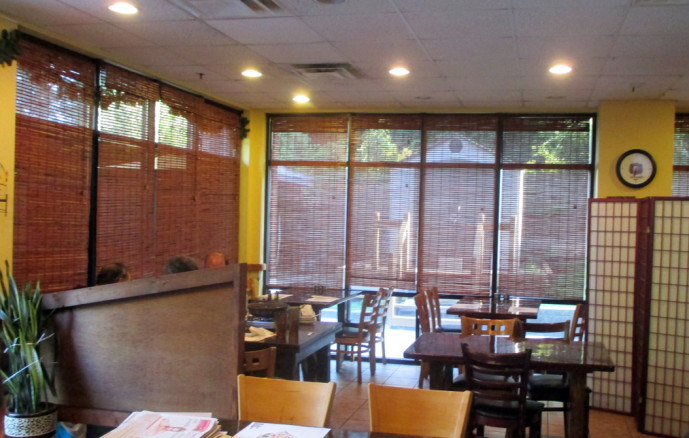 After requesting water, we watched the waitress mix the contents of a few half-full identical pitchers, and then were given a number of half-full glasses. They did not contain water, but rather cold roasted barley tea. I did not know that at the time, I just knew that what I had was not water, and that I did not like it. The mysterious shuffling of pitchers and glasses before serving did not inspire confidence, and the lack of fresh water during my meal freaked out my american sensibilities.
Upon further research and reflection, though, it occurred to me that I am fine with just getting hot tea at chinese restaurants, so I think in this case, I was just taken by surprise. Marie, in an effort to drink something familiar, ordered hot tea. She was provided with a plastic glass half-full of the same roasted barley tea, just hot. Without proper cultural context and hampered by communication difficulties, we were confused and felt doomed to a grain-flavored meal. At least the banchan we were provided was plentiful and good.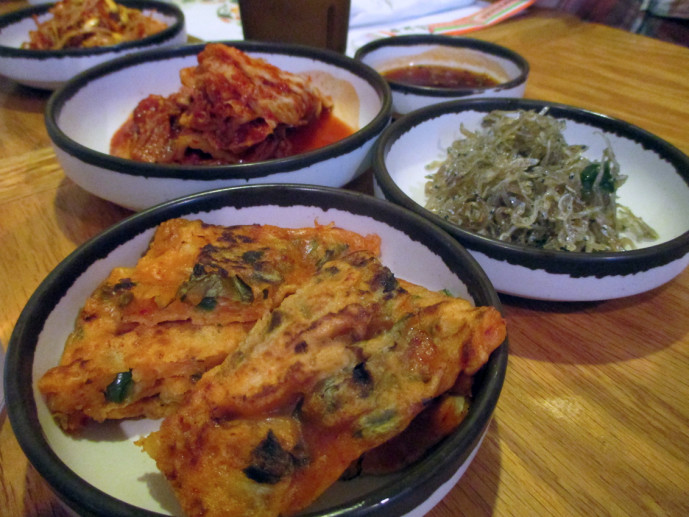 The food we ordered, however, was far less bewildering. We ordered ojingeo bokeum ($14.99) and haemulpajeon ($14.95), while Grant and Marie ordered an ojingeo bokeum of their own, a potato pancake, a sushi-esque roll, a soup, and a spaghetti-type dish. Some dishes they liked, others they did not.
As for us, we were totally satisfied with our selections. The ojingeo bokeum was as complex and spicy as we have come to expect, and the haemulpajeon has that great, fried comfort food taste/texture with lovely scallion and seafood flavors. The food warmed our souls, but the experience still left us a bit cold. At some point, the toddler tipped over one of the many beverages on the table, and the spill was draped with sheets of newspaper that were never picked back up.
Ultimately, we left Yet Tuh not feeling very good about our experience. I practically sped over to a Steak 'n' Shake to get us compensational shakes – and to order myself a refreshing ice water. But, after thinking it over I think part of the problem was that we just felt a little more out of place on Buford Highway than we have in a while. And pushing our boundaries is what it's really all about in the first place; maybe we've just been spoiled with our own level of comfort lately. So, I decided that I wanted to try Yet Tuh again from a different perspective and see how I felt before I wrote this piece. So, Adam and I went back for round two.
We were served hot roasted barley tea this time and, most importantly, we were informed of what we were receiving. I enjoyed it so much more hot than cold. The cold version has a mouthfeel that I just wasn't able to get acclimated to the first time around.
We enjoyed a slightly different lineup of banchan this time. I especially enjoyed the kimchi and the mushrooms. The kimchi was a little more fermented than average; what I often describe as being extra "sparkly" for lack of a more intuitive term. After obliterating our banchan, we were offered a second round, which we turned down, due to the volume of food that had arrived at our table. The server, who was 100% nice to us the entire time, couldn't prevent a slight scoff from escaping her mouth. I can only assume she thought we were freaked out by the "strange" foods and had only cleaned out our ramekins out of a sense of duty or politeness. Oh well.
Being totally hooked on jeon/pajeon, we opted to get another pancake this go-around, a kimchi pancake: kimchijeon ($12.99). We also ordered the dolsot bibimbap, which is one of the dishes we tried at Woo Nam.
The kimchi pancake was so good. Also, we'd forgotten how huge these things are! I really enjoyed the way the kimchi juice crisped up and took on an altered taste. Between the pancake and the dolsot bibimbap, the banchan items, and the decently-sized bowl of soup we were each served, we had more food than we could deal with and we took 50% of the kimchi pancake home for leftovers. Delicious, delicious leftovers. That day. Mmmmm.
The dolsot bibimbap was good, but just didn't really seem to rank high on the list of bibimbaps I've had. Still, it was tasty, large, and satisfying. Especially on a chilly day.
Our second trip to Yet Tuh was an entirely different experience. And both times the food was totally satisfactory. I'd say Yet Tuh's prices are a little higher than we've seen on average, but not to the point of highway robbery. Overall, it seems like a solid choice on the korean food front, especially if you enjoy the out of the way spots and barley tea. 3 stars.
Yet Tuh
3042 Oakcliff Road.
Atlanta, GA 30340
emily
Nerd. Foodie. Gamer. Homecook. Perpetual planner. Gardener. Aspiring homesteader. Direct response graphic designer. I use too many damn commas.