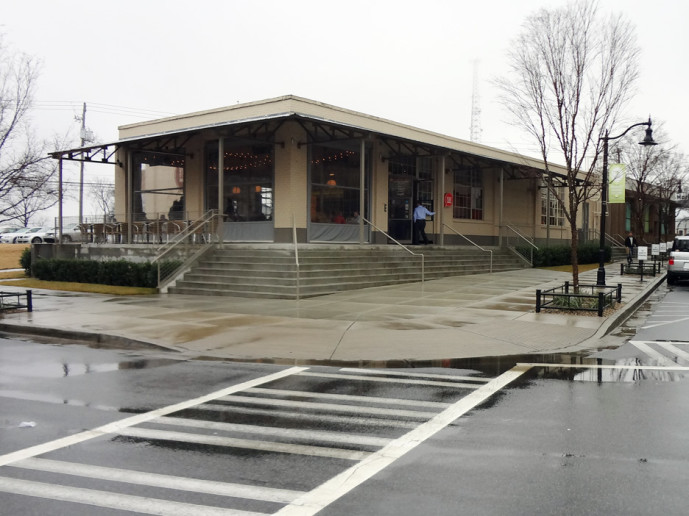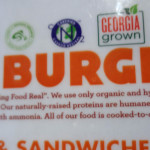 Yeah! Burger opened 2010, serving all organic, all grass-fed burgers and other tasty, health- and environmentally-conscious things. I have been wanting to go since I heard about it, but it took four years to make it a reality. Recently, for what has become a traditional Friday lunch out with coworkers, I headed to Yeah! Burger to check it out. Here's a quote from the philosophy page on their website.
"YEAH! BURGER creates "Food You Can Feel Good About" – food without harmful chemicals and heavy processing, food from farmers we know, and food that respects the environment and the humane treatment of animals. It's the same type of food that inspired our founder, Erik Maier, to start YEAH! BURGER."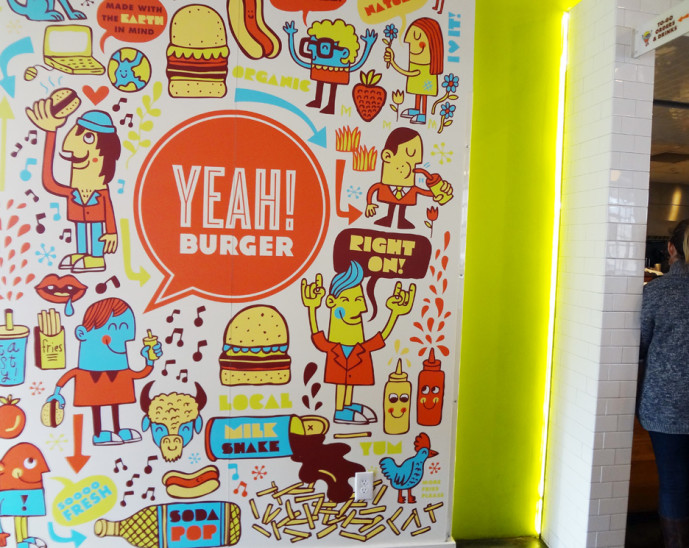 The whole place has a very fun interior design and collateral all backs it up. A fun space, though we wound up on the porch. It was warm enough between the plastic sheeting and space heaters.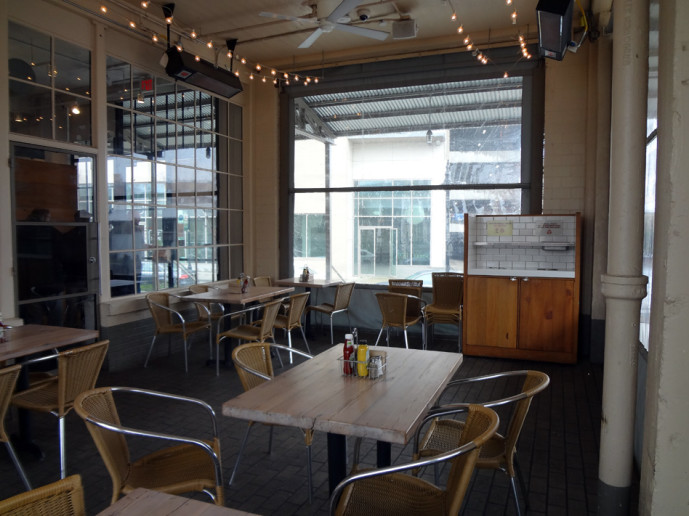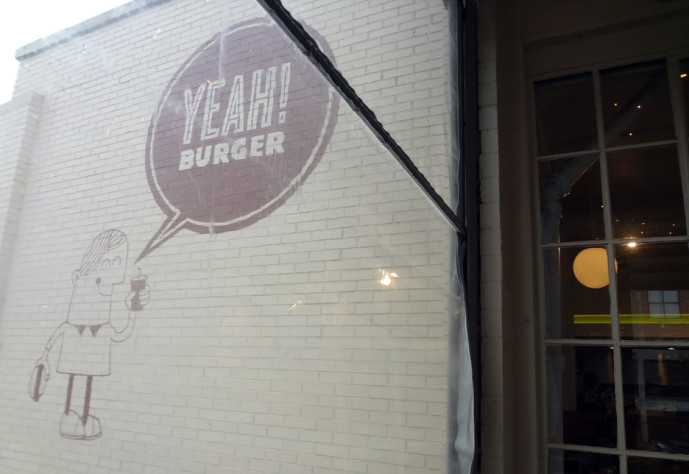 Our table was equipped with organic condiments, and our water cups were made from plant-based plastics. It is nice to eat in a place that espouses the same things I believe in.
Yeah! Burger is in the order-before-you-sit category, and after perusing the menu for a while, I decided not to build a burger but to instead get a regular offering. The Triple B is a bison burger with bacon jam and blue cheese. I also got a side of arugula for $4, because I have finally developed the habit of eating greens to the point where a meal without something green feels weird.
I love all of the philosophies that Yeah! Burger supports and try to live them in my own life, but it takes a major psychological shift. This is because despite everything that went into making my burger a superior burger – and it was nutritionally, environmentally, and ethically superior – after a lifetime full of cheap, mass-produced, nutritionally lacking factory "foods," paying $18 for a meat patty with some lettuce just plain HURTS!
But that's okay, I regret nothing, because I know what it takes to produce that, and I'm okay with paying for it… just only sometimes. In fact, I just bought a chest freezer so that we can start buying locally raised, organic, grass-fed cows, pigs, lamb, etc. but that's another story.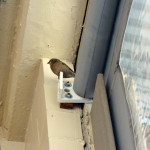 Everyone seemed to feel just about the same as I did. The food was generally good, though it was a bit pricey. I don't think anyone I ate with was overcome with taste or ethics euphoria while we were there, but no one hated it either. The only complaint I heard was that Jaimyn didn't like the onion rings at all (but other coworkers Claire and Juan did). I was simply very relieved that none of the cute little birds flying around crapped on our food.
If I had started this site with a different, more advanced scoring system, Yeah! Burger would get 5 stars for its philosophy and execution. The food itself would be more like 3 stars or so. But since we roll everything into one here in an attempt to give someone a final number with which to understand how I/we feel that each restaurant operates in its category, that's not what will happen here.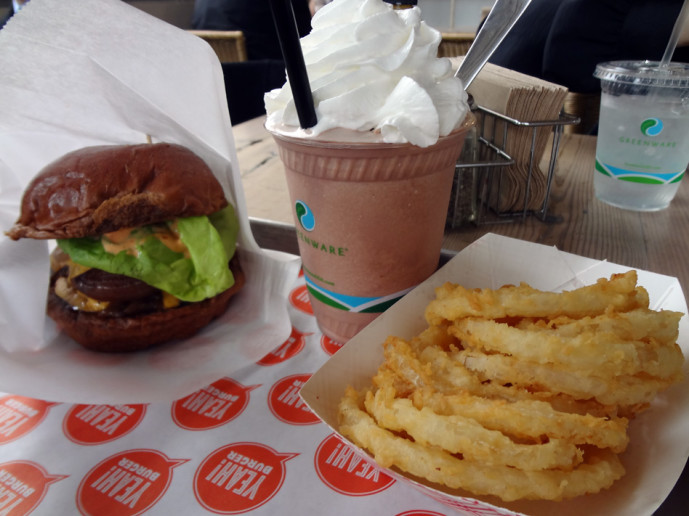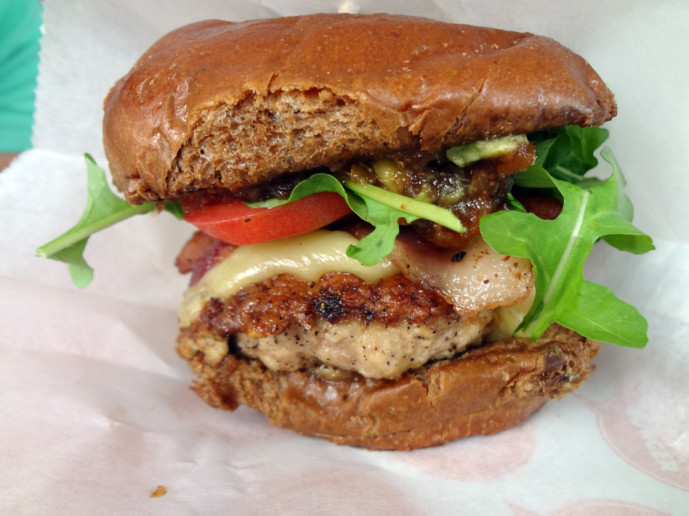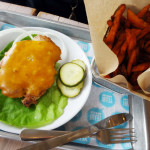 It terms of lining up with my philosophies and wishes for restaurants, Yeah! Burger stands nearly alone, though Farm Burger is very close, doing their best to be local, sustainable, and humane, though I'm not sure it's organic or certified in the ways Yeah! Burger is, which is reassuring. Urban Pl8 is also on the list, because it's all gluten-free, but not necessarily organic, sustainable, local, humane, etc.
Though the food is not out-of-this-world, it was solidly good, and very flexible for folks who are gluten-free. Personally, I think that Yeah! Burger is worth a visit for anyone who hasn't been, to read the philosophy and really think about our food system's current practices and what they mean to you. Overall, I'm going to go with 3.5 stars.
Yeah! Burger
1168 Howell Mill Road, Suite E
Atlanta, GA 30318
emily
Nerd. Foodie. Gamer. Homecook. Perpetual planner. Gardener. Aspiring homesteader. Direct response graphic designer. I use too many damn commas.