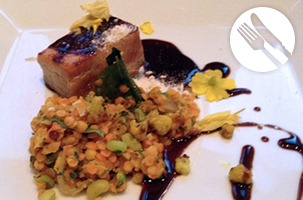 Woodfire Grill has been at the top of my Atlanta fine dining hit-list for a long time, so I was very pleased to finally visit. Woodfire's claim to fame came largely from its former chef, Kevin Gillespie and the seasonal, local, organic, farm-to-table, slow food style. Kevin Gillespie has since left, but word on the street was that the new chef Tyler Williams kept the Woodfire Grill in top form and that its reputation for high-quality food was in no way compromised by the change of hands.
The Woodfire Grill is located on Cheshire Bridge, an unusual but not entirely unwelcome location. Most fine dining in Atlanta is in the ritzy areas, which means fighting through traffic for a weeknight dinner. Being up on Cheshire Bridge actually makes Woodfire more accessible because there is less traffic.
Woodfire has an open kitchen, with the signature woodfire grill that gives the restaurant its name situated in the corner. As soon as you walk in, you notice the pleasant smell of the grill. The space is a little small, but it nicely decorated and has an open seating plan. It comes off as homey and comfy.
The service was super friendly – every person in the building seemed to have a friendly greeting and a smile. That sounds silly, since you'd think that would be standard, but a lot of places try to be more serious and come off as pretentious. Woodfire is welcoming and genuine.
There were blind tasting menus available in five- and seven-course form, but I opted to order for myself. I had fried soft-shell crab with coconut, okra, sweet potato, and collard greens ($18), tamarind-glazed pork belly with peas, beans, lentils, curry leaf, coconut, and peanuts ($11), and the certified Angus beef hangar steak with potatoes and onion rings ($32).
The soft-shell crab was not worth $18: it wasn't exquisite, but it wasn't bad by any means. Just pretty good.
The pork belly was cooked to perfection. The tamarind sauce had a nice consistency and complemented the pork belly and vegetables very well. I didn't get much coconut from it, but that is fine. I could really tell that the lentils, peas and other veggies were fresh and in season. Great dish.
The hangar steak was the only dish I ordered with the opportunity to get the flavor of the wood grill, and the flavor really came through. The temperature was definitely medium rare (as ordered, but more so than expected). The combination of the steak with the potatoes and onion rings was not a great one; the dish didn't seem well put together, and neither of the sides added value to the dish. In fact, the onion rings detracted a little, because they were too greasy.
Oddly enough, the part of the meal that stood out the most was the bread basket. Granted, I am nuts about bread, but the bread itself was standard, it was the ricotta butter that was amazing. It was extremely good, and I know I am not alone in thinking this. See this apt description from Yelp:
A couple of words of warning: 1) the bread (fresh-baked with homemade ricotta butter) is apparently crack-infused. We couldn't stop and my wife regretted it by the fourth course.
Overall, the Woodfire Grill is a solid restaurant. My experience did not live up to personal expectations that were perhaps too high or too bold. However, based on the technique and the freshness of the ingredients, another visit is warranted. I would not get the same dishes but would like to try something new, which is practically a foregone conclusion due to the ever-changing menu. The fresh, local, and seasonal approach is both a blessing and a curse – a hamachi and quail dish that I was really looking forward to trying went out of season and was pulled form the menu before I could come by and try it. I am more open to the blind tastings now, for the element of surprise and the hand-picked experience.
Ratings:
Food – 4
Vibe – 4
Woodfire Grill
1782 Cheshire Bridge Road
Atlanta, GA 30324
anish
I am a 20-something white-collar worker that enjoys the great food options Atlanta has to offer. I enjoy sharing my dining experiences and opinions to anyone who will listen. I hate being the guy next to your table taking cell phone pics but understand its place as a necessary evil in the food blogging world. I love to research places beforehand (some would say to a fault). The theory is if I am going to spend time and money eating out, it is worth the 10 or so minutes to vet it out beforehand. I have a laundry list of dining places I still want to go to but for every one I check off, four probably get added. For me though, that is probably the biggest perk of living in a big city.