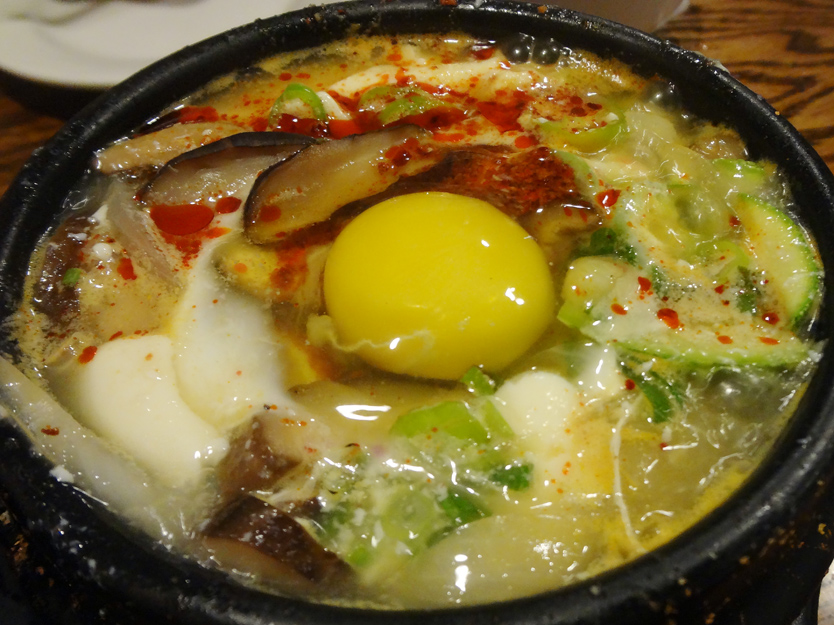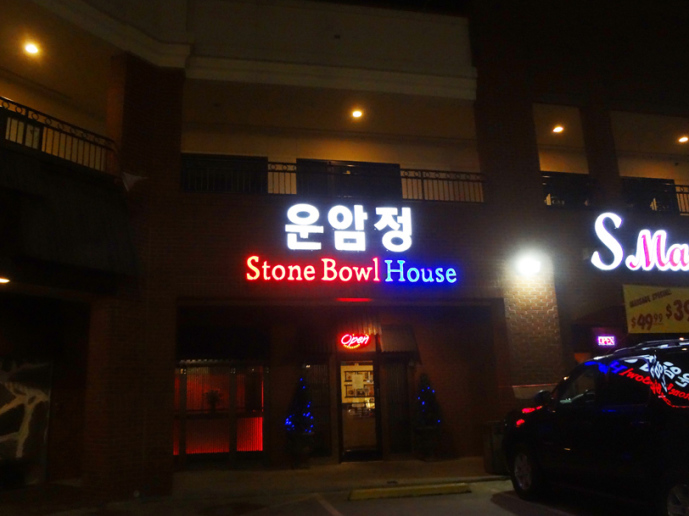 Finally, after two years of Buford Highway adventures, we finally reached Woo Nam Jeong Stone Bowl House. I have heard nothing but good things about this spot since I got into the Buford Highway scene. Adam and I went by late on a Sunday night, about an hour before closing time.
The restaurant was fairly empty at that time of night, and we had to wait a little bit to get seated. The menu we looked at had a really intriguing 12-course fixed menu for $79. That sounds worth investigating!
The menu had other intriguing dishes, and some interesting descriptions…

…but eventually we settled on what we wanted to order. Obviously in a place called Stone Bowl House, we weren't going to skip getting stone bowl bibimbap. So we got the kimchi daegee gogi dolsot bibimbap and the soondubu jjigae, which was described by the menu as a tofu casserole. First up, as always, was the banchan, and more of it than I expected.
The soondubu jjigae came out boiling in it stone bowl and the bibimbap came out crackling it its bowl. Of course, we split our two entrees.
The bibimbap was pretty good. We got he one with the kimchee and the bulgogi to help "cover more ground" when it comes to korean cuisine classics, but it may be that we gave up some of the simple pleasure of the dish in doing so. Still it had nice flavor and we enjoyed it. There wasn't any liquid served to stir into the bibimbap, but the rice crisped nicely, and not too much.
I should have known that the soondubu jjigae would be a soup/stew from the use of the word "jjigae" but I simply wasn't paying attention and the use of the word "casserole" in the description distracted me. The stew also had a lot of things in it at also failed to blow us away.
As with Man Chun Hong, perhaps all the acclamations and general hype built us up for a letdown at Woo Nam Jeong Stone Bowl House. Don't get me wrong, we weren't disappointed in the food, interior or service in any way. We just weren't blown away. Perhaps it was a case of wrong place/wrong time. If you're a huge fan of Woo Nam Jeong Stone Bowl House, please comment and let us know where we missed, because it seems weird to us that we didn't enjoy this place more.
Until further investigation can be had, 3 stars.
Woo Nam Jeong Stone Bowl House
5953 Buford Highway
Atlanta, GA 30340
emily
Nerd. Foodie. Gamer. Homecook. Perpetual planner. Gardener. Aspiring homesteader. Direct response graphic designer. I use too many damn commas.