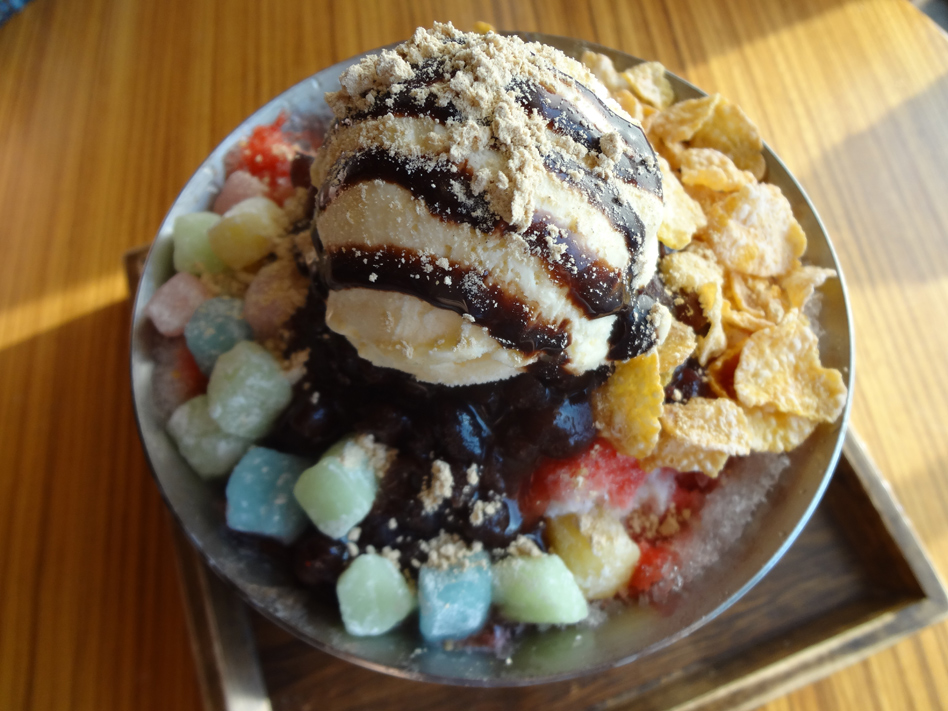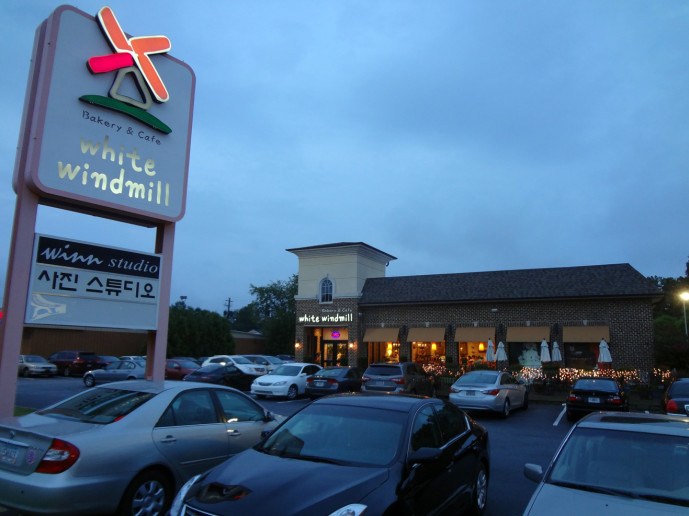 After a lovely meal at Cho Sun Ok, Adam, Ashley, Stephen and I moseyed up the road to White Windmill Bakery and Cafe. This is like a Mozart, Paris Baguette, or Sweet Hut – a pretty nice asian-american bakery with drinks and desserts.

This place is big, and it was crowded when we were there on a Friday night. There is a wide variety of baked goods available, largely of the european/american style, but also some asian as well. There is also a variety of teas, including bubble teas. Coffee is roasted on-site, and is available both as your standard cup o' joe, and also in bean form. Last, but certainly not least, White Windmill serves patbinsgu, the korean shaved ice dessert!
On our first visit we ordered bubble teas and some baked goods to go, and grazed on the numerous free samples.

On this visit, we ordered a thai tea milk tea (hold the bubbles), a bag of chocolate chip cookies, and a package of a very european-looking thing that White Windmill Bakery and Cafe calls nunettine. As far as I can tell, that is an entirely made-up word. Some exhaustive
research by some Chowhound members
turned up a more accurate name: "sfogliantine glassate," which puts this as italian in origin. Interesting.
Our thai tea was tasty – pretty average. We enjoyed the pastries more.
There are two types of cookies in my personal philosophy of cookies: soft, gooey cookies and crunchy cookies. To me, these are like different types of pizza – close enough in origin that people ask you to compare them, but just different enough and good in their own ways to make true comparison tricky. These chocolate chip cookies were of the crunchy variety (the lesser-appreciated breed in my world) and they were actually pretty darn good! The size and shape were satisfying and I enjoyed them more than I expected.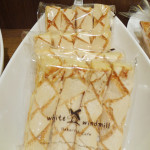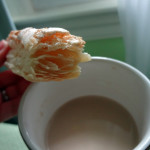 The sfogliantine glassate/nunettine was very interesting! They are long-shaped glazed puff pastries. They have a criss-cross pattern cut(?) across the surface of them and in the cracks is carramelized sugar. Flaky, crispy with a hint of gooey.
I enjoyed dunking them in my coffee for the contrast between the instantly-soft sweet gooey parts and the light flaky un-dunked parts. They were light and delicious. Good job on inventing this, italians, and good job on the execution, White Windmill.
Feeling as though we might have missed out, Adam and I circled back this past week to try the bingsu, since this is only the second place I've run across so far where I have noticed it on the menu. Sobban is the other spot, and since that's the first and only bingsu I'd had previously, I wasn't sure how much was creative license from the awesome fusion restaurant.
We decided to go with the red bean classic, the cheapest and presumably most authentic, with really no idea what we'd be getting. I knew bingsu is shaved ice with toppings, but I figured that the topping would be bingsu, maybe with a dash of another sauce or something interesting on top. But this is what we received:
Goodness. Firstly, I am glad that I don't have any serious food allergies, because there's a lot of stuff there. Secondly, awesome! There's the sweet red bean topping, colorful mochi, so other flavoring for the ice (maybe cherry?), frosted corn flakes, coffee ice cream, and a dash of something crunchy on top. Wowee zowee. This was really interesting.
Unlike the flavored ices of SunO, here there isn't a lot of flavor penetration into the shaved ice – and the shaved ice has a heavier, coarser texture. But here there are plenty of toppings that come-with for you to mix into your bingsu as it melts. It got particularly good towards the end as the ice softened up more and gelled better with the toppings. Because the corn flakes were frosted, they held their crispiness pretty much all the way through to the end.
This is a really fun dessert, and along with its compatriots on the shaved ice menu are probably the more unique and rewarding things at White Windmill. Though it's also neat that they roast their own beans. The inside is nice, and there is a pretty patio. It seems that many of the baked goods can be gotten at any of a number of bakeries along Buford Highway, but there are a few gems here, too.
So come to the White Windmill Bakery and Cafe, and have some coffee and a bingsu while you hang out on the Wi-fi and look cool. It's the hip, yummy thing to do. 4 stars.
White Windmill Bakery and Cafe
5881 Buford Highway NE
Doraville, GA 30340
emily
Nerd. Foodie. Gamer. Homecook. Perpetual planner. Gardener. Aspiring homesteader. Direct response graphic designer. I use too many damn commas.