This Week in Comics: Wraith #1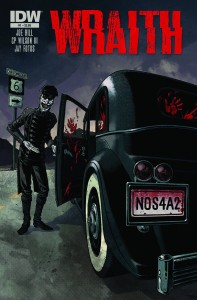 There were a lot of things that had me prepped to love Wraith.  For one, it was written by Joe Hill, also the author of my beloved Locke & Key series (which ends this month, aaaa!).  For another, it's actually a side/origin story about the awful, creepy antagonist of Hill's most recent novel, N0s4a2 (pronounced "Nosferatu").  I love creepy, horror-style stories, and I know Hill is a great story teller.  I assumed Wraith was a shoe-in for a great comic.
I have pretty mixed feelings about Wraith.  I can't give it a double-thumbs up, but it still held intrigue for me.  Let me try to explain.
In Wraith you meet Charles Talent Manx III, a man even older and drastically more terrible than he looks, driving a small girl down the road in a Rolls Royce.  He promises to tell the child where he – and his car – came from if she promises to stop crying.  He proceeds to tell the story of his past.
While the comic tells a clear story of an abused boy with a violent past growing into a damaged and truly evil adult, the supernatural elements remain muddy to me.  The event that kicks off his episode of violence as a child is obvious, but what happens after that and why was, confusing.  And nearing the end when Manx tells of he and his family approach their destination, it's unclear to me why certain things are happening.  The specifics of his supernatural powers elude me.
Overall I found the comic unevenly enjoyable.  The art – while I enjoyed it as it is (especially some perfectly evil snowmen) – didn't always seem to compliment the exposition quite right – and boy was there a lot of exposition.  The Comic Buzz review, while mostly complimentary, said that "…Hill luxuriates a little too much in Manx's narrative voice", something I agree with.  Though the narrative does allow Hill to tell more of his story, letting the art embellish.

My impression from the many other very positive reviews of Wraith is that I perhaps don't like the narrative style in which its written.  It didn't grab me very well and I found myself having to push through it a bit.  I have confidence in Joe Hill, though, and I'll likely be picking up the next issue to see how Manx's story progresses.
I'd say that if you like a good, bloody horror story with a bit of the supernatural, pick this up and see what you think.  If for no other reason than truly scary snowmen.
Wraith: Welcome to Christmasland
Story: Joe Hill
Art: Charles Paul Wilson III
IDW
Top image from JoeHillFiction.com
Featured image from FirstComicsNews.com
Mary Gezo
Formerly of both n00bcakes and !Blog, the two magically become one on Spatialdrift; expect some lazy baking and serious nerditude. Also, I love semicolons.