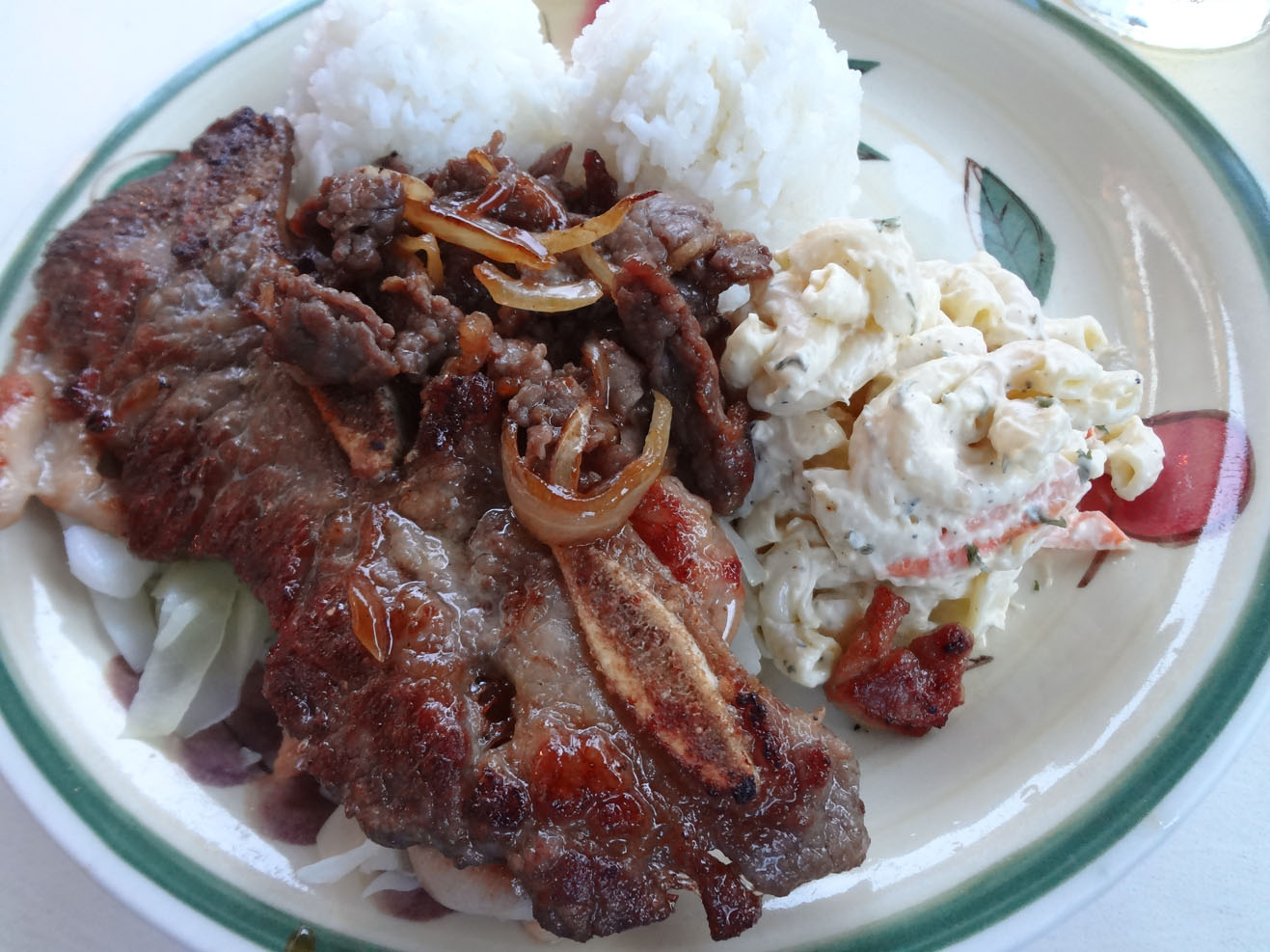 Last week I wanted to get together with my husband, my bestie, and her husband and try out a new sushi restaurant in our area. Unfortunately for all of us, it was closed on Sundays. So we thought we'd head off to a nearby taqueria we'd never gone to, where we were greeted by dozens of men screaming, jumping, and beating the table in a fervor over some spandex-wearing dudes chucking a football around. No thanks! Finally, we wandered across the street and into the welcoming arms of Waikikie Hawaiian BBQ.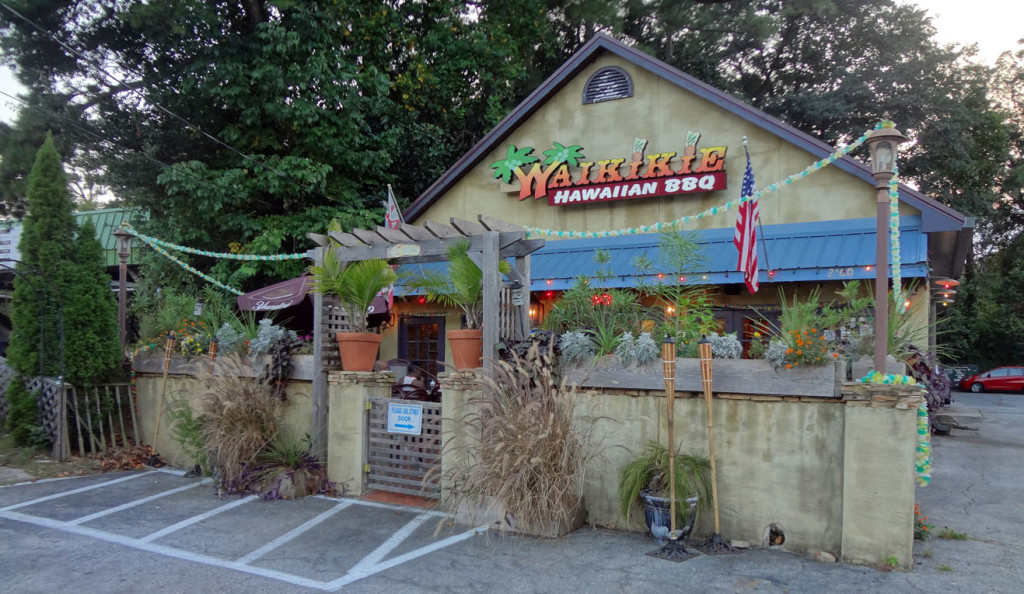 The atmosphere was quite warm and pleasant, and the menu was long and varied. There were a lot of hawaiian dishes, unsurprisingly, but also dishes with asian and pan-asian influences. It was kind of tough to choose just a few things to eat. But we managed it, with friendly help from behind the counter, and seated ourselves out on the patio to enjoy the evening. (Thankfully we were far enough away from the screaming men as to not have the mood marred.)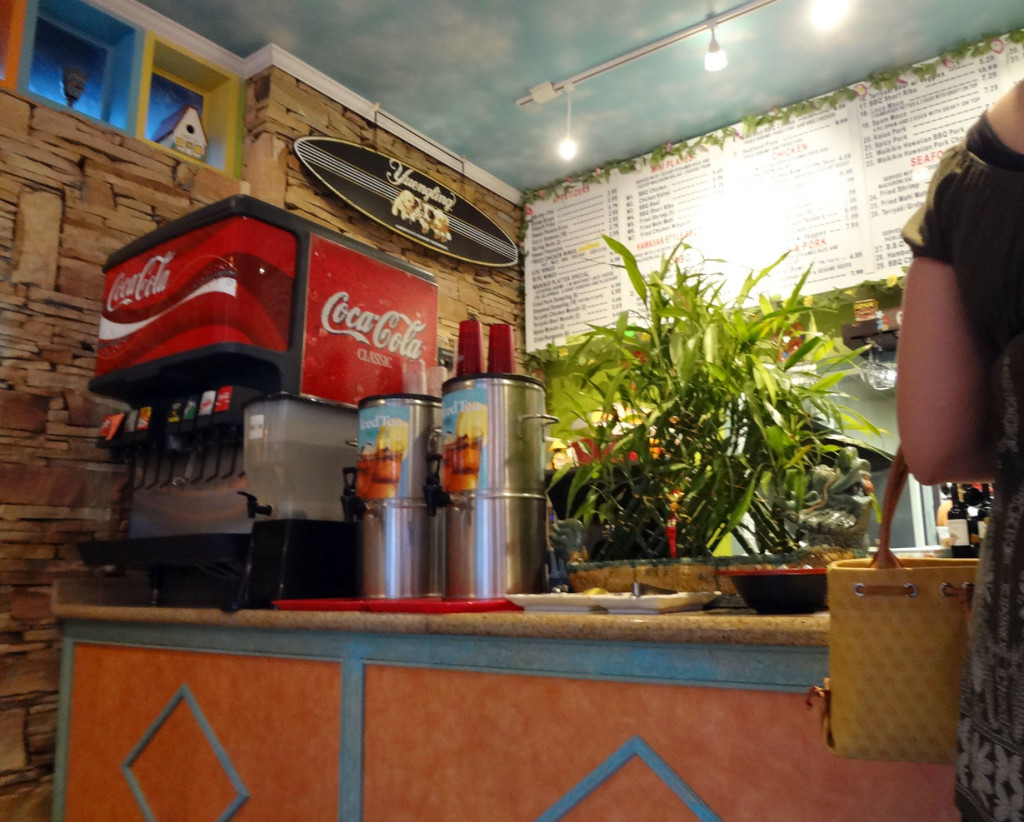 To start, we snagged a plate of shrimp chips and another of samosas. Adam and I also partook of some hawaiian draught beers.
The shrimp chips were still popping when the plate arrived, and would have little spasms of popping when dipped in the sweet sauce they came with. Fun and affordable.
The samosas were darn good for the price, but not quite what I am used to. I am willing to bet they are made a bit differently in Hawaii than in India though, so I don't think it's a bad thing.
The barbecue beef ramen noodle soup was good. The ramen noodles were more like lo mein noodles than the ramen noodles I am used to, but they were still tasty. Adam and I both preferred the udon noodles that Ashley got though. She did have to remind the server that she had paid the extra money for udon, because they brought her ramen at first.
We both really enjoyed the barbecue combo plate. All three meats were very tasty, and the macaroni salad was interesting. We'd definitely recommend this dish!
Ashley kindly shared her thoughts with me:
"I was very pleasantly surprised by Waikikie. The menu is a bit long for such a small place, and by the turnout of our dishes I can tell some things will be hit or miss.

Our appetizers were interesting and tasty and quite cheap! While my order did get slightly messed up, they fixed it as quickly as they could. The ramen and udon weren't great, but they were satisfying. Stephen's curry, though, was delicious!

The blend of cultures is intriguing and I am definitely planning to go again. I think given the hit-or-miss aspect, I would have to keep it down at 3.5 stars, but I hope to be further surprised (in a good way) by this restaurant."
Adam and I sampled the barbecue chicken curry and it was indeed quite good.
We had a nice meal out on the patio, though it got a bit muggy. We decided to head inside and cool off with some shaved ice.
Adam and I split a lime ice and Ashley and Stephen shared a blue raspberry ice with strawberry ice cream inside. We had to pay with cash because the cost of the ice did not meet the minimum amount to use a credit card. The portions were generous and the syrup-to-ice ratio was spot-on.
Overall, I have to echo Ashley's sentiments. I was pleasantly surprised by Waikikie Hawaiian BBQ. I really know very little about hawaiian cuisine, and a quite bit of research on Wikipedia leads me to believe that this is pretty darn authentic cuisine.
This place is a little gem. There is a DVD playing inside of traditional dance and I believe I overheard someone saying that every second Sunday there is live music and dance. The prices are extremely good, and the food is good, too. A very strong 3.5 stars for Waikikie Hawaiian BBQ.
Waikikie Hawaiian BBQ
2160 Briarcliff Road NE
Atlanta, GA 30329
emily
Nerd. Foodie. Gamer. Homecook. Perpetual planner. Gardener. Aspiring homesteader. Direct response graphic designer. I use too many damn commas.