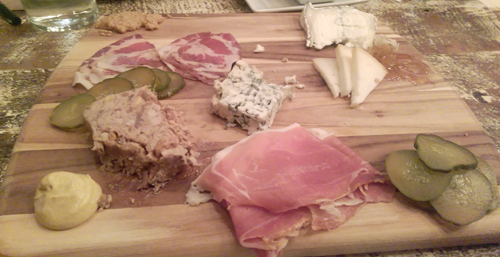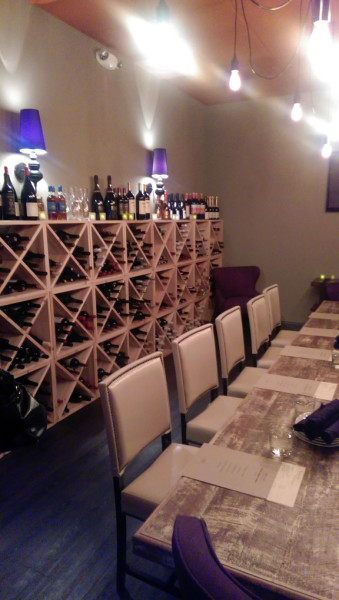 I was recently invited to attend Vine & Tap as part of an Association of Food Bloggers dinner event. Vine & Tap opened in Buckhead early this year in the same strip as Roaster's & Sushi Kiku off on Lenox road. Ian Mendelsohn and his wife Susan opened up this wine bar earlier this year as they saw an area within Atlanta's food scene that was under developed. I can't say I have been to many wine centric spots around town outside of maybe Krog Bar next to Rathbun's over in Old Fourth Ward. Wine bars help to help celebrate the grape and be a go-to place for newcomers to wine while also serving those with well-developed palates. I probably fit closer to the first group.
My take on wine: I enjoy drinking it, and have a decent idea of the countries that produce the best types of wines, but am far from knowing regions within countries, vintage years, blends, etc. One of the things I often find a bit overwhelming is being stereotyped as the "foodie" in in a dinner group and being handed the wine menu at dinner to select something on behalf of the group. If I know this will be the case, I try and research the wine menu beforehand and use my wine-knowledgable sister as resource for some recommendations. I also try to utilize the wait staff and sommeliers if possible to lean me in the right direction. What typically happens is that I end up ordering a bottle or two, enjoy most of them, and ultimately forget what I had. For me, the biggest problem is building that memory bank of my likes/dislikes and the characteristics that go with each. I understand that this will come with time and luckily, places like Vine & Tap are there to aid my explorations.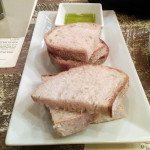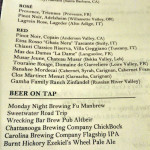 Ian knows what he is talking about and that is evidenced by his resume in the industry and the passion he exudes when speaking on the topic. The concept is super refreshing in the Atlanta dining scene by presenting a place that serves wine in a comfortable, welcoming, and non stuffy environment. Often times you will go to a restaurant with a 500 page menu and while their selection may seem impressive at first, it is more of a quantity game and overwhelming to the customer. Ian's take is to limit the number of bottles he serves to 150-200 and he usually knows the owner and/or has visited the vineyard of most the bottles he carries so its evident there is a lot of consideration and expertise involved in shaving down the list. To me, minimizing the list to be easily digestible to the consumer, selectively hand picking them, and serving them at a reasonable price is much more impressive than the 500 page wine book. I won't bore you in the event I haven't already done so with the notes, etc I tasted in the wines I sampled but just know everything was good (the best wine I had of the night was the Musar Jeune which was recommended by Ian as a pairing to our NY strip dish.)
There is another component of a wine bar that I imagine often gets overlooked and that is the food that is served. I oftentimes find myself going to happy hours around town, having a few drinks, not eating, and then ending up kicking myself. Luckily, you can knock two birds out with one stone here. On this visit, we were able to try a sample of several items on the menu (note the portion sizes shown are around half of the normal portions served). We started with an assorted charcuterie and cheese plate. Ian believes in supporting local purveyors which is always good to see and the balance of hard, soft, creamy, funky cheeses was good. Also, with most of the meats being from Spotted Trotter, there didn't seem to be many complaints (choosing the chef's selection probably isn't a bad idea when ordering).
The rabbit rillettes (similar to a pate) had a creamy and flavorful punch to it.
The red royal garlic shrimp was one of my least favorites as the shrimp was perfectly cooked but the accompanying elements didn't add a ton of flavor to it.
Conversely, the Uncle Ray's crab cake was probably my favorite dish of the night as it was simplicity at its best. You know good crab when you can smell the freshness and see that not trying to be masked by mayo or some other condiment.
The steak was nicely cooked and the asparagus risotto paired perfectly with it.
I must admit I am not a huge cobbler fan so the dessert wasn't necessarily up my alley, but the rhubarb provided nice flavor.
This is a spot I am genuinely rooting for to succeed and I will probably be frequenting it in coming months to show my support and attempt to develop my wine palate. I would advise anyone who goes to ask questions, help them help you. If you are in need of a change of pace to your happy hour spot or regular cocktail/beer bar, this will serve as a breathe of fresh air.
Food: 4.0
Vibe: 4.5
Side note: my sister recommended this site to me that I found useful as a good resource for learning about wine, Wine Folly.
Since this event was hosted in-part by HMS Host, I received my food and beverages without charge. However, the words and opinions above are my own.
Vine & Tap
2770 Lenox Rd NE
Atlanta, GA 30324
anish
I am a 20-something white-collar worker that enjoys the great food options Atlanta has to offer. I enjoy sharing my dining experiences and opinions to anyone who will listen. I hate being the guy next to your table taking cell phone pics but understand its place as a necessary evil in the food blogging world. I love to research places beforehand (some would say to a fault). The theory is if I am going to spend time and money eating out, it is worth the 10 or so minutes to vet it out beforehand. I have a laundry list of dining places I still want to go to but for every one I check off, four probably get added. For me though, that is probably the biggest perk of living in a big city.