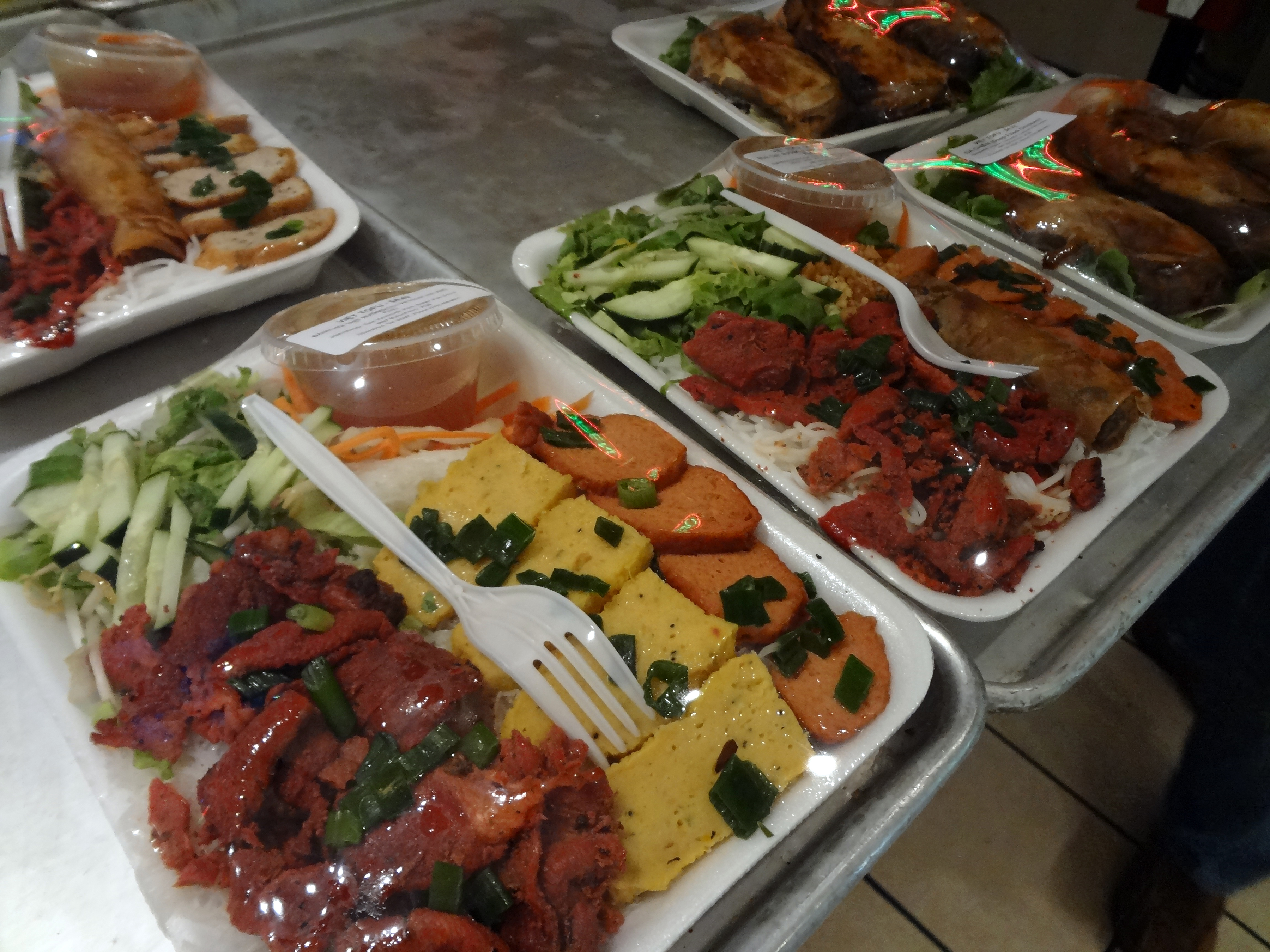 When we BuHi'd with Grant and Marie last week, we actually thought we were going to Viet Tofu, until we realized it's more of a cash-and-carry kind of place. But it was really too intriguing to pass by completely, so we returned to see what's what.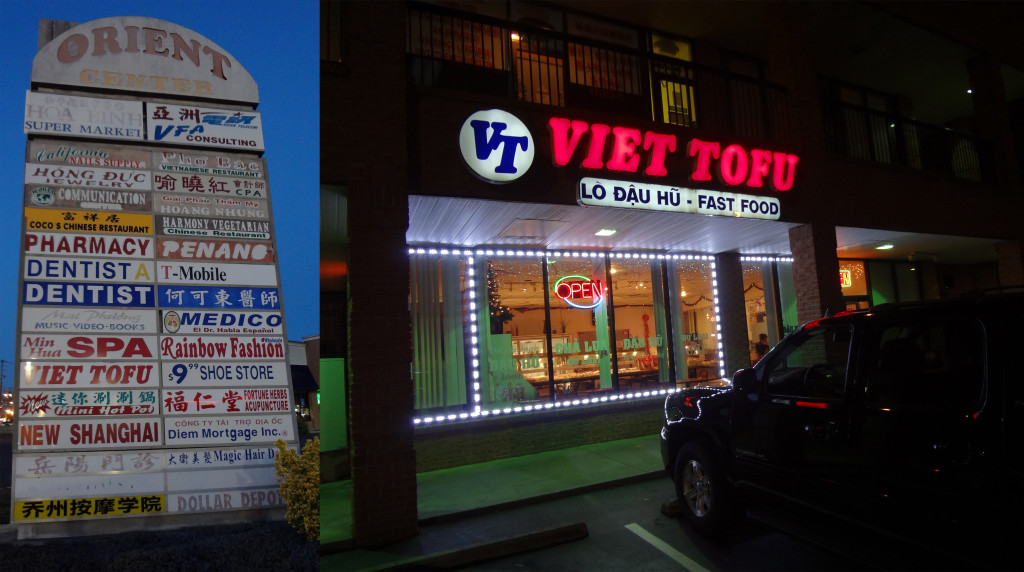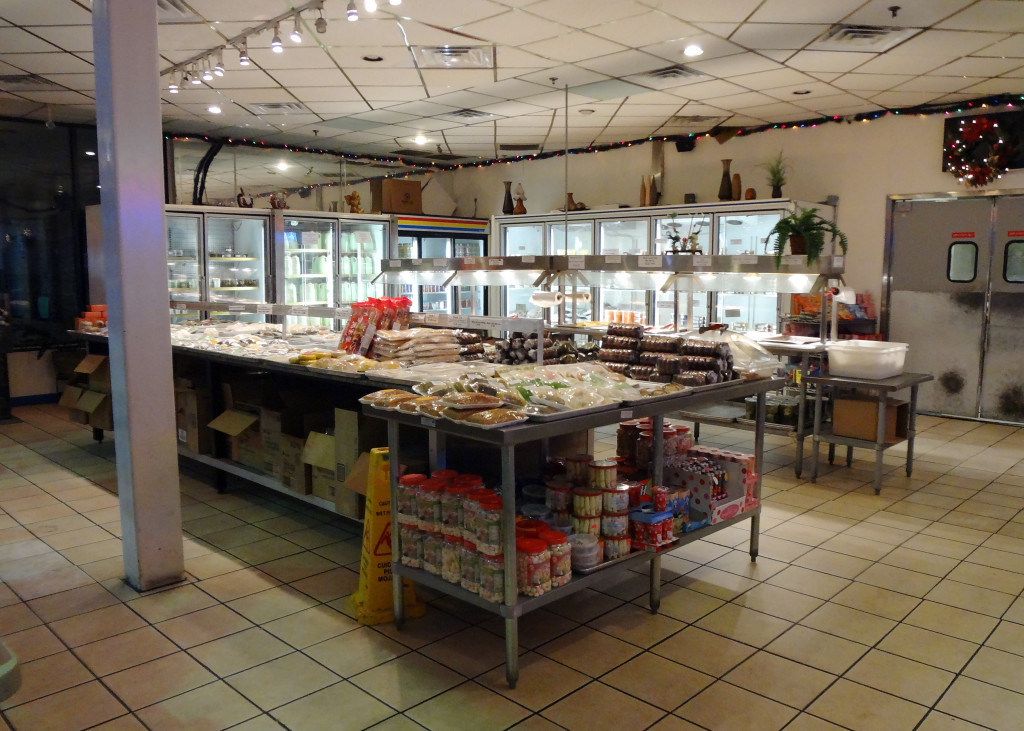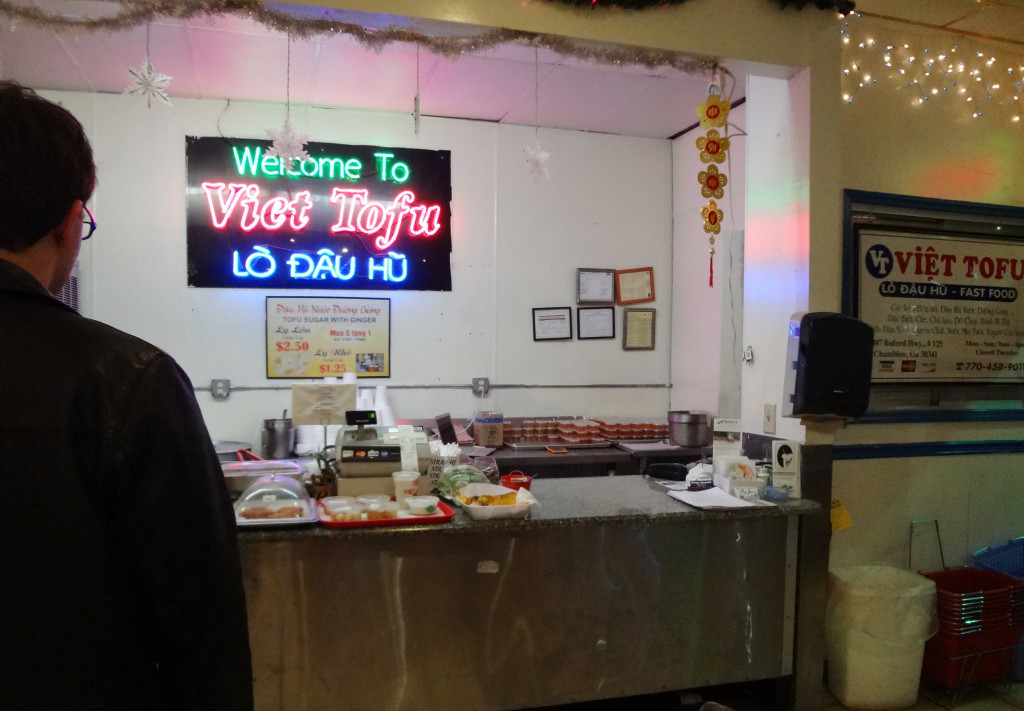 The interior is a large space with two back-to-back rows on long tables covered in food items, one row of steam tables with some hot items, and cold cases along two sides for cold items. There are also two other tables of packaged commercial foods, and a smaller steam table tucked in a corner.
Everything looked really great, and I had a hard time choosing what to get. However, I did find myself wondering how this joint could possibly comply with local health regulations.
Meat buns, rice balls with meat, tofu plates, shrimp rolls, and chicken thighs all sat, wrapped, on the tables. No heat lamps, no ice, no temperature control of any kind. Curious. How long do these items sit out? Turns out there's really no way of knowing, but since the place is open (presumably inspected) and we are expeditioners after all, we showed no fear and stocked up.
Almost every item was clearly labelled in multiple languages, including english, which was
very
much appreciated. We made our selections, paid up ($15 total?! awesome…), and headed home.
Where we had no power. A tree had fallen on some power lines. Now things were getting fun, eh? We got to lighting candles and figuring out how to prepare our food.
We got two pork eggrolls for $.50 each, which we ate promptly upon arriving home. After that, we attacked some spring rolls we found that were unmarked (the only unmarked item we saw). The shrimp spring rolls sitting right next them were labeled, but seeing as how it was just some shrimp sitting on a table for who knows how long, I chose the mystery rolls. I'm guessing it was tofu, and that just made me feel better than shrimp, despite my deep love for all seafood.
Next, we decided to light our stove with a match and steam the chicken steamed bun ($1.89), pork steamed bun ($1.99), and sticky rice flour pork cake ($1.25).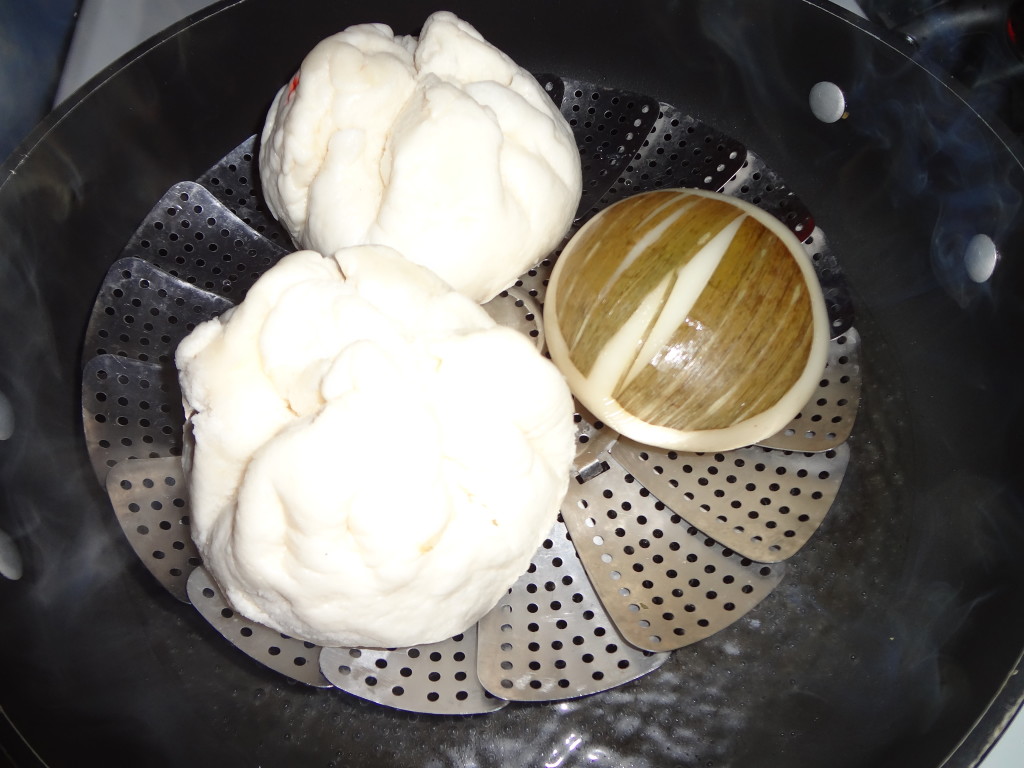 While that was warming up, we assembled our banh hoi thit nuong ($4.49) into bun thit nuong. That is to say, what we bought was labeled as the former (intended to be rolled up into what we call spring rolls), but that we elected to treat as the latter, essentially the same ingredients served in a bowl, mixed up. Without power, it was too much of a hassle to heat water and soften the spring roll paper. It's a fun dish though.
Then we settled down in the living room with a bunch of candles to dine.
Bun thit nuong is one of my most loved vietnamese dishes of the ones I have tried so far, so I enjoyed my bowl very much, even thought the meat was room temperature.
The banh day was impossibly sticky, and my banana leaf was disintegrating, but I still enjoyed this one. It could have been hotter, but it was very dense, so we just pulled it too early I guess. Adam wasn't a big fan of this though, saying it didn't seem worth the trouble. To be fair, he got the second half, after I had wrecked the banana leaf holder.
I enjoyed the banh bao thit heo – pork steamed bun – though I have had better, but I did not care of for the the banh bao ga – chicken steamed bun – very much. It was fine enough, but there was something in the combination of spices that just wasn't for me.
We were too full at this point to have dessert, but we did keep it in the fridge and go back for it the next day. Che ba ba – "Mrs. Third's Sweet Dessert," it is called and while it looked like it was right up my alley (tapioca, coconut cream, yuca, etc.) it just wasn't for me. I am positive it is a matter of personal and/or cultural tastes, and not anything to do with the dessert.
Okay, so here's where it all goes off the rails. Adam spend the entirety of the following day sick to his stomach, and I had pretty wicked stomach cramps. I wasn't stuck on the throne most of the day, the way the hubs was, (TMI, I know – but too bad, this is for your benefit) but it wasn't fun. Adam definitely blames Viet Tofu. I may not have, since every once in a while things just don't sit well with me, but since we both did feel poorly, that doesn't bode well.
And I am thinking that the fact that they failed their health inspections twice last year, resulting in a closure (until they raised their score back to 75C) is probably related. Their reasoning for failing the inspection was too laughable not to include here:
"They came too early on Monday, and we didn't have time to clean up. If they had come later we would have had everything in order."
So, if only the inspector had come on time, you would have been able to more effectively pretend that you're actually compliant? And the big, bad inspector showed up early, huh? How unfair…. Sheesh. Oh, and the same employee's comment about receiving the 75C (an embarrassing score that is low enough to be a deal-breaker for conscientious diners) was as follows:
"Now everything is back to normal."
Oh goody, back to barely eking along. How commendable.
Honestly, this whole thing kind of breaks my heart, because I so wanted to like Viet Tofu. I so wanted to go back and try more things. But alas, this has not been a promising experience. My coworker assures me that if I were to stick to the hot tables and cold cases, I would have been fine, so perhaps we brought this upon ourselves. I may go back and try two of the dishes he recommended to me as being particularly good. In the meantime, 2 stars.
Viet Tofu
4897 Buford Highway, Suite 125
Atlanta, GA 30341
emily
Nerd. Foodie. Gamer. Homecook. Perpetual planner. Gardener. Aspiring homesteader. Direct response graphic designer. I use too many damn commas.