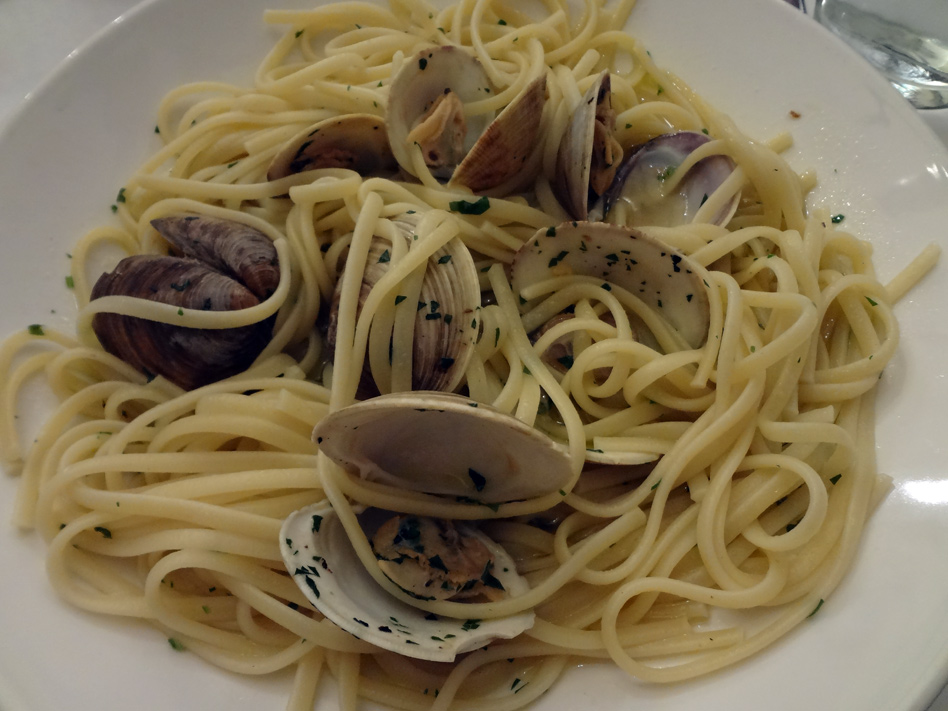 Boo! Veni Vidi Vici closed at the end of May, 2015. If anyone knows another place to get the traditional Sicilian Christmas Eve Feast of the Seven Fishes in Atlanta, please LET ME KNOW.
I recently dined at Veni Vidi Vici, an upscale italian trattoria concept in midtown Atlanta, with Adam, my parents, and my maternal grandparents to celebrate my birthday.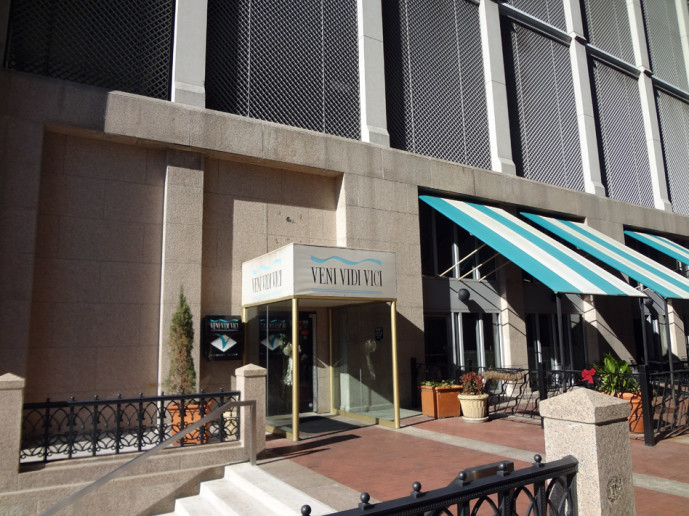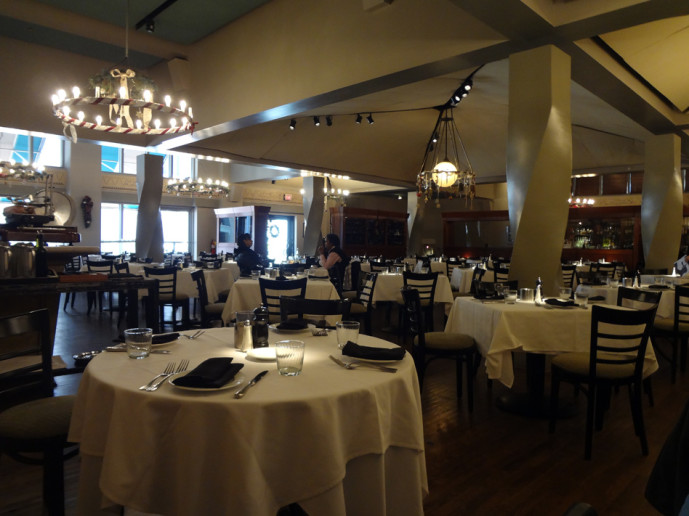 We had no trouble finding the place or getting parked or seated. We were set up with our menus, which seem to change regularly, and some bread with olive oil and balsamic vinegar.
The bread was pretty great, though I do have to complain that the balance of the olive oil and balsamic leaned way too much toward the balsamic. Because the condiments were poured out for us and then taken away, we weren't able to try to compensate. Oh well.
Because it's the holidays, ordering booze was a high priority. We got Grandma a classic Manhattan, while Adam and I ordered some of the special (seasonal?) house cocktails.
I took a real risk with my drink, since all the ingredients seemed very earthy and herby when I Googled them on my phone under the table (so classy, I know), but I gave it a try anyway. Sure enough, it tasted a bit like compost to me, but that's okay because I am cheap and I muscled through it, haha. Seriously though, the presentation was quite nice and that helped.
We also snagged a calamari appetizer. It was very tasty. The half-lemon that came out had a sweet little cover to prevent you from getting seeds and whatnot all over your delicious fried squid. The spices were tasty and there were a bunch of delightful little green things everywhere – the general consensus at the table is that they were roasted or fried capers. They were a nice touch and this dish was very enjoyable.
For my birthday meal, Adam and I went splitzies on clam linguine with a side of roasted broccoli with cheese and red pepper, and a sausage and pasta dish with a side of eggplant parmesan.
While I thought the sausage was quite delicious, I found both dishes to be pretty non-descript, bordering on bland. Truth be told, I've had better clam linguine from an ex's mother. Like I said, the sausage in Adam's dish was good, but the pasta was very plain and there was far more of it than there was savory sausage to balance it out. Overall, somewhat lackluster but not terrible.
The side of broccoli was very surprising. It is just broccoli and cheese with some red pepper flakes but oh my word was it amazing. Cooked to perfection and a wonderful combination and balance of flavors. Adam didn't enjoy it as much as me, finding it to be a little overcooked (he can't always be right, haha).
The eggplant parmesan was not as impressive. It was grilled – as advertised – but hardly contained any eggplant. I felt like it was full of filler vegetables and there were only two or so sheets of eggplant. Since I was sharing with Adam, I basically got a single piece of eggplant. It just wasn't very impressive, though it looked great.
Here are some other thoughts from around the table.
First up, my mom:
"The bread was fantastic!! With the exception of the clumped noodles at the bottom, I loved my duck dish in the mushroom ragu, even though the sauce just seemed like regular ragu!
The Long Island Iced Tea was not good. Hated the eggplant parmesan but that was because it was grilled and that much was clearly stated on the menu. 2 pluses and 2 negatives should equal a 3 but I liked the place and they served a pretty birthday treat, so leaning towards 4 stars."
My dad:
"I thoroughly enjoyed the tail steak; it was cooked to perfection. The eggplant parmesan was good, but not my favorite. 4 stars."
My grandparents had a fish dish and a chicken dish and seemed generally happy.
After our meal was wrapped up, the waiter brought out a big fat slice of tiramisu with a candle and Happy Birthday written in chocolate on the plate. It was very tasty, way better than Maggiano's tiramisu, which is what we usually have sometime during the holidays.
Overall, Veni Vidi Vici seemed pretty hit or miss to me, and I am willing to give it a tentative 3 stars – seemingly if you order the right things. Adam feels like it's more miss than hit, especially at the price point, and grudgingly gives it 2.5 stars. So that's a big spread, from 2.5 to 4 stars, so we'll average it, giving Veni Vidi Vici 3 stars, which is pretty generous.
Veni Vidi Vici
41 14th St NW
Atlanta, GA 30309
emily
Nerd. Foodie. Gamer. Homecook. Perpetual planner. Gardener. Aspiring homesteader. Direct response graphic designer. I use too many damn commas.