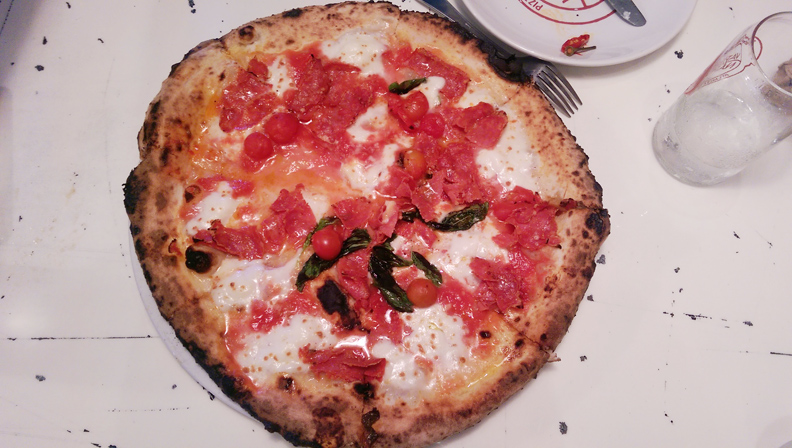 Anyone familiar with the current Atlanta dining scene would be remiss to mention the Neapolitan pizza explosion as one of growing restaurant trends around town. Varuni Napoli is one of the newer ones that have opened in Midtown (Monroe & Piedmont). Most of the Neapolitan restaurants around town frame themselves as authentic, certified, imported ingredients, having great pizza ovens, open kitchens, etc. Off the top of my head I know of Varuni Napoli, Antico, Don Antonio, Ammazza, Fritti, Varasano's, Double Zero just to name a few. Of that list, I have only been to the first three but I would give the Neapolitan pizza joints around town credit in that of the 4 places I been to, they were all great experiences that served quality pizza. Surprisingly, what separates these places more than the pies for me are the ambience, apps, location, etc. With all of them taking obvious pride in their craft and sticking to a pretty traditional pie, there are only subtle differences which primarily fall into the crust.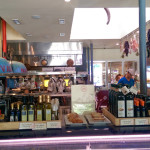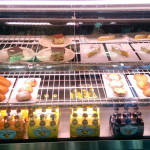 Varuni Napoli is a little hard to spot from the street (next to Hob Nob as it seems they a.) don't have their proper signs up yet or b.) don't care to get noticed by those who pass by. Nonetheless, any pizza spot in Atlanta is immediately get compared to Antico. While I still think Antico offers a better vibe due its bustling nature, uniqueness, and communal seating; Varuni Napoli address a lot of people's concerns with Antico. Those being parking can be a hassle, it is hard to get a table during peak hours, they serve alcohol, and they provide carafes of water. I don't think there is a clear winner here either way but more so a personal preference. For me, bringing out of towners to a spot like Antico still presents a unique experience that I think highlights the direction this towns dining scene is heading in. I can definitely still appreciate the vibe that Varuni Napoli offers which is more of a casual minimalist, laid back setup. They also has a nice outside deck if the weather is right. Also, I really enjoyed the old school pictures on the walls that highlighted Naples scattered around the restaurant.
On to the food, a group of us ordered two apps and two pizzas. We started with the potato croquettes and the prosciutto/mozzarella pairing. Both were a bit underwhelming for me as apps. The croquettes that we got were mushy and weren't the light, airy, and crispy breading I was hoping to expect. The prosciutto was delicious as I would venture to say serving cured hams are hard to screw up if the quality of meat is high, which it was. The mozzarella ball we got was a little too runny and dense for my liking. I think the burrata at Don Antonio's (even though its technically a different dish) has spoiled me with it being nice and firm on the outside yet creamy on the inside and holding its consistency well.
However, this place is all about the pizza and it didn't disappoint. The two pizzas we ordered were the Margherita (San Marzano tomatoes, buffalo mozzarella, pecorino romano, extra virgin olive oil, basil) and King of Napoli (Plum tomatoes (Antichi pomodori di Napoli) , mozzarella, Vesuvian tomato, hot salami, extra virgin olive oil, pecorino romano). The margherita is one of the best ways to true gauge how good a pizza place is and this one checked all the boxes. The crust was a little less doughy and crisper than some of its Neapolitan counterparts around town but that certainly wouldn't be viewed as a knock in my book. The King of Napoli balanced a ton of good ingredients together with the hot salami packing a noticeable punch of heat with every bite, having the whole tomatoes provide an extra sweetness, and the substitution of pecorino romano over mozzarella giving the pizza a salty/nuttier profile to it.
Overall, the apps were okay but pizza's were really good. Those spoiled with Antico's open topping stands of minced garlic, parmesan, peppers, etc might be disappointed that you have to request each of these but it's a minor inconvenience in the end. In my opinion, you can't really go wrong with any of the four Neapolitan pizza spots I have visited around town (Varuni Napoli, Antico, Don Antonio, Ammazza). A lot of really just comes down to convenience in terms of location and what kind of scene you are looking for. Varuni Napoli is another good addition to the Atlanta dining scene and specifically the pizza scene which I can't imagine many people complaining about.
Food: 4.0
Vibe: 4.0
Varuni Napoli
1540 Monroe Dr NE
Atlanta, GA 30324
anish
I am a 20-something white-collar worker that enjoys the great food options Atlanta has to offer. I enjoy sharing my dining experiences and opinions to anyone who will listen. I hate being the guy next to your table taking cell phone pics but understand its place as a necessary evil in the food blogging world. I love to research places beforehand (some would say to a fault). The theory is if I am going to spend time and money eating out, it is worth the 10 or so minutes to vet it out beforehand. I have a laundry list of dining places I still want to go to but for every one I check off, four probably get added. For me though, that is probably the biggest perk of living in a big city.