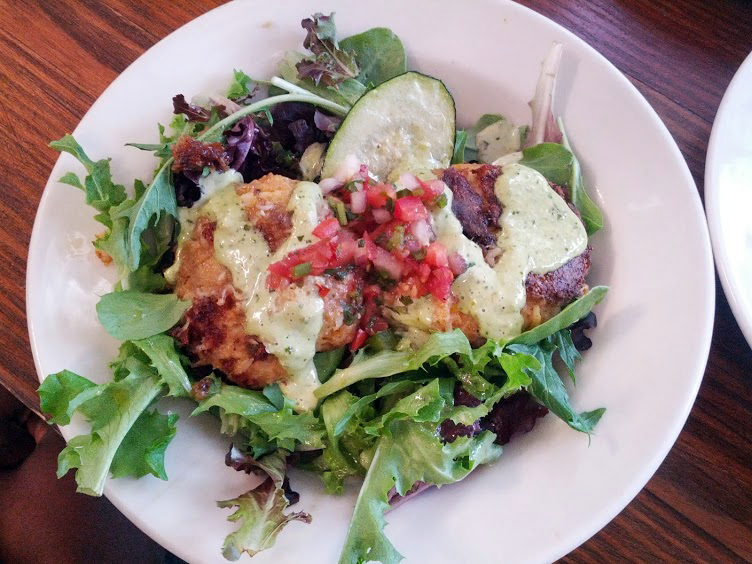 I'm sad to say that Urban Pl8 is closed. I may have had a sub-par experience there, but I still appreciated the philosophy and had planned to return one day to try again. I wish the owners luck in future ventures.
I have been wanting to go to Urban Pl8 ever since it opened in 2009. It's completely gluten-free, with several fully paleo options. Local, seasonal food, too. These are all things that I am into, hence my inordinate excitement at finally getting to go try this place. Apparently, they even do paleo food delivery, which is a pretty darn cool idea (despite the fact that I am a huge proponent of cooking for yourself).
I finally got the opportunity to go this past week for lunch with a group of coworkers. Thanks to the generosity of a coworker, I got to try two appetizers – the kale chips and hummus. The kale chips were a little too done and not as savory as some I have had elsewhere. The hummus, however, was very good. It had roasted peppers on tope, and the (presumably gluten-free) pita was as good as any gluten-laden pita I've ever had.
I got the daily special shrimp po' boy (~$14) and went halfsies with my work husband, who the ordered jumbo lump crab cakes jumbo lump crab cakes ($17) and a side of braised kale ($6).
A coworker, Melissa, got the grilled glazed salmon grilled glazed salmon with brussels sprouts, roasted apples, and grilled vidalia onions. She wound up being somewhat unhappy, because the brussels sprouts were basically raw and hard as rocks. They were even slightly blackened on the outside, just not cooked.
Another coworker, Jaimyn, ordered scallops that came with yellow squash, vidalia onions, roasted apples, and he did not enjoy his meal either. Despite being large scallops, only having four scallops seemed like a let down to him for a nearly $20 lunch (before drinks and gratuity), especially since the scallops were the only part of the dish he liked.
As for my experience, perhaps anticipating Urban Pl8 for so long set me up for disappointment.

While I am glad there is a nice restaurant in Atlanta that espouses the lifestyle I do, I was not overly impressed. My po' boy was incredibly expensive, even for being a shrimp one with gluten-free bread. It was also a little dry. The crab cakes were quite tasty, but I was disappointed that they only came on a bed of salad. The (clearly outdated) online menu showed the crab cakes came with a salad and zucchini.
The service was quite lacking. Sometimes I can't tell if I am harder on servers because I was once a server, or easier on them, because it was hard on me and I wasn't incredibly good at it. Eleven people – the size of our party – can be tough on one person, but the restaurant was not at capacity, so I would have expected the other members of the team to pitch in and help.
Besides being slow, we also had to ask for the same things several times. One thing I asked for as we were chowing down on the appetizers and received promptly was a napkin. I was expecting paper napkins, but received cloth. Cloth, like for roll-ups (utensil sets). At this point, I think our server should have realized that we had no silverware, but she did not. In fact, all 11 of us were served our meals without silverware, and she walked away without noticing, so we had to ask. Don't mistake me, our waitress was very nice and she kept our drinks filled, it's just that overall the service was frustrating and slow.
I did hear murmurings from down the table that indicated that perhaps others in my party enjoyed their dishes better than the folks at my end of the table. However, based on my experience (probably a 2.75), and those of my compatriots, I will have to sadly give Urban Pl8 2.5 stars.
Urban Pl8
1082 Huff Road
Atlanta, GA 30318
emily
Nerd. Foodie. Gamer. Homecook. Perpetual planner. Gardener. Aspiring homesteader. Direct response graphic designer. I use too many damn commas.