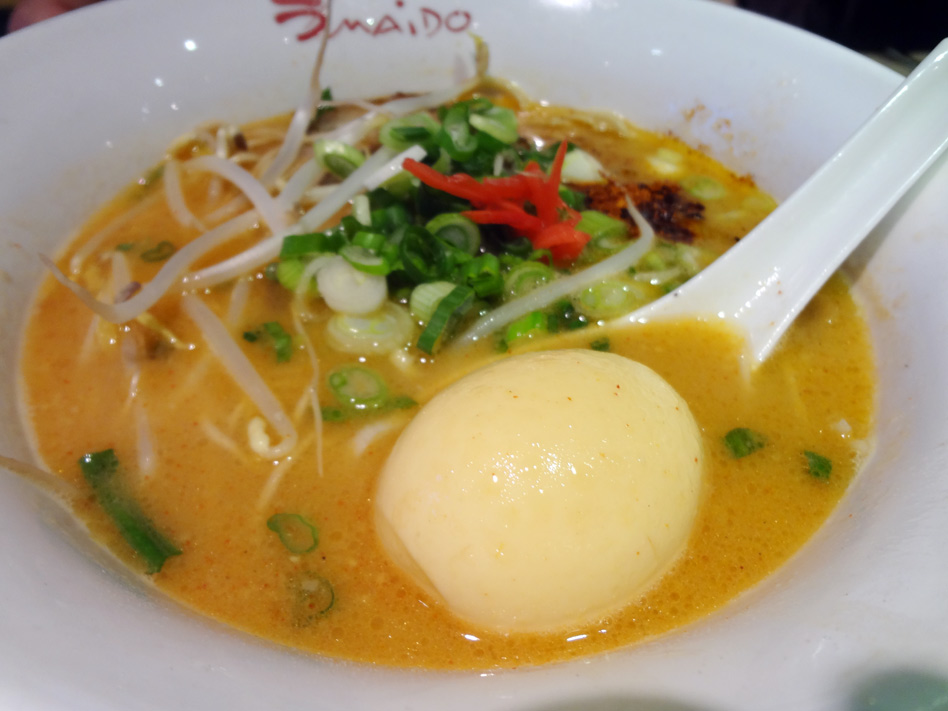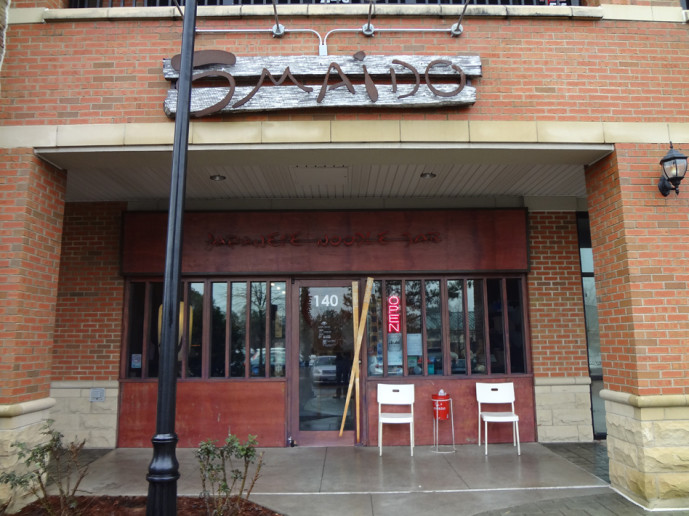 Umaido is a ramenya, a japanese ramen restaurant. When most folks think about ramen, they think of the dirt-cheap instant ramen noodles that many college students subsist on. But in Japan, where ramen has been a popular iconic dish for the past 100 years, ramen is a real food, not some dried crap in a bag.
Ramen is served with a rich broth and fresh noodles – Umaido makes their noodles in-house – with fresh meat, eggs, and vegetables. Their specialty is tonkatsu – pork broth. Boy, is it tasty!
Adam and I were turned on to Umaido years ago, but we simply don't make it up to Suwanee very often and hadn't been in probably 3 years, until now.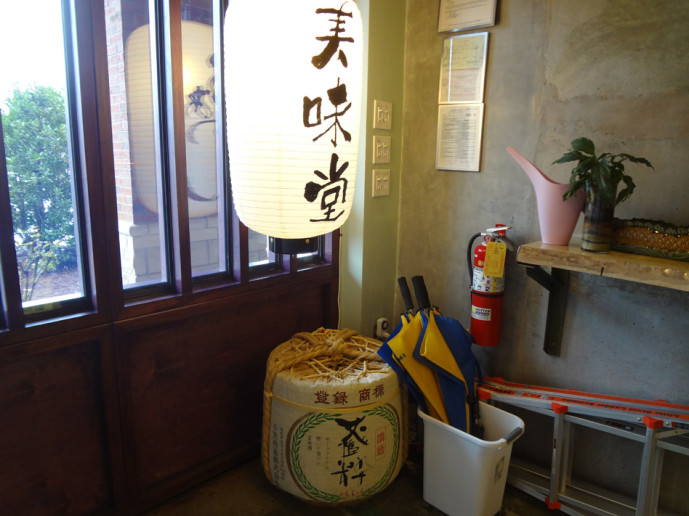 One of the first things you notice when you come into Umaido is the Ramen Challenge wall. If you can eat four full bowls of ramen in less than 20 minutes, your meal is free. If you can do it in 5 minutes, you get six months of free ramen – wow!
Adam and I came to Umaido with Ashley, Stephen, and our good friends Susan and Richard (you may remember them from Madras Chettinaad). Since we're such a fun bunch, we ordered some drinks and apps to get the party going. Stephen got a sake, while Ashley and I split a "lady-friendly" sparkling blueberry sake, which we really enjoyed. The server brought 'round a large tray of sake cups and we each got to choose our own… a simple but fun thing.
After cup selection was settled, we chowed down on some octopus balls. Get your mind out of the gutter; they're fritter-like balls formed out of octopus meat and batter called takoyaki. They come with a sauce on top and a generous sprinkling of bonito flakes that dance as the heat rises from the takoyaki. They were tasty.
The next appetizer didn't come out until well after we were into our food, for whatever reason – two kakuni saucy braised pork belly in little slider form. Cute and tasty. Challenging to share, but we all managed!
Since it had been a few years since our last trip up here, Adam and I weren't quite sure what level of spice we got last time (after the fact we decided it was Ultra Spicy Level 1 and Ultra Spicy Level 2). Since I am older now and I knew I'd be drinking, I decided to play it safe and stuck to Spicy Miso ramen, while Adam went for the Ultra Spicy Level 1 ramen. We each added seaweed, but different types, and Adam also added hot noodles.
Ashley got honey miso ramen with seaweed and Stephen got soymilk ramen with nori and scallops.
When you've eaten all your noodles, save some of your broth – you can order kae dama, an extra serving of noodles to put into your broth. It's really an excellent deal.
One of the things I like about Umaido, besides kae dama are the fresh garlic cloves and presses to squeeze the pieces into your soup. Yum! Here's what the lovely Ashley has to say:
I have only been to a few places in Atlanta that offer ramen and only two that specialize in it, so I can't fully speak to its "best" status. However, I can say that the three broths I have tried (soy miso, honey miso, and tonkatsu) have all been excellent. I do think that they have the tastiest ramen I have tried so far. The prices are comparable with other restaurants, the venue is interesting with the open window to the noodle-making process, and the sake selection is decent. The service has been mostly accurate and polite the few times I've gone. I only wish it were closer. Overall, for its being a dedicated, tasty ramenya, I would give it a 4.
Yup, Umaido serves damn good ramen – haven't had anything better stateside, but we also haven't had much ramen experience in Atlanta. As far as I know, Umaido is the only ramenya in Atlanta and the only ramen-serving shop that makes their noodles in-house. The service is decent enough, too.
We'll need to run down the ramen shortlist provided by Creative Loafing before we can do anything as brash as adding Umaido to our exclusive list of 5-star restaurants. But, I wouldn't be surprised if that is what happens! 4 stars for now…
Umaido
2790 Lawrenceville Suwanee Rd
Suwanee, GA 30024
emily
Nerd. Foodie. Gamer. Homecook. Perpetual planner. Gardener. Aspiring homesteader. Direct response graphic designer. I use too many damn commas.