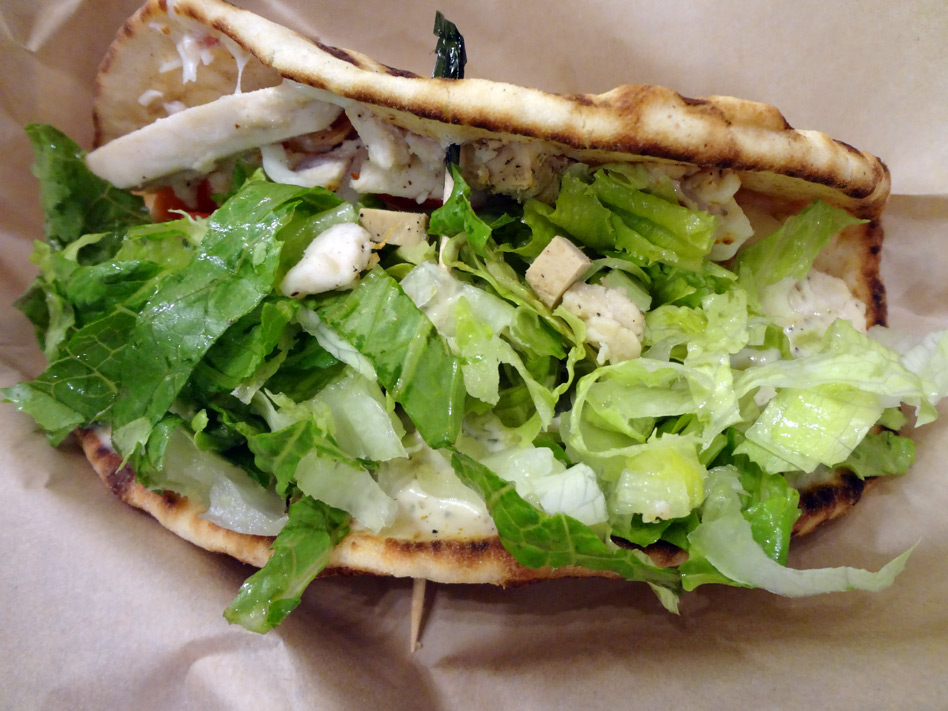 I was recently invited out to Tropical Smoothie Cafe's flagship store in Dunwoody to check out their menu, new look and feel, and limited run unBEETable berry smoothie. Tropical Smoothie Cafe is a larger chain than I usually entertain the idea of visiting for this blog, however the marketing angle appealed, as well as the beet shake.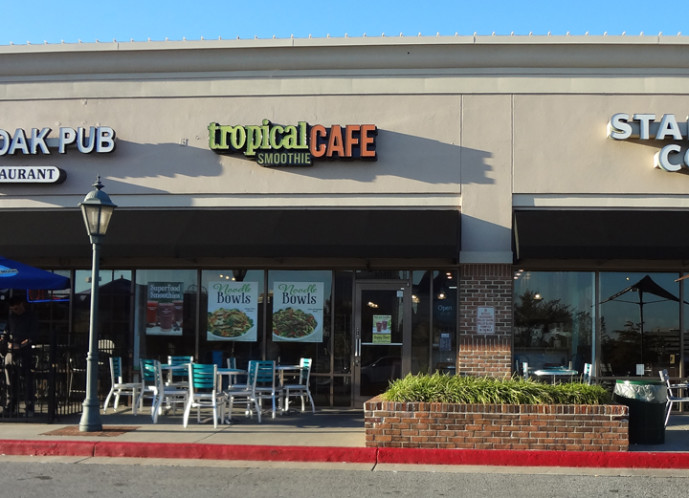 I make a large batch of fruit and vegetable smoothie each weekend for consumption throughout the following week. When beets arrive in our CSA box, they are always set aside for my smoothies because they are healthy and so colorful that they really help combat the muddy look that smoothies with a lot of veggies tend to have while still contributing to the nutrition bomb. So, I headed up to Dunwoody to see what this beet shake – and Tropical Smoothie Cafe as a whole – is all about.

Founded in Destin, FL in 1997, Tropical Smoothie Cafe has grown quickly and now has just shy of 400 locations in more than 30 states. They are rolling out a new look and feel this fall. I'd never been to an "original" Tropical Smoothie Cafe, but I heard it had more of a jungle feel, whereas the restaurants will now have the cleaner, modern coastal look that you see in the photos above. Bright and friendly, bordering on spa-like.
The first dishes we tried were noodle bowls: the ginger miso chicken noodle bowl and the spicy mongolian beef noodle bowl. The ginger miso bowl includes chicken and ginger miso sauce on a bed of noodles with carrots, edamame, cucumber and spinach, topped with sesame seeds.
The noodles are like lo mein noodles, but thinner and firmer. I appreciated the inclusion of a variety of vegetables; overall I found the dish to bland but light and still pleasant enough.
Next up was the spicy mongolian beef noodle bowl. This one comes with sauce and beef over the same noodles with red and green peppers, spinach and scallions, topped with sesame seeds. After the first dish, I was expecting a very mild mass-market "spicy" mongolian beef, but this dish actually had a decent kick for something you order at a chain. I was really impressed with it and enjoyed it a lot. Bravo to the chef.
I'd been sipping on basil lemonade so far, and while this was definitely as advertised, I think it was probably not for me. It has a nice basil flavor, but is very sweet.
Now it was time for smoothies, the place is called a smoothie cafe after all! I got to try the most popular smoothie, the island green, and the unBEETable berry I mentioned earlier. I enjoyed both smoothies and found myself going back and forth while sampling them.
The island green has spinach, kale, mango, pineapple, and banana. Apparently it is a huge hit with kids, which makes sense because it definitely tasted sweet. Not like gnawing on raw kale and spinach at all! The unBEETable has beets, cranberries, strawberries, blueberries, and banana. This was very tasty for something that leads with (presumably) raw beets, so they did a good job letting the sweetness of the berries temper this drink. The bright color lent by the beets made the smoothie look very cheery. I could imagine it being fun for kids to drink due to the bright color.
After noodle bowls and smoothies I thought our meal was complete, but there was more in store for me at Tropical Smoothie Cafe this day. Next we sampled flatbreads, which are kind of like pita tacos. I sampled the baja chicken and the chipotle chicken club.
I liked both of these! I probably liked the flatbreads better than the noodles bowls (although I really did enjoy the mongolian beef). The baja chicken has low-fat mozzarella (wish that would have been full-fat), green and red bell peppers, onions, romaine, and light southwest rach sauce. It is creamy and the chicken is herby, I really enjoyed it. I thought it might be my favorite food of the evening, until I tried the chipotle chicken club.
The chipotle chicken club comes with pepper jack, bacon, romaine, tomatoes and chipotle mayo. I loved that it was meaty and a little spicy. Choosing between the two flatbreads would be like choosing between Doritos' cool ranch and nacho cheese; it can't be done. There is pleasure in the cool ranch and the cheesy savory goodness of the nacho cheese can't be denied. They are two separate and enjoyable flavor experiences and I feel the same way about the baja and chipotle flatbreads. Good stuff.
Lastly, and just before I exploded from entirely too much food and smoothie, we were treated with the peanut butter cup shake. The peanut butter, banana and chocolate blended to provide a sweet, but not overbearing flavor.
Tropical Smoothie Cafe met my expectations for a national chain with an emphasis on healthier choices. I'm not sure the items reflect the latest science on health – they certainly don't mesh with what I read about but nothing mainstream really does, and it's such a hotly debated subject anyway. The point is, this is certainly better for you than swinging by a Steak 'n Shake, and without tasting like rabbit food. I would definitely order a mongolian beef noodle bowl or flatbread if I were in the vicinity and needed a bite to eat.
Unfortunately for me, there really aren't any in my vicinity at the moment, but that's okay because it means there's free swag in it for you! I have three gift cards and some other Tropical Smoothie Cafe swag to give away, so do check the Facebook page for details.
Since this was a media event, my food, drink and swag were all complimentary. My experiences and words shared here are my own.
Tropical Smoothie Cafe
1155 Mount Vernon Highway
Atlanta, GA 30338
emily
Nerd. Foodie. Gamer. Homecook. Perpetual planner. Gardener. Aspiring homesteader. Direct response graphic designer. I use too many damn commas.