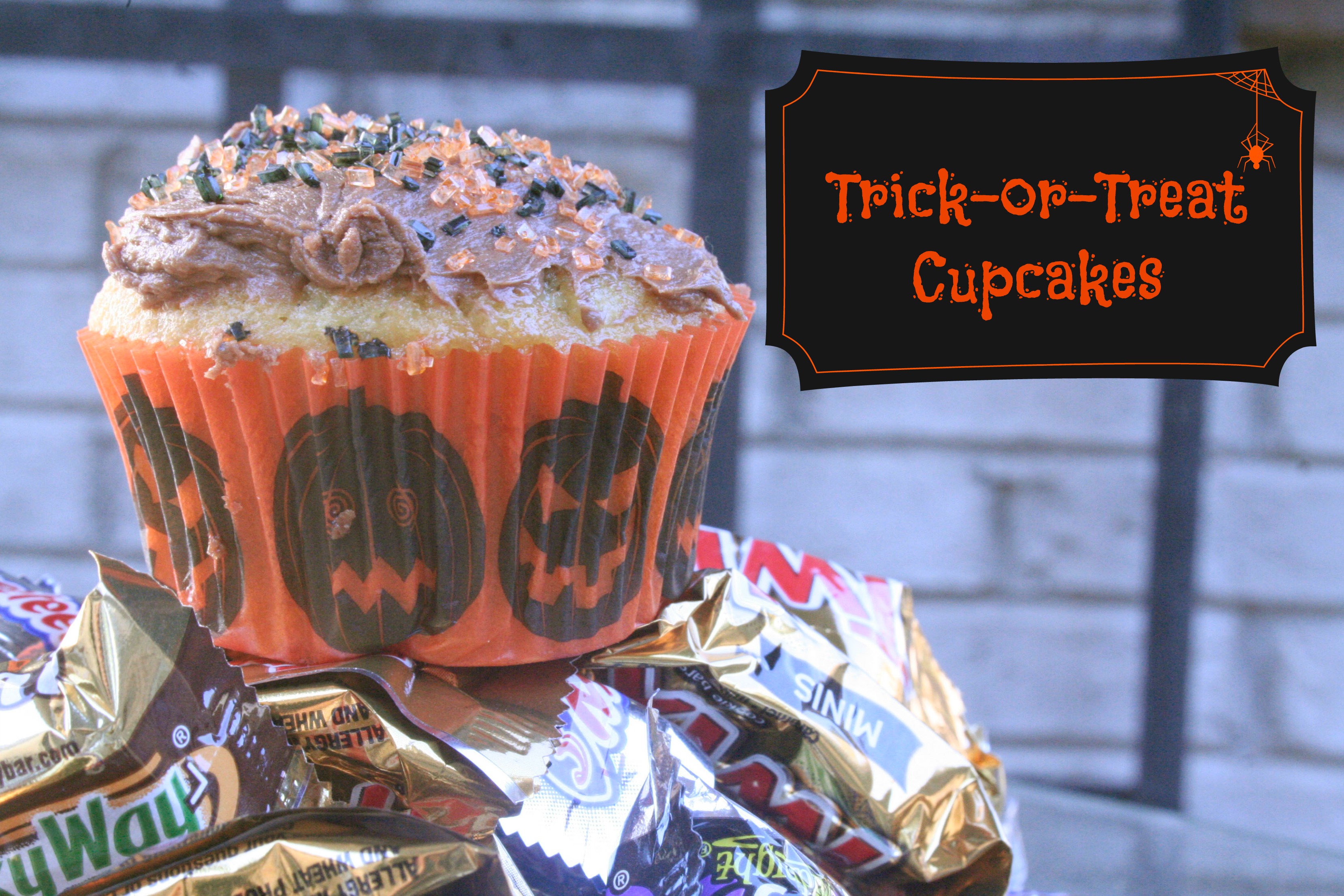 You didn't think I'd just do that lame round-up post for Halloween recipes did you?
Actually, I did for awhile. >.>  But in the end I decided to damn the torpedoes (and my removed wisdom teeth – good times) to try an idea that popped into my head.  This one in particular, there being Halloween candy everywhere, was something I thought sounded like a lot of fun.
Remember back when I used to hide delicious things inside other delicious things?  Like these Surprise Easter Brownies, hiding different flavors of candy Easter eggs?
I used to love to do that a lot.  Who doesn't want a delicious thing with MORE delicious things inside?  That's right – NOBODY.
Hiding goodies seemed like a good theme for Halloween, so I went with it and it actually turned out really well.  I grabbed a general bag of chocolate candies (Twix, Snickers, Milky Way, 3 Musketeers) and randomly dropped one of each into my cupcake batter – surprisingly, they almost all turned out beautifully!
One other departure for me that you may or may not have noted is the fact that these cupcakes are not, in fact, chocolate.  It's a rare thing for me to bake something that's not predominantly made of chocolate, but I think that recently I've been stagnating a little bit in my baking breadth.  Funfetti Cookies aside, the only cake I ever bake is chocolate, and any time I make cookies it's consistently a requirement for them to have chocolate as well.  I felt like it was time for me do something new.  Hence, some yellow, vanilla-y cake!
The recipe I found is great, though, and I plan on trying it out again.  It's from a trusted source – Joy the Baker – and with both vanilla extract and vanilla seeds in it, it's delicious; even the batter tastes great.  This with some extra-sugary chocolate buttercream (not meringue!  Look at me!) makes for a diabetes-inducing dessert, but it's worth every bite.  These cupcakes are fun, and a good surprise (as long as nobody's dead-set against any particular kind of candy).
Hiding delicious food in other delicious food will never go wrong, friends.  Never.
Trick-or-Treat Cupcake
Makes 2 dozen cupcakes
Adapted from Joy the Baker
Use your favorite chocolate buttecream recipe!  I used the one from Savory Sweet Life.
Cupcake Ingredients:
2 sticks (1 cup) unsalted butter, softened
1 3/4 cup granulated sugar
4 large eggs
1 cup buttermilk (original calls for whole milk…this was all I had, and it worked!)
1 tablespoon pure vanilla extract
1/2 vanilla bean, seeds scraped out
2 3/4 cup all-purpose flour
1 1/2 teaspoon baking powder
1/2 teaspoon salt
Assorted bite-sized candies (or candies cut into bite-sizes)
Cupcake Instructions:
Preheat the oven to 350F.
Mix together buttermilk and vanilla extract, and vanilla seeds in a small bowl.
Mix together all dry in a medium bowl.
Cream together butter and sugar.
Add eggs to creamed mixture, mixing in one at a time.
Add the buttermilk and dry mixtures to the butter mixture in 3 alternating batches, starting and ending with flour.  Mix only until just combined.
Put a single large scoop of the batter into the bottom of each cup, then add a single candy, pushing it gently into the batter.  Add another medium scoop of batter on top.
Tap the pan gently on the countertop to settle the batter and completely cover all the candies.
Bake for 20 minutes, rotating the pan halfway through.
Set out to cool before frosting.
Frost!
Decorate!
CONSUME!
Mary Gezo
Formerly of both n00bcakes and !Blog, the two magically become one on Spatialdrift; expect some lazy baking and serious nerditude. Also, I love semicolons.