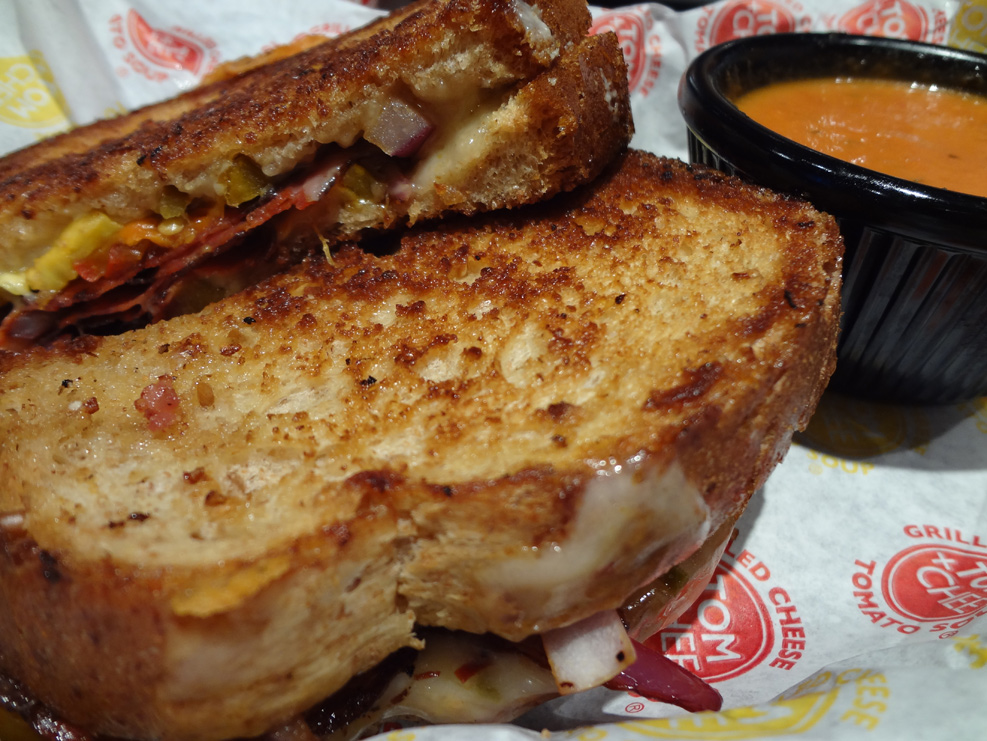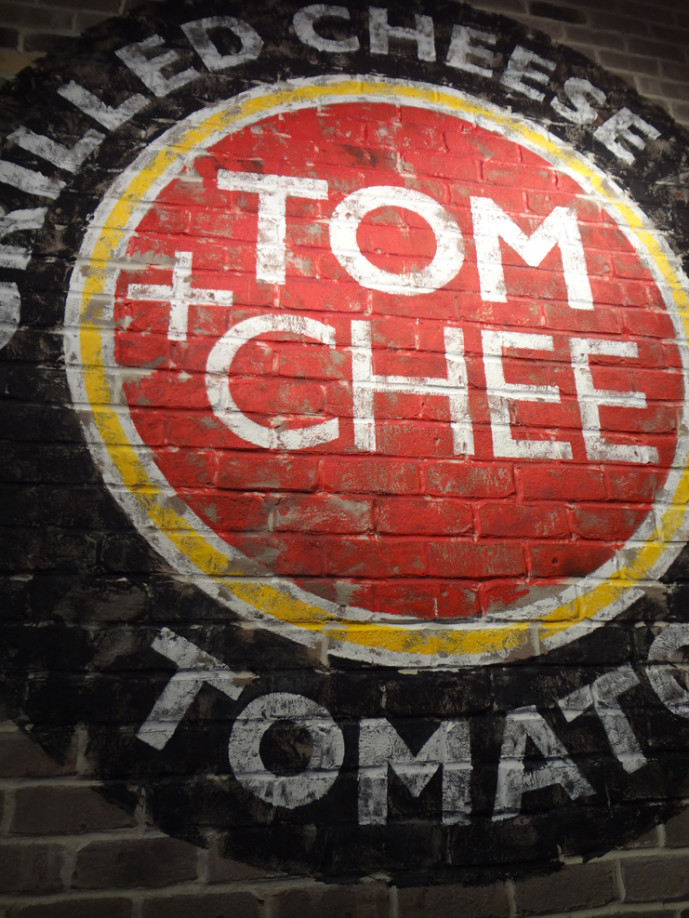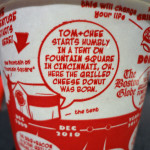 Last week, Adam and I were invited out to sneak-peak the new Tom+Chee location in Buford, near The Mall of Georgia. Since I don't watch reality television – or much television at all for that matter – I was unaware of the Tom+Chee history (goetta and all that), it's publicity and spread as a franchise (being on Shark Tank, etc.), or really even much about their concept beyond a casual read of the Marie Let's Eat article about the Kennesaw location.
The interior is bold and cheery, with a lot of black, red, yellow, and all-caps Gil Sans. You order at the counter, grab your drinks and sit at your table with a number until your food is delivered to you. Pretty standard and easy, really.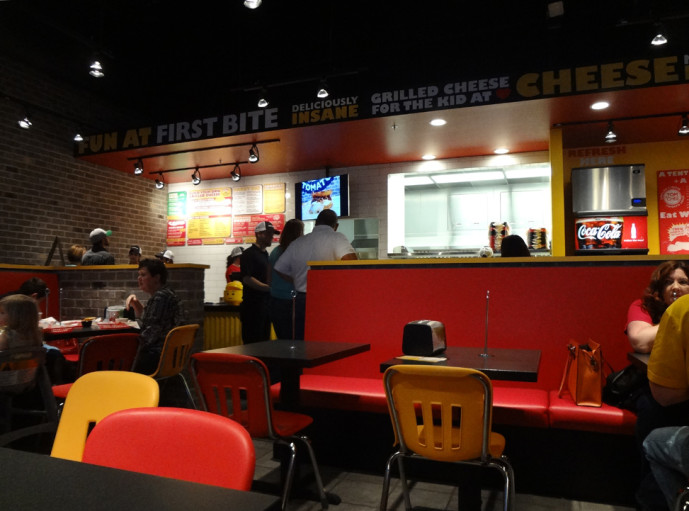 We ordered the Hot+Spicy, and Bacon+Blue grilled cheese sandwiches, along with tomato cheese soup dippers for our sandwiches. There were also crunchy grilled cheeses and a big build-your-own menu to choose from. We also ordered grilled cheese donuts for dessert: the Choco Bacon Bliss and the Blueberry Blue.
We split the grilled cheese sandwiches and the soups. I preferred the Hot+Spicy sandwich and the classic tomato soup. The Hot+Spicy has all the classic spicy italian flavors that make me happy, plus the greasy glory of the grilled cheese format. The Bacon+Blue was fine, but I had apparently forgotten how gross and gray blue cheese looks when melted on something else, haha. It was an okay sandwich.
The grilling technique for the bread was solid in both cases. The slices were well-grilled: crunchy but not burned. They were pretty greasy, but this isn't exactly a health food store, is it? The classic tomato soup tasted very fresh and tomato-y. It didn't taste like a bunch of spices or other ingredients, and was just pleasantly bright. The creamy wasn't bad, we just didn't find it to be as enjoyable.
The grilled cheese donuts were incredibly unique. I've never had anything like them. They were grilled, just like a grilled cheese sandwich is, which gave them a little crunch, but they still had the distinct doughnut taste to the dough. Very novel.
The Choco Bacon Bliss struck me as a little gross, just because it seemed over the top. In particular, the sauce just kind of tasted like self-destructive eating behavior. I preferred the lighter taste of the Blueberry Blue. The cheese, bread, and fruit flavors all meshed well and were pleasant to eat. To be sure, eating it didn't do my health any more good than the Choco Bacon Bliss did, but at least I didn't feel like my pancreas was going to call it quits before I'd finished chewing.
Overall, we had a fun time at Tom+Chee and were impressed with the speed and organization of the staff given the amount of people present at the preview event. I don't see us visiting this – or any other – Tom+Chee location again, but it's really a lifestyle choice thing, not a food/restaurant quality thing. The media invite was careful to mention that all the meats are smoked on site, everything is made with fresh, never frozen ingredients, and there are no microwaves or fryers in the restaurant. That's all fine and well, but it doesn't make these greasy delights good for you. A fun experience that's one for your gastronomical bucket list, but not as an on-the-regular thing – at least not for me. 3 stars.
Since this was a media event, all of our food was complimentary, but our thoughts and words are our own.
Tom+Chee
3350 Buford Road,
Buford, GA 30519
emily
Nerd. Foodie. Gamer. Homecook. Perpetual planner. Gardener. Aspiring homesteader. Direct response graphic designer. I use too many damn commas.