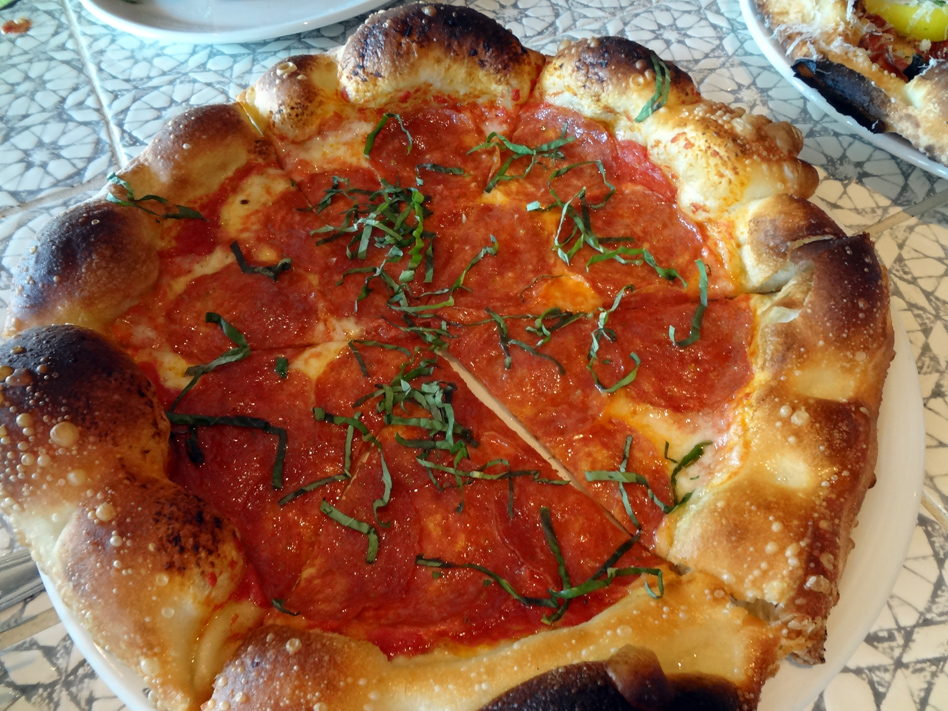 Sadly Thirteen Pies closed in May of 2016. This place will be sorely missed!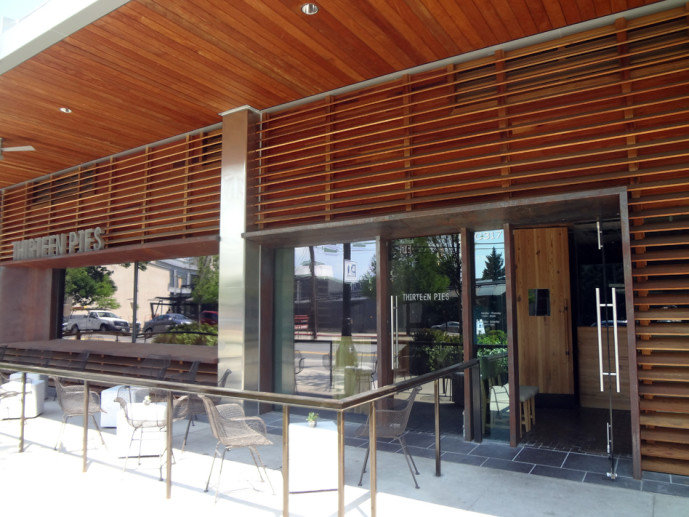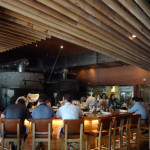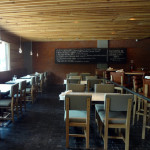 The Friday lunch crew and I checked out Thirteen Pies recently, at Anish's suggestion. Thirteen Pies is known for its ultra-thin crusts, twelve standard pizza pies, and changeable thirteenth pizza flavor.
Upon reading the menu, the Spotted Trotter Guanciale Farm Egg Pizza immediately jumped out at me, due to the interesting ingredients. Luckily, I didn't have to put all my eggs that – or any other – basket; because we had a decent-sized crowd of folks, we were able to order a number of things and swap slices, which made me very happy, as I wanted to try everything.
First, we got the baked goat cheese and the meatballs to start.
The baked goat cheese appetizer was warm, gooey and yummy. I definitely approved. The meatballs were also good, and quite moist as well, but I am just a sucker for baked cheese, so that appetizer is the winner in my book.
By the time we were all being polite about the last little spoonful of the goat cheese, our parade of pizzas began to arrive.
The house-made lamb sausage pizza was a traditional pie, it didn't wow the senses, but it's a great go-to.
The Iberian was more unique in look and flavor; it comes out with big slices of yellow tomato which tastes yummy with the green olives and fennel salami. This was one of the standouts of the pizzas we tried.
The farm egg pizza that I had been so excited about was, unfortunately a let-down for me. The pizza itself was very plain, and and the dough under the egg was a bit undercooked or soggy in a way that didn't necessarily seem to be the runny yolk. The guanciale had a subtle flavor that was hard to identify under the farm egg and arugula. Oh well, I guess you can't win them all.
I didn't sample this one, but I was told it was very good!
The Good Pepperoni pie was the other standout to me – the pepperoni basically carpeted the pie, was a great thickness and was just very satisfying to eat. I was lucky enough to snag an extra slice of it to take home for later. A really solid pie.
Overall, all six of us were very pleased with our excursion to Thirteen Pies, and our average star rating at the table was very close to five. The service was friendly and prompt.
By the end of the meal, phrases like "I liked this better than Antico!" were heard. I really enjoyed the fact that the topping area of the pizzas have an ultra-thin crust, but that the crusts were still big and fluffy with good chew. I definitely plan to take friends and family to Thirteen Pies and share it with them. 4.5 stars.
Thirteen Pies
250 Buckhead Avenue NE
Atlanta, GA 30305
emily
Nerd. Foodie. Gamer. Homecook. Perpetual planner. Gardener. Aspiring homesteader. Direct response graphic designer. I use too many damn commas.