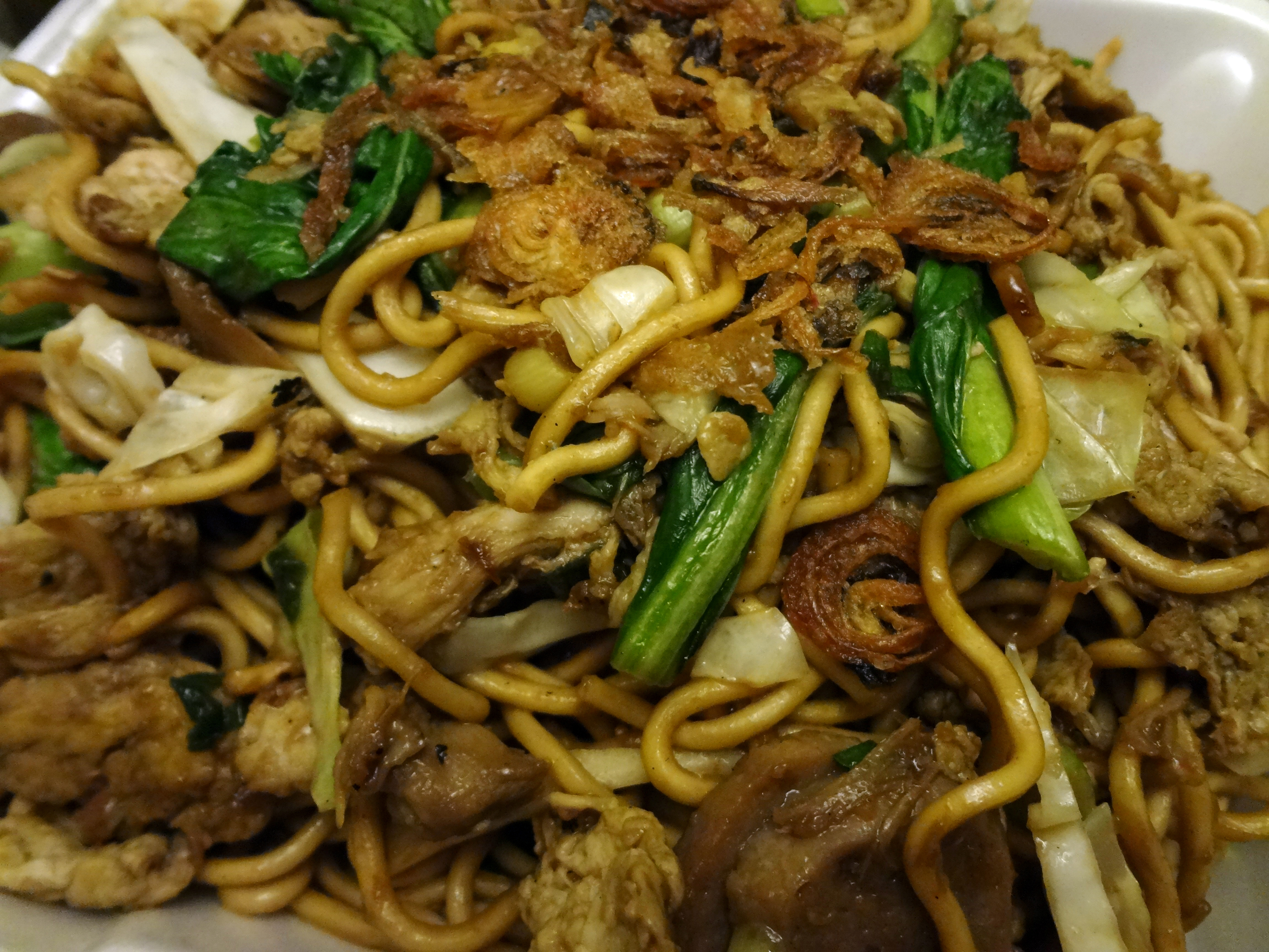 This week's excursion brought us to Tempo Doeloe, our first taste of indonesian food on our Buford Highway journey. Coming for dinner, we missed out on the seemingly amazing lunch deal – $5.49 combo meals, including three items plus rice. That sounds worth investigating.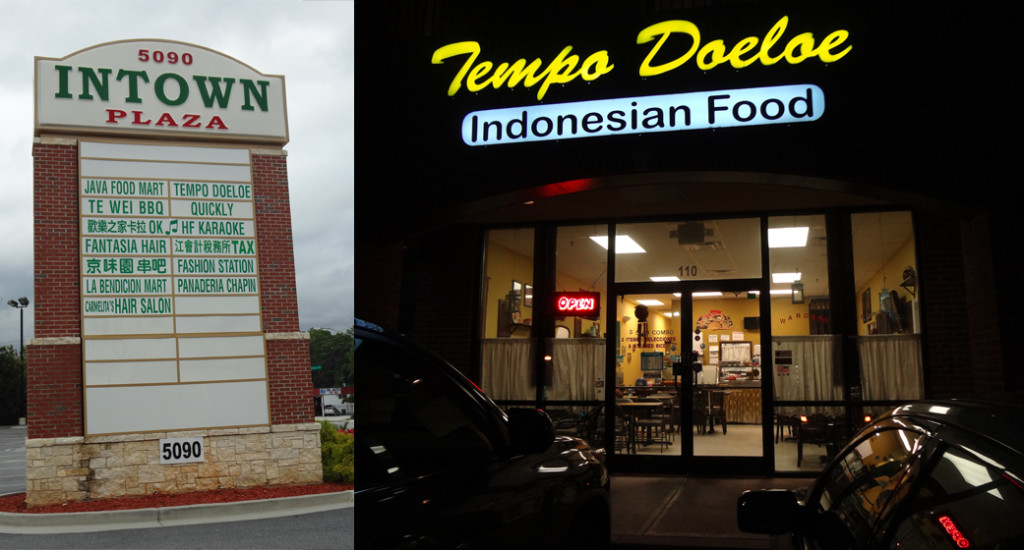 I hate to be this much of the indonesian equivalent of a gringo, but speaking honestly, the first thing that struck me about the place is what I can only assume is the smell of durian, a fruit. The restaurant looks clean, but to the uninitiated (that's me), durian can smell… dirty.
We decided to order our food to go, and look up the infamous durian (and the history of Indonesia and its cuisine, and halal) on our phones while we waited. Wikipedia describes durian thusly (this is why I think it was the durian and not something else):
The edible flesh emits a distinctive odour that is strong and penetrating even when the husk is intact. Some people regard the durian as pleasantly fragrant; others find the aroma overpowering and revolting. The smell evokes reactions from deep appreciation to intense disgust, and has been described variously as almonds, rotten onions, turpentine, raw sewage, and smelly socks. The persistence of its odour has led to the fruit's banishment from certain hotels and public transportation in southeast Asia.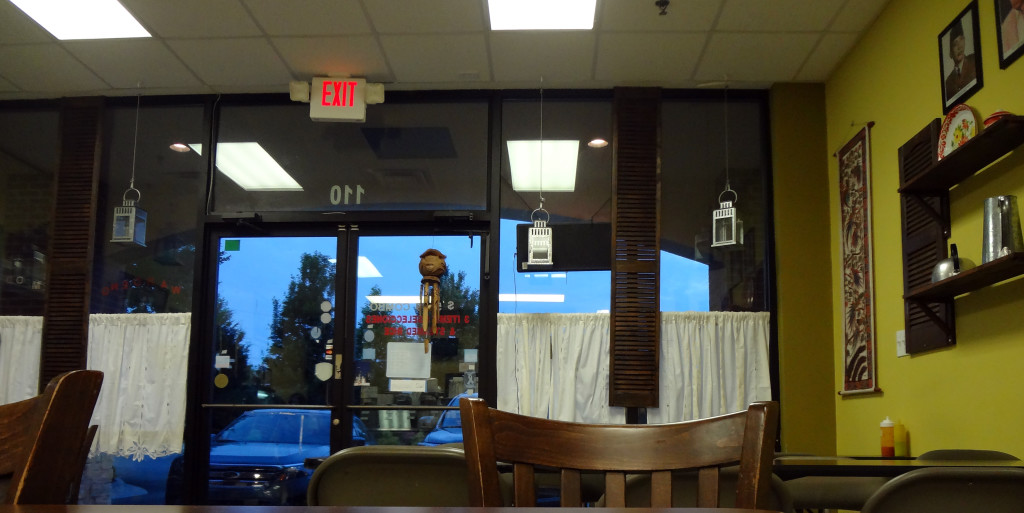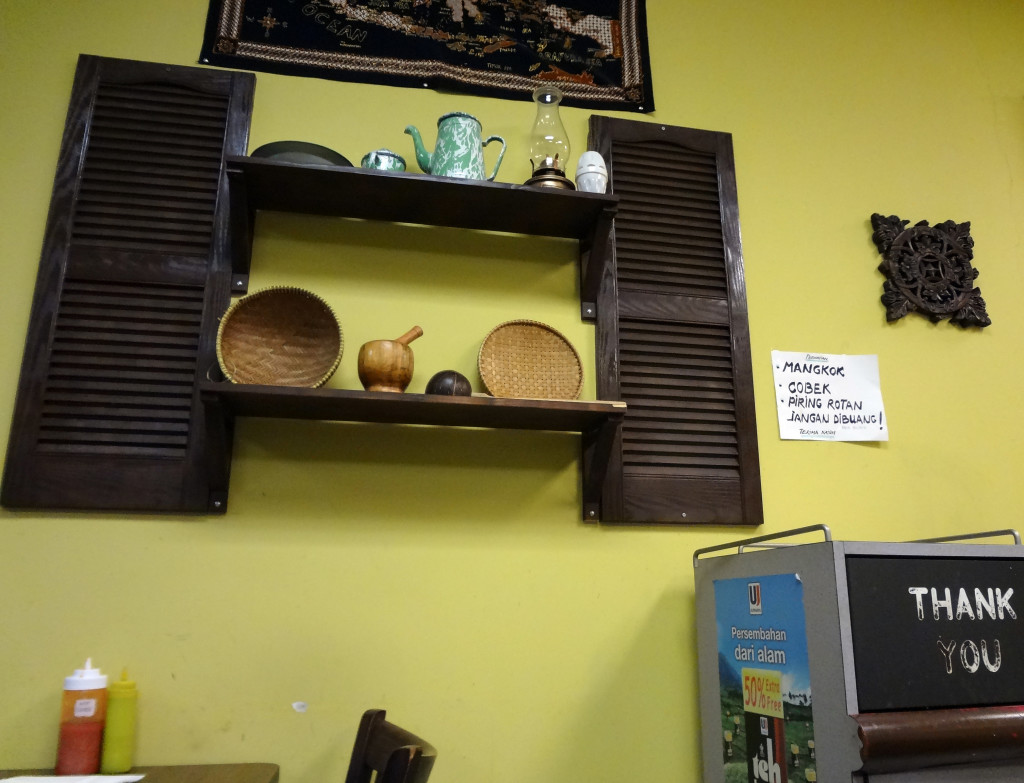 Despite my uncultured olfactory sensibilities, the inside of Tempo Doeloe is nice, if a bit small. It is clean and well-decorated, has family-style seating, a TV with (presumably) indonesian programming, and you can walk straight through to the indonesian grocery next door.
We ordered mie goreng dok dok – "indonesian stir-fried noodles with chicken, meatball, egg, vegetables" ($7.49) and gule gibas / tong seng – lamb curry soup ($7.99). We noticed advertisments for a drink called Teh Kotak, and noticed that it was for sale in a cold case, so we picked that up, too, for $1.99. I mean, we're nerds and it said "teh," what else would you expect?
Both dishes were shockingly good. The mie goreng dok dok was pleasantly street-food-y, ringing the same Pavlovian bells as pad thai or lo mein do. Adam and I enjoyed it an awful lot. The gules gibas was also extremely delicious, and had a great amount of heat and flavor. The Teh Kotak tasted like jasmine tea (that's what it is) to me. I am not really a tea expert, so I can't speak to it very much. It tastes good, but tea is just not my beverage of choice.
We got some rice, hot sauce, vegetable crisps, and pickled vegetables, and I didn't have (still don't have) a clue as to which thing should go with what dish. So, I put the rice in the lamb curry stew, put the pickled veggies on top, and ate the crisps on the side. *shrug* Who knows? The hot sauce was good and spicy, but the heat was fleeting. The stew seemed plenty hot to me, so I just skipped it.
Adding the rice and pickled veggies felt right, since the dish how had tangy/sour and sweet flavors in addition to the spicy and savory ones already present.
By now, I am sure you have picked up on the fact that we were very impressed with what we had at Tempo Doeloe. We realize that we tend to rate the first instances of new-to-us ethnic cuisines more generously than those we find later, but the food really was amazing and the prices were good. A special trip for the lunch combo is definitely in order! 3.5 stars.
Tempo Doeloe
5090 Buford Hwy NE
Doraville, GA 30340
emily
Nerd. Foodie. Gamer. Homecook. Perpetual planner. Gardener. Aspiring homesteader. Direct response graphic designer. I use too many damn commas.