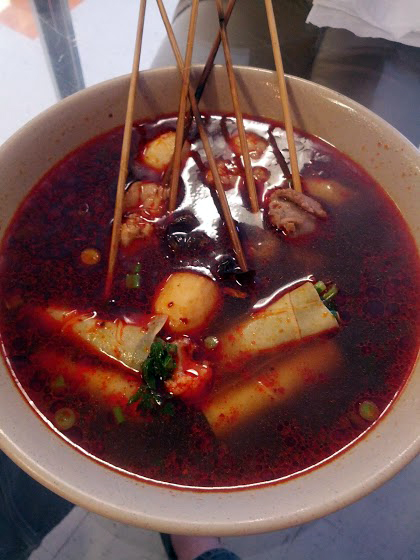 For this week's BuHi review, we headed out to Bei Jing Kabobs with our friends from Marie, Let's Eat! The sign at the street says Te Wei, but the sign above the restaurant only says Bei Jing Kabobs (at least in English – I concede that it could very well say Te Wei in chinese). Referencing EatBufordHighway's 2011 post, I think it's likely that the place changed names or hands and that the street-side signs just hasn't been updated, but I can't say for sure.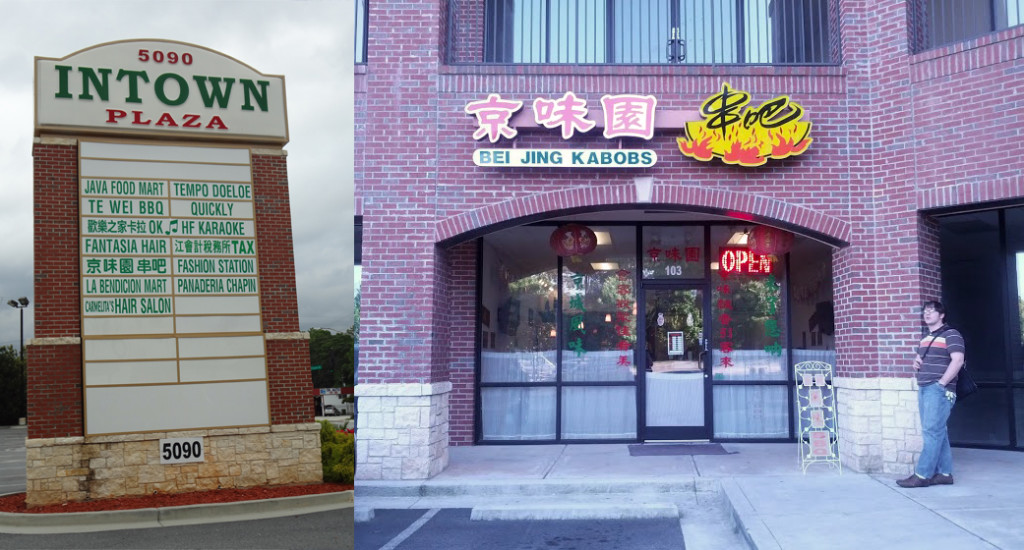 The inside was no frills – linoleum flooring and drop ceiling. The only bits of interest were the clear plastic tables, and the fact that the floor tiles spelled out the chinese character for kabob ?.
Between the four of us, we ordered about 14 skewers of chicken, lamb and beef, plus a hot pot to share that came with more skewers in it. We skipped the ox penis kabob, and the sheep testicle kabob, too.
We all favored the lamb kabobs the most of all. Adam and I liked the rest of them as well, including the chicken hearts. They were all in the northern chinese style, and were all sprinkled with some sort of chili blend. And, the price was ridiculously cheap – $20 was the grand total. While the atmosphere is lackluster and the service average, the food is solid! The lack of vegetables, sides and adult beverages seem to place Bei Jing Kabobs in the dine-and-dash category, rather than sit-down meal category. And it fulfills that position well. 3 stars.
Bei Jing Kabobs (Te Wei?)
5090 Buford Hwy, Ste. 103
Doraville, GA 30340
emily
Nerd. Foodie. Gamer. Homecook. Perpetual planner. Gardener. Aspiring homesteader. Direct response graphic designer. I use too many damn commas.