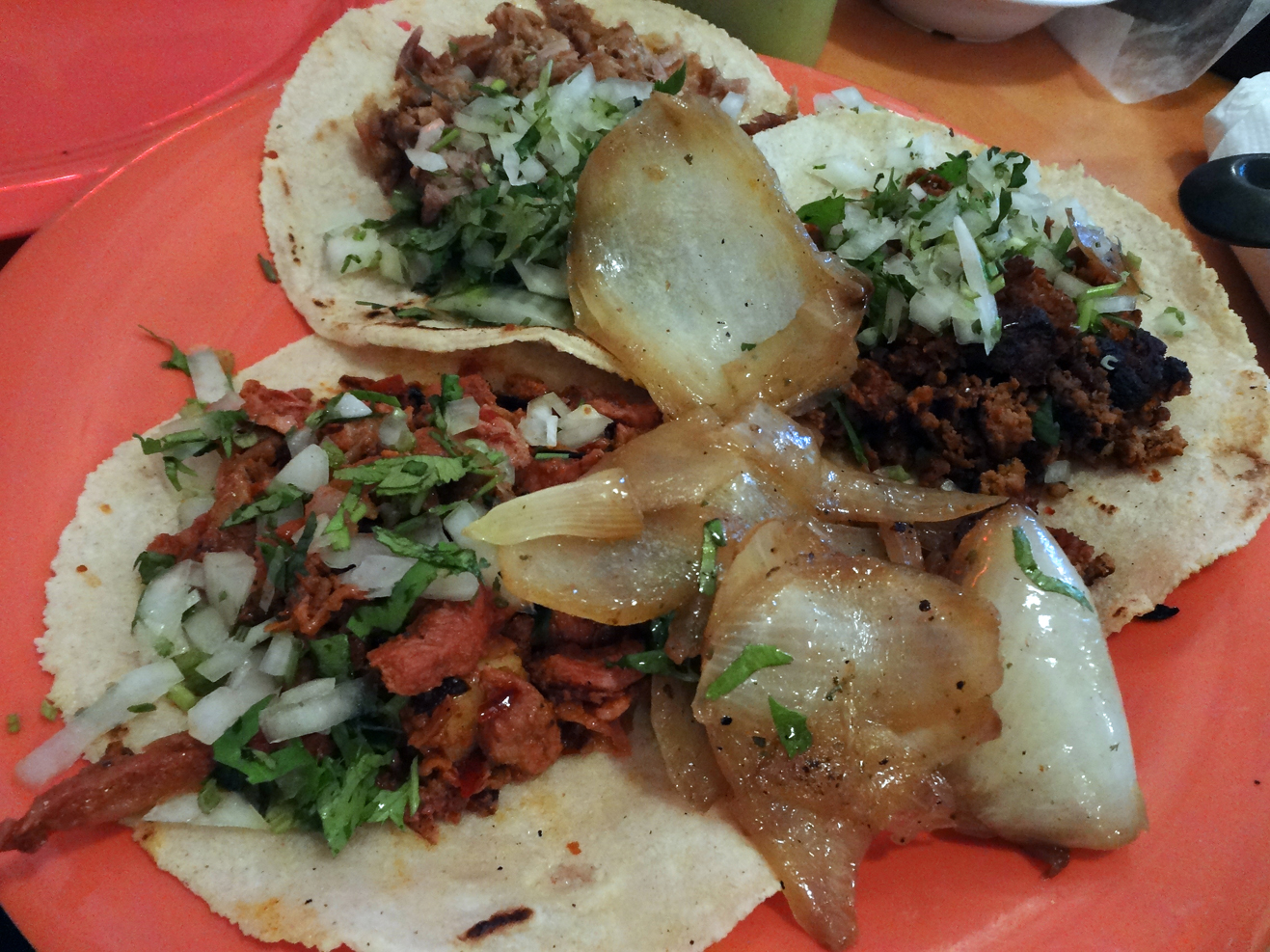 A couple weeks ago we went to Taqueria El Rey Del Taco with our favorite Californian, Vasilios. This is a taco joint that I'd heard good things about, but I'd never been to before.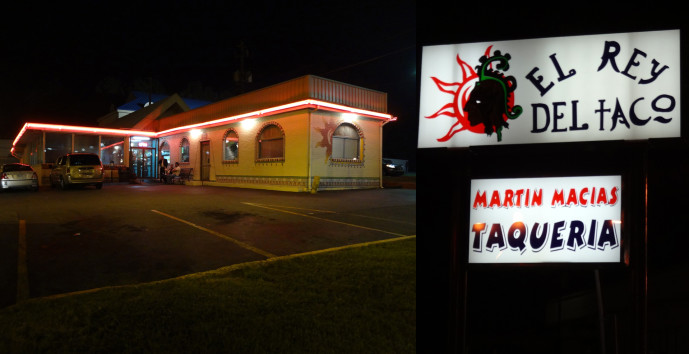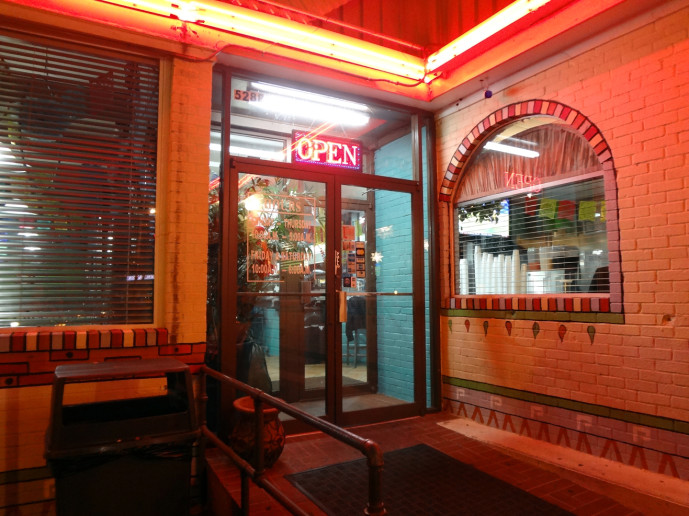 The place is a lot bigger on the inside than it seemed to be from outside.
We got settled in with a nice waitress and some chips and salsa. They were pretty good, too. We had a hard time trying to figure out what to order, but we eventually got it together.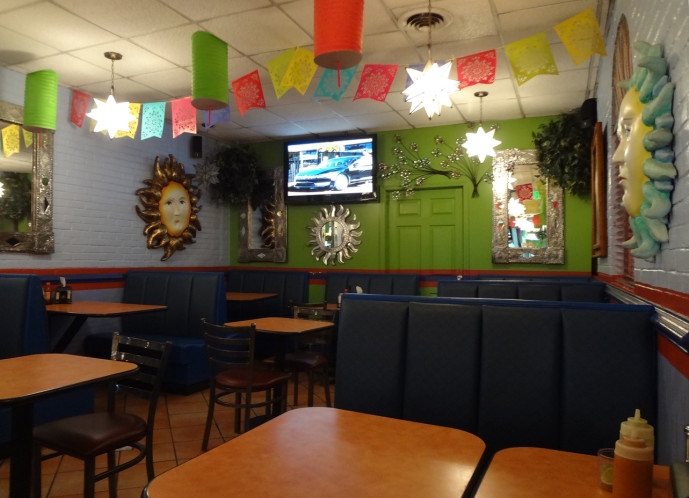 Adam and I ordered three tacos, El Maremoto, and a squash blossom quesadilla. We probably should have stopped at the tacos and El Maremoto, but I really wanted to try the quesadilla. We got a lot of squash blossoms early this year, but we got squash bugs before I got enough squash to want to experiment with blossoms.
The tacos were all good. The chorizo was tasty without being soaked in orange grease, which is always a plus.
The Maremoto, a steak and seafood kind of fajita plate was quite good, though I was most surprised by the charro beans that came with it. They were phenomenal! So good. Charro beans are like mexican cowboy/ranch beans and they can have onions, peppers, garlic, bacon, ham and other tasty, tasty things in there. I'm not sure exactly what things were in these charro beans besides pintos and bacon, but whatever it was, it was great!
The squash blossom quesadilla wasn't very remarkable, but it's another ingredient I can check off my mental bucket list of things I should eat. I think I'll try some fried, stuffed squash blossom fritters at some point before I give up entirely on eating them.
Vasili's proclamation about Taqueria El Rey Del Taco is as follows: "3 stars. It was good, not great. They forgot my beans. :(" Poor Vasili. And the beans were so delicious, too.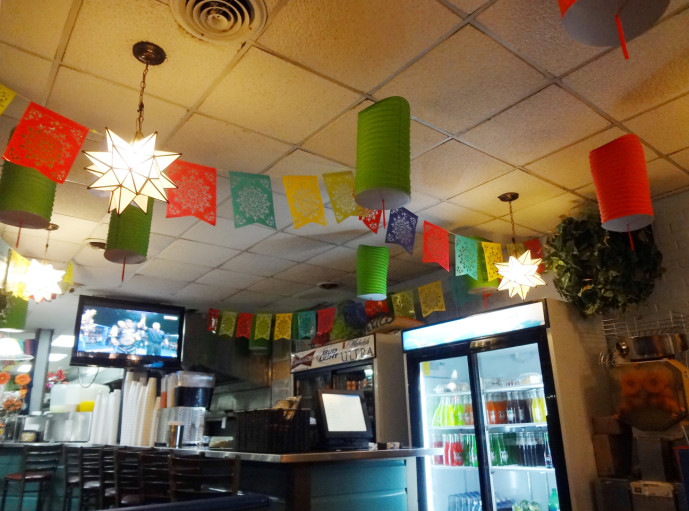 Adam and I think that Taqueria El Rey Del Taco is a lot like your typical pay-a-little-get-a-lot mexican joint, but while the majority of those places sacrifice quality to achieve the price point, the quality of the food here is higher than that average. Despite having heard good things about it already, we were still pleasantly surprised.
If only we could have come a little later, we would have been treated to live mariachi music. 3.5 stars.
Taqueria El Rey Del Taco
5288 Buford Highway NE
Doraville, GA 30340
emily
Nerd. Foodie. Gamer. Homecook. Perpetual planner. Gardener. Aspiring homesteader. Direct response graphic designer. I use too many damn commas.