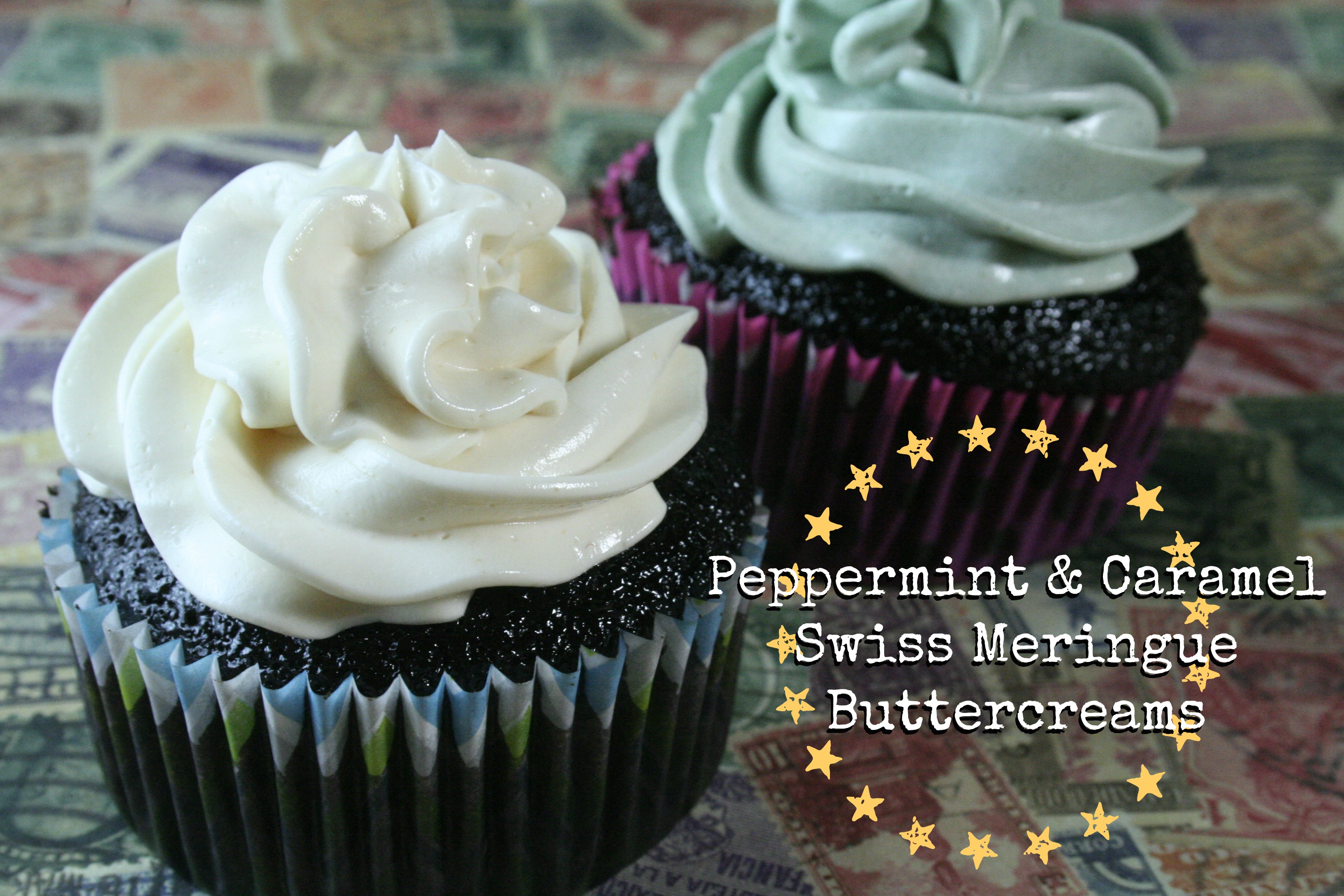 As WeddSplosion II continues, it's time for more frosting flavor experiments!
Cinnamon is still a strong (and, I believe, very likely) contender, but I have 2 more flavors I wanted to try: caramel and peppermint.  Separately, of course.  For some reason a caramel-and-peppermint flavored frosting sounds pretty terrible.
I started by baking up 2 dozen cupcakes of the classic dark chocolate variety (my favorite recipe from Sweetapolita) and then a basic recipe of vanilla swiss meringue buttercream.  I'd originally planned on just making a single-flavor of frosting, but due to some confusion on which flavor of mint would be acceptable and me jumping the gun on picking a backup flavor, I decided to forge ahead and make both flavors!
The caramel I made myself  – something I've never done before, and actually very easy! – and luckily for me, I still had peppermint extract in my cupboard from a previous peppermint recipes.  Easy peasy.
How did the final SMBs turn out?
Well, neither were bad by any stretch of the imagination, but am I completely satisfied?  Eh…not really.  Unfortunately I didn't test these flavors on the actual cupcakes, but rather straight from the mixer.  It turns out that I didn't properly account for the dark chocolate intensity of the cupcakes, so both the peppermint and caramel flavors were a little weak; both could probably have been doubled without adversely affecting the final product.  Blast!
Regardless, I look forward to hearing what my brother and his fiancee think – we should be narrowing down the final flavors very soon.  More WeddSplosion posts to come!
Peppermint & Caramel Swiss Meringue Buttercreams
Ingredients:
3 egg whites

2/3 cup granulated sugar
1 cup (2 sticks) unsalted butter
PEPPERMINT: 1/2 tsp peppermint extract
CARAMEL: 1 tbsp caramel topping (I made mine from My Baking Addiction, you could also probably just buy a jar from your local grocery)
Instructions
Take the butter from the fridge  to soften (just a reminder)!
Add the egg whites and sugar to a metal bowl.  Put that bowl over a pot of simmering water (but not touching the water).  Whisk gently until the sugar is melted.
Using either a hand or stand mixer, whip the egg white and sugar mixture until it's thick and glossy.  The bowl should be room-temperature or only slightly warm to the touch.
Changing mixer from a whisk to a paddle, add butter to the egg whites one tablespoon at a time.
Beat mixture until it moves from its "broken-apart" stages to a final, velvety-looking finished frosting.
Beat in vanilla extract and peppermint extract or caramel topping until fully incorporated.
CONSUME (on a cupcake or…you know…straight from the bowl)!
Mary Gezo
Formerly of both n00bcakes and !Blog, the two magically become one on Spatialdrift; expect some lazy baking and serious nerditude. Also, I love semicolons.