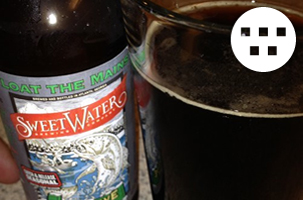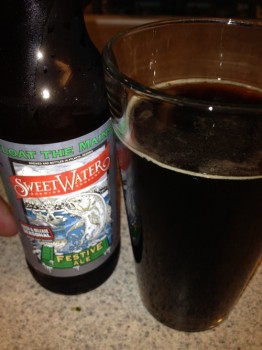 Brewery: Sweetwater Brewing
Location: Atlanta, GA
Brew: Festive Ale
Merchant: Ale Yeah!
Service: 12 oz bottle
Style: Winter/Holiday/Spice Ale
Color: Dark Brown almost Black (30 SRM)
IBU: 10-ish
ABV: 8.5%
Temp: Cool at about 55°—certainly not cold. Temperature has an extreme effect on the aroma and taste a of beer. Serving a spicy seasonal too cold defeats the purpose. I took the bottles out of the refrigerator about a half hour before consuming to be sure these would warm just enough to thoroughly enjoy.
Smell: Big sweet dark molasses aroma with hints of nutmeg and cinnamon.
Taste: Very sweet at first with big toasted malt and caramel flavors. The nutmeg and cinnamon spices are obvious but never obnoxiously strong. There are also enough hops to keep it from being so sweet you would consume only one. Which is good, because a proper holiday glow shines perfectly after 24 ounces of 8.5% beer.
I love this beer but it may not be your thing if you don't care for a brew that is a tad boozy, is only lightly carbonated and has no head/lacing. No, it's not flat. They did that on purpose. I seek this brew out every year. It's a great winter warmer because it doesn't go too far in any direction.
This is a seasonal beverage but the good folks at Sweetwater typically make plenty. You can find this in pretty much any greater Atlanta grocery store so there is no need to go out of your way. Pro tip: if you find it on draft it's much better because it is slightly creamy. So good.
With what should you pair it?: Pie.
2 Caps
Wayne Pelletier
September 1991. I drew from a tall, golden, hazy glass of a fresh and local hefeweizen in Bamberg Germany. Since then I've tasted more than a thousand brews. Here in the Greater Atlanta area we're pretty fortunate. Our local heavies: SweetWater, Atlanta Brewing and Terrapin all do world-class work. But the scene goes much, much deeper. That's where I like to find fresh pints. The goal is to draw attention to those finds on a 3-cap scale. Three seems simple but that isn't to say everything is great, average or terrible. Quite the contrary is the reality. I have come across very few craft/micro beers that are just no good. I assume these are all good beverages brew by good people with good intentions and you should as well. If I cross paths with a local brew that is truly terrible I won't waste your time, or mine, writing a review. 3 CAPS: Hurry. This is a rare brew worth going out of your way to find. I swear it. 2 CAPS: A very good beer. Stands out as great in the style. 1 CAP: A decent brew that is average for the style. Prost!