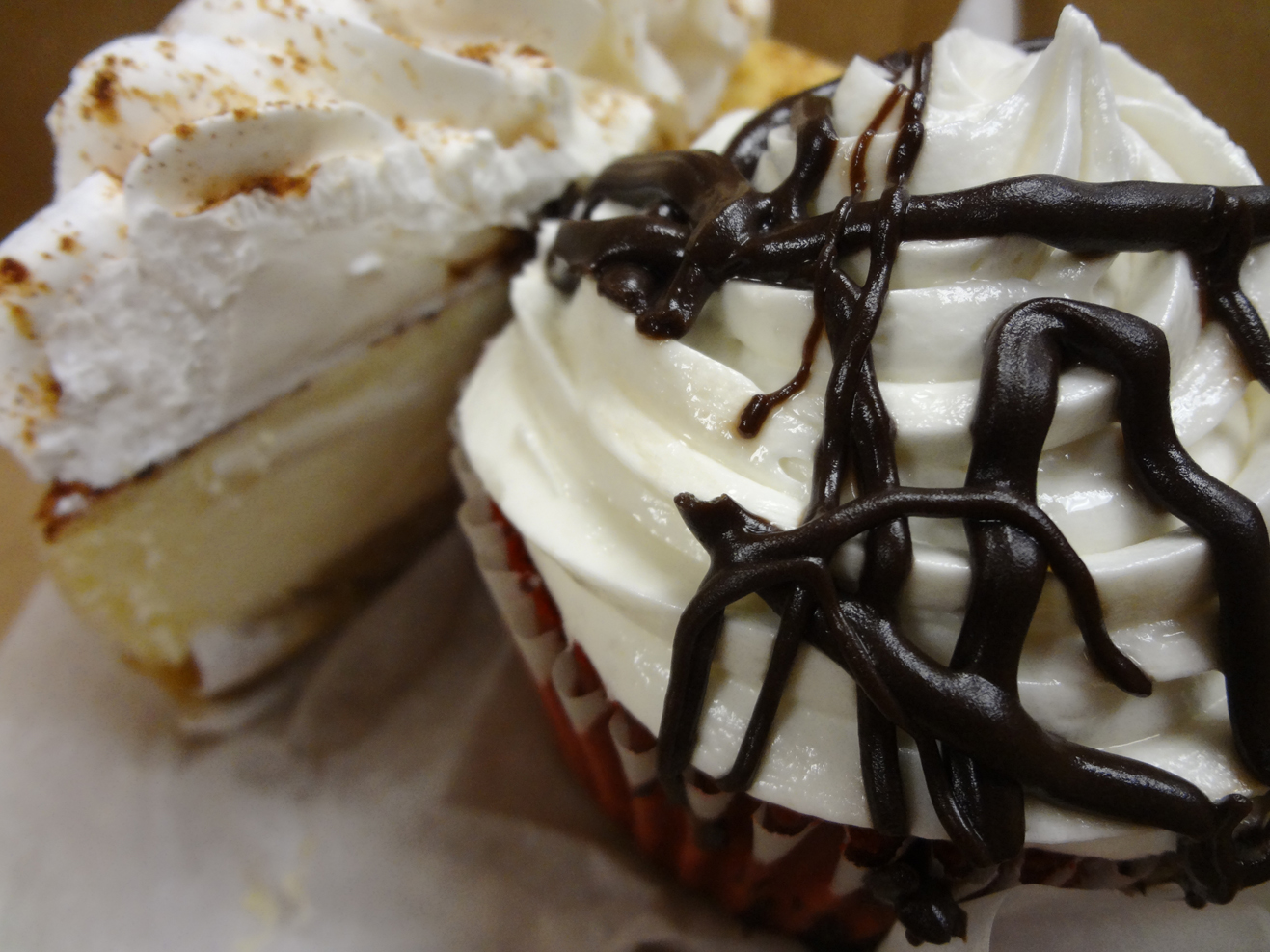 I've been wanting to visit the Sweet Auburn Curb Market for years – since the lovely and knowledgable AsianCajuns clued me in to its awesomeness, and blogged about Sweet Auburn Bakery, among other gems. And last week, I finally went with my fellow work-foodies, Anish and Teck!
Anish summed up our Sweet Auburn Curb Market experience: "I was disappointed…in myself for not having been here before. I never knew of this place that is tucked away in downtown, it's a place well worth the visit that can suit a variety of palates with a diverse offering of different food stalls."
Sweet Auburn Curb Market has been slinging excellent meat, produce, and food since 1918. The first iteration of the current brick and concrete building opened in 1924.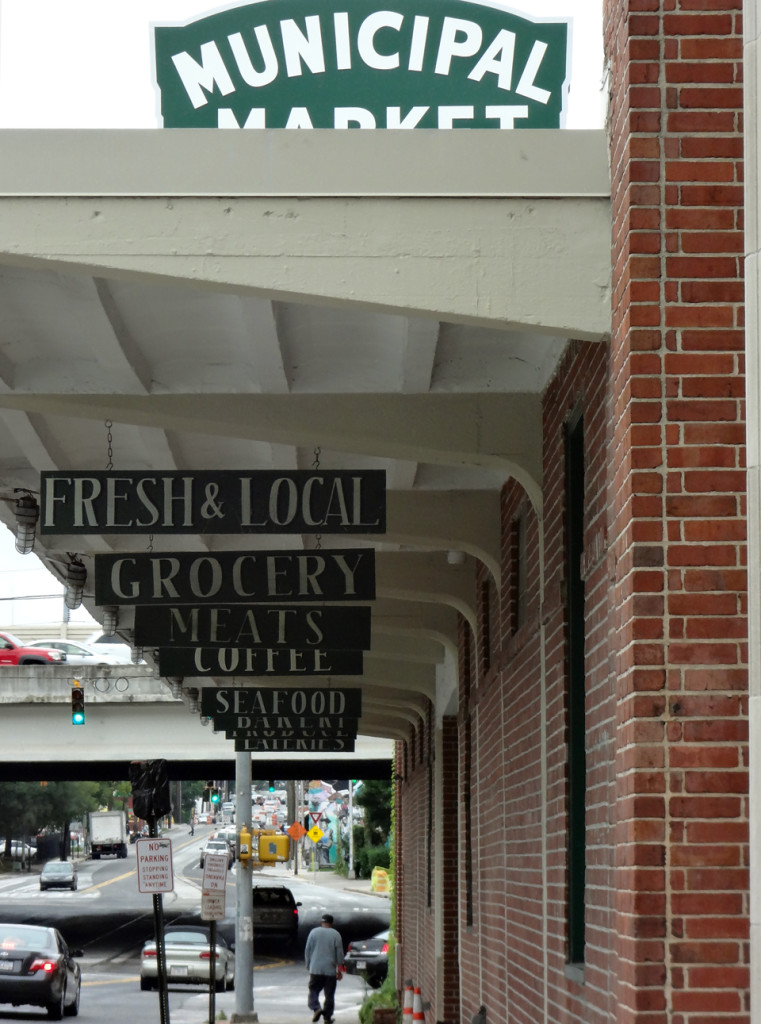 Sweet Auburn Bakery has only been around since 2009, but it has quickly become an Atlanta institution, most well-known for its sweet potato cheesecakes.
Sweet Auburn Bakery makes more than just deliciously southern cheesecakes, though. They also make danishes, tarts, cupcakes, cookies, brownies, muffins, croissants, and lemon squares. Oh, how I wish I could have tried them all.
I am a sucker for peanut butter, and the friendly guy behind the counter told me that the chocolate chip pecan cookies were their best-sellers, so for this first trip, I contented myself with ogling all the goodies and buying only two cookies – one chocolate chip pecan and one chocolate chip peanut butter ($1.19 each).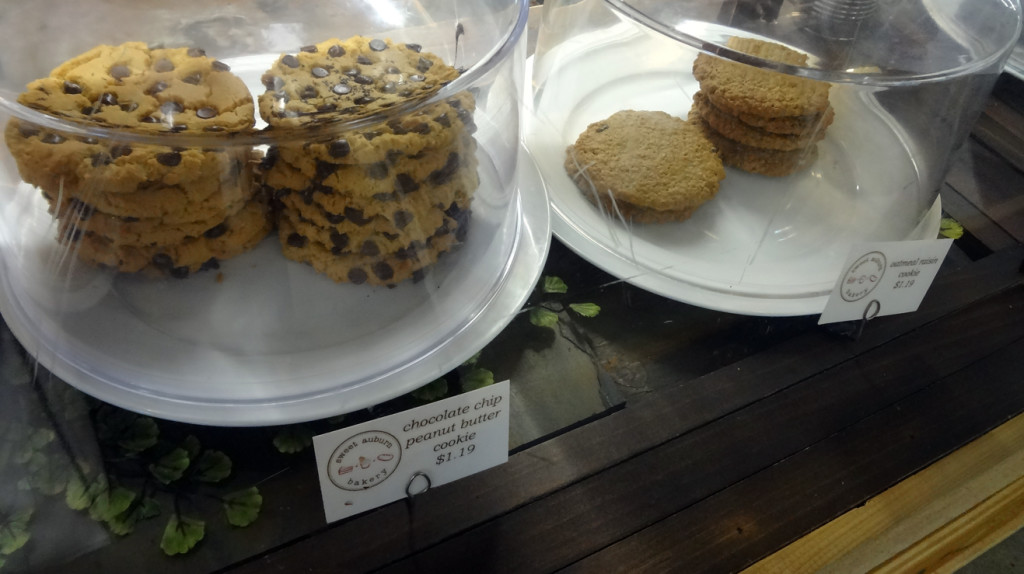 More thoughts from Anish, on the Sweet Auburn Bakery: "The bakery had a nice variety of items. I opted for the sweet potato cheesecake ($4 a slice), which is regarded as one of their best sellers. I wasn't disappointed. It was exactly as I wanted it to be, essentially a sweet potato pie in the consistency of a cheesecake with a nice, whipped cream topping. The red velvet whoopie pie was calling my name but I'll have to save that for the next visit. I probably didn't have enough to validate a true rating but the cheesecake was a solid 4.5 stars."
Anish is such a gentleman that he let me sample some of his cheesecake, since he was eating his right away, and man it was delicious!
Teck's thoughts: "Sweet Auburn has a nice array of pastries from cookies to pies at refreshingly affordable prices. The cashier/server is SUPER friendly and helpful answering questions and offering suggestions. This led to my purchase of their best-selling sweet potato cheesecake and red velvet cupcake. My wife and I agreed that the cheesecake was AMAZING – it had a nice natural flavor and just the right balance of sweet and creamy. The crust had the perfect thickness and was dense but still soft. I was a bigger fan of the red velvet than the wifey. The cupcake itself was moist and had the right level of sweetness. I liked the rich cream topping but my wife was less of a fan. All in all, 5 stars for the cheesecake alone – can't wait to go back!"
It was a day or so 'til I was able to eat my cookies, and I was worried that they would be past their prime. They were amazing, though! Great flavor, texture, softness, and distribution of ingredients. I'm so glad they held up, they were quite a treat.
The Sweet Auburn Curb Market certainly isn't very convenient to either my home or my work, but it is a fun place to visit, and not too far for a Friday lunch or a lazy Sunday afternoon. There are many more food and snack stalls to try, so I hope to go back again, soon. Oh – quick word about parking. The Market does have a paid lot, but most stalls inside can validate your parking ticket for the first hour.
As for Sweet Auburn Bakery, their service is friendly and efficient, their prices fair, and their treats delightful. Fortunately for me, many of their goods are sold at Atlanta restaurants, so it should be fairly easy to get my hands on more. I'd say it's at least a solid 4 stars, making our average an official 4.5 stars.
Sweet Auburn Bakery
Sweet Auburn Curb Market
209 Edgewood Ave NE
Atlanta, GA 30303
emily
Nerd. Foodie. Gamer. Homecook. Perpetual planner. Gardener. Aspiring homesteader. Direct response graphic designer. I use too many damn commas.