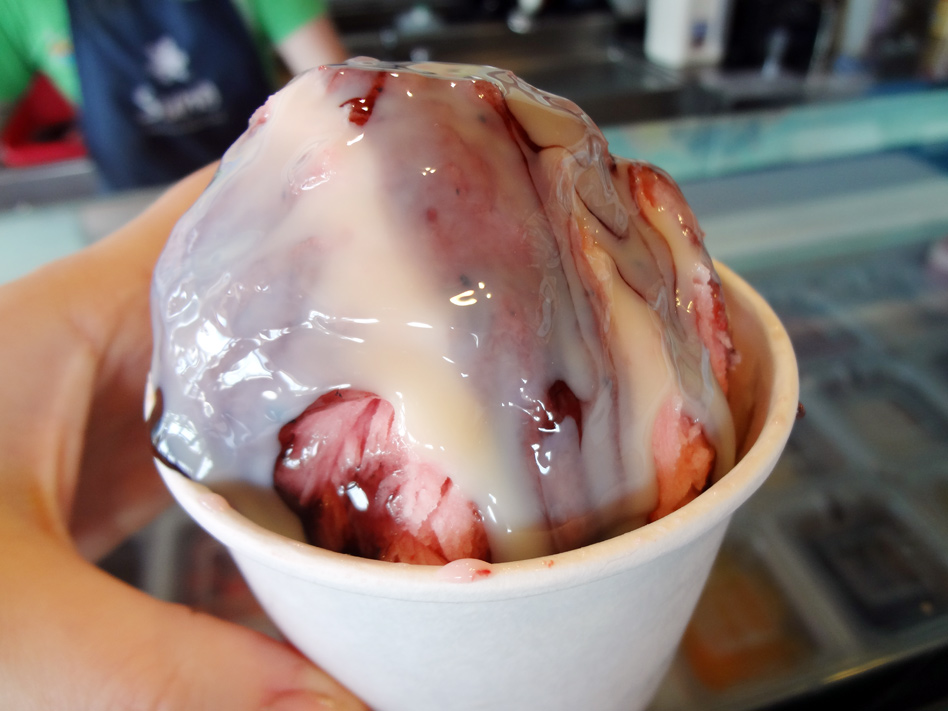 Adam and I have gone to SunO for a number of years, probably since late 2008 or early 2009, when a friend introduced us to the original location in Duluth. We really took a shine to the place and would visit it whenever we were up that way – or we'd find a reason to be up that way just to go to SunO.
Eventually more locations opened up. At their peak there were three or four, but now there is just one aside from the original, at the intersection of North Decatur and Clairmont in "greater" Decatur (same shopping center as the amazing Finder Keepers consignment shop and Wuxtry record shop).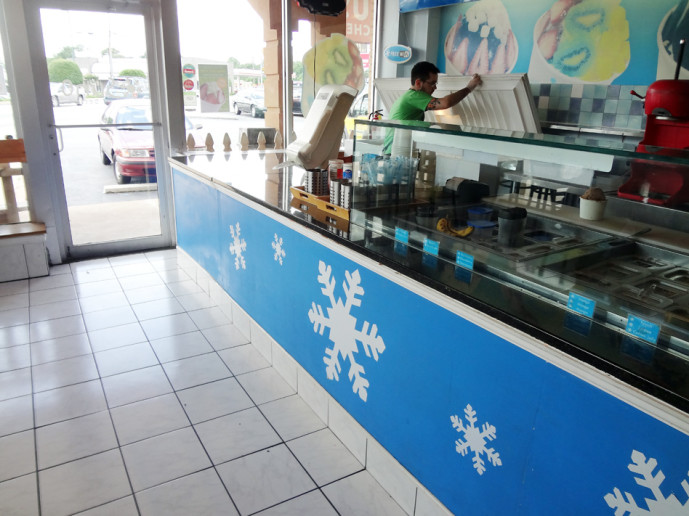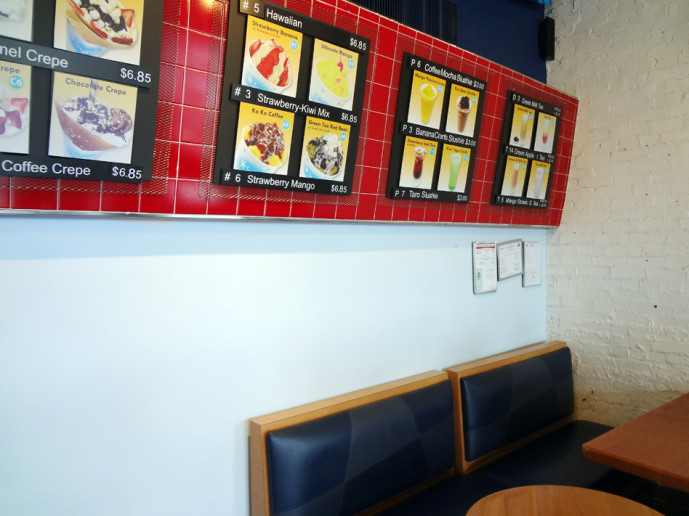 Our initial fervor for SunO may have waned a bit since those early years, but it is still a fun treat. I recently had the pleasure of introducing SunO to a couple of coworkers after a Friday lunch, and was just as gratified to see them enjoy it as I ever was the first time I dragged a friend into a SunO.
Here, the specialty is a milky shaved ice with toppings, including asian-inspired toppings. The shaved ice is also called snow, and suno means snow in japanese. Get it?
You can get the snow in cups or in crepes, and they also serve bubble teas. You can pick your own combination of base ice flavor and toppings, or you can pick a standard combination from the menu to take the guesswork out of the process.
My favorite thing to order is a budget-friendly partial recreation of a long-since discontinued combination that I used to get (they no longer carry all the ingredients the original used to include): stawberry suno base with sweetened condensed milk and blueberry syrup.
Some fresh fruit would be great on that, but you pay by the topping/syrup, so I usually stop there. I also usually order a small, because the mediums are huge – those and the flower-pot-sized larges are clearly intended only for people with teenager metabolisms. The menu's set combinations only come in medium or large, so there's no trying to be slick and get extra toppings for less that way either. But that's okay.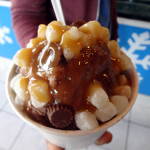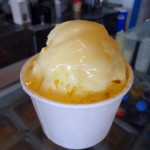 As simple as my choice is compared to some of the wackier things on the menu (see what Anish ordered to the right), I enjoy it immensely.
I have tried the bubble teas and crepes at SunO as well. I was not impressed by the teas, but the one crepe I tried – the caramel crepe – was so heavenly and delicious that I have avoided them ever since for fear that I will become horribly addicted to them.
Funnily enough, Adam discovered that, after wanting the ices to come in different flavors, he now prefers the original suno over any of the new flavors added in the past few years. I obviously prefer strawberry, but I also like the original snow. Neither of us are a fan of the chocolate.
Overall, the selection of the toppings and syrups is nice. The snow itself is unique and quite pleasant. It is light and fluffy, but still flavorful. The flavor is evenly distributed, unlike a sno-cone.
In short SunO is a fun place to drop in a get a fluffy, light dessert. I haven't been to the Duluth location in a few years, but the Decatur location is always clean and staffed with friendly folks. 4 stars.
SunO Dessert
2144 N. Decatur Road
Decatur, GA 30033
emily
Nerd. Foodie. Gamer. Homecook. Perpetual planner. Gardener. Aspiring homesteader. Direct response graphic designer. I use too many damn commas.