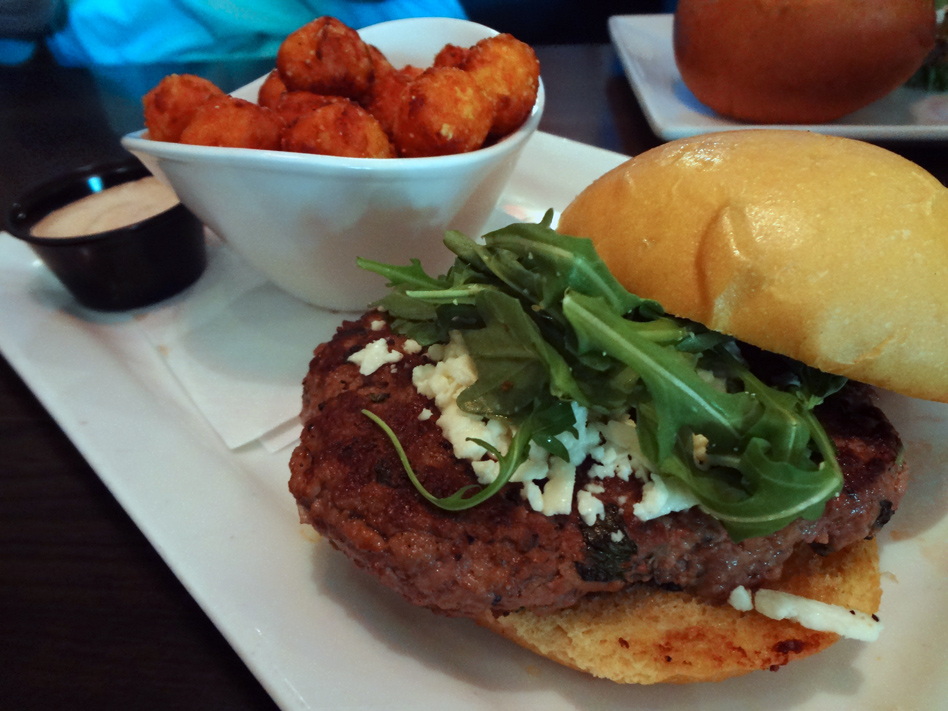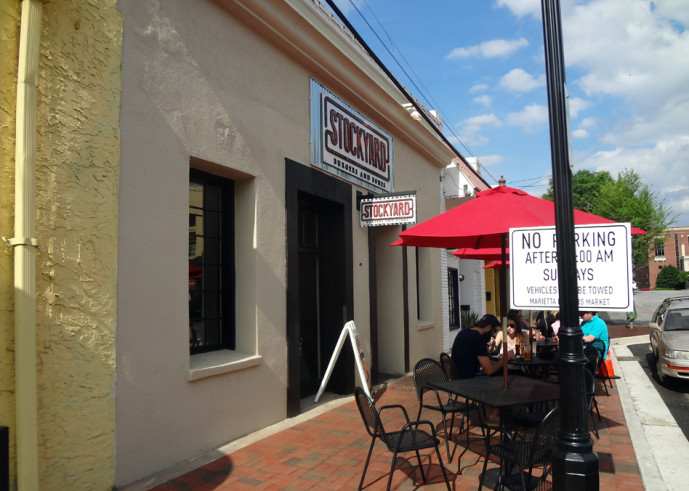 I recently went to Stockyard Burgers And Bones on the Marietta Square with my husband and parents, to celebrate my mom's birthday and Mother's Day.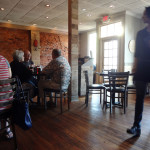 We started off our meal with a little seating snafu. The space is a bit tight, so they were seating four people at what I consider to be two-person tables; the little square ones that you lean over at a romantic dinner. That is just not sufficient for four adults with apps and entrees. Eventually a booth opened up, and the server was gracious about letting us move over. We were so, so much more comfortable there… it was a world of difference and we were all much happier.
Being the enthusiastic carnivore that I am, I was surprised to find that not very many of the menu items were calling my name – maybe I was just having an off day.
To start we ordered onion rings, the sriracha-artichoke hummus, and the flight of beer.
Everyone seemed to enjoy the onion rings a bunch. Adam in particular commented that they were nice and thinly breaded and not overly greasy. The sriracha-artichoke hummus wasn't quite what I expected, but it was still good. Those afraid of spicy things, should not worry (and indeed my mom is not fond of spicy things and she found it to be just fine for her tastes).
Adam and I were a little disappointed that we couldn't choose which beers would go into our flight. But it turned out nice anyway. The Breckenridge Agave Wheat tasted a lot like a typical wheat brew, and the Rogue Ales Hazelnut Brown Nectar also tasted like a typical brown ale. The 400 Pound Monkey from Left Hand was true to its branding and was just a bit too much on the hoppy side for us. My favorite was Boulder Beer Company's Shake Chocolate Porter. Nice and chocolatey, but outstanding either.
For our entrees, Adam and I finally settled on splitting the Yard Burger and the Kitchen Sink Burger.
The burgers were both good; nothing to complain about. Having an aoili to dip your burger into was a welcome addition – and both flavors we ordered were good. The tots were both sweet and salty – and immensely poppable – and the salad was typical.
My parents also got a Kitchen Sink as well as a Mary's burger – a lamb burger. I heard no complaints from them, either! My dad loved his lamb burger with the bourbon & tomato aioli. The mild, sweet sauce paired nicely with the taste lamb. My mom preferred the Kitchen Sink that she had with the garlic aioli.
Overall, everybody had a good time once we got settled into a properly-sized table. The service was attentive and polite and the food was solid. A reliable choice for on-The-Square dining in Marietta. 3 stars.
Stockyard Burgers and Bones
26 Mill Street
Marietta, GA 30060
emily
Nerd. Foodie. Gamer. Homecook. Perpetual planner. Gardener. Aspiring homesteader. Direct response graphic designer. I use too many damn commas.