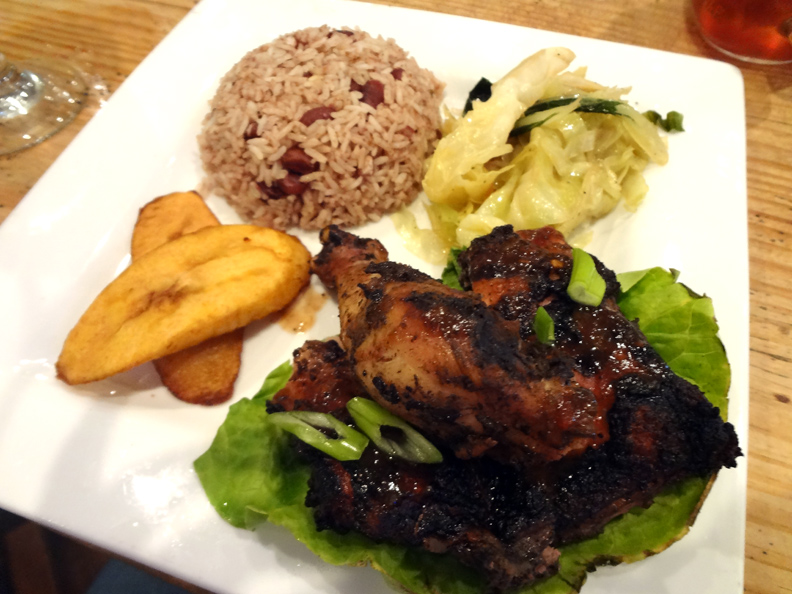 Closed early 2016.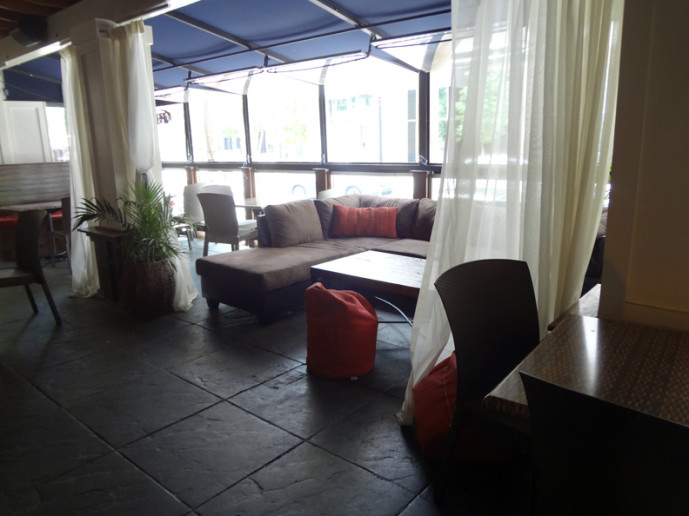 For a Friday friend and coworkers lunch, we dropped by Stir It Up, a Jamaican restaurant in Midtown. This spot has a lot of flair and atmosphere. There is a nice, covered patio with curtains and couches. The interior is very house-like, with fun decor and a variety of furniture types, art on the walls, a little bar area, and a fireplace. Nice reggae tunes were playing on the sound system, lending a very enjoyable and chill atmosphere.
Apparently, there is also a downstairs area, but I didn't check it out.
Before coming to Stir It Up I had found an online coupon for a discount on the lunch special, but our brand new (his first day!) server, hadn't heard of it. The manager on duty took one look at it and said it was old and that they wouldn't honor it, though there was no deadline listed. I thought she was a little brusque with me, since I was bending over backward to let he know that it was no big deal either way, I was just curious. But it truly was no big deal, so I moved on.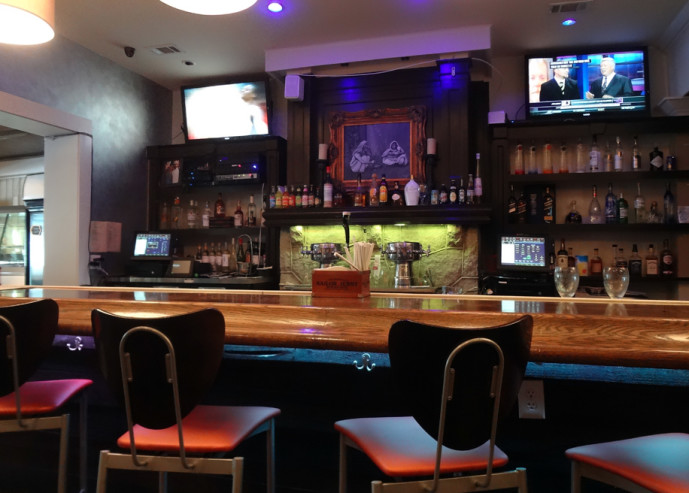 We had a little bit of trouble getting our drinks out to the table, but I chalk this up to our greenhorn server.
I ordered the jerk chicken lunch plate: a jerked leg and thigh over lettuce with a side of "chopsuey" – cabbage and mixed vegetables – a side of "peas and rice" – red beans and rice – and fried plantains. I also ordered a ~$3 side of callaloo that never arrived. But the lunch plate was filling, and it didn't show up on my receipt, so I made no mention of it to our server.
I don't recall the exact price of the lunch plate, but I believe it was $11; a little steep in my opinion. The jerk chicken, however, was good. I really liked the chopsuey. The rice and beans seemed a bit dry, but I had my water and plantains, so it was no big deal.
It's not often that I am more fond of a place's layout, decor, and atmosphere than what I ate. I enjoyed what I had, but between a somewhat frosty rejection over the coupon (which I genuinely believe to be valid), some trouble with getting the drinks and food out, I am left with a little bit of a bad taste in my mouth.
I can't tell if it was just a case of bad luck with the service and my attitude, and that Stir It Up really is worth the extra couple bucks, or not. Online reviews seem pretty mixed, so it's hard to guess. I need to get to some other Jamaican joints around town so I have a better understanding of the Jamaican food scene in Atlanta. When I do, I may come and add a second conclusion to this post, but for now I'll have to give Stir It Up 2.5 stars and a promise to try again some day.
Stir It Up
84 12th Street NE
Atlanta, GA 30309
emily
Nerd. Foodie. Gamer. Homecook. Perpetual planner. Gardener. Aspiring homesteader. Direct response graphic designer. I use too many damn commas.