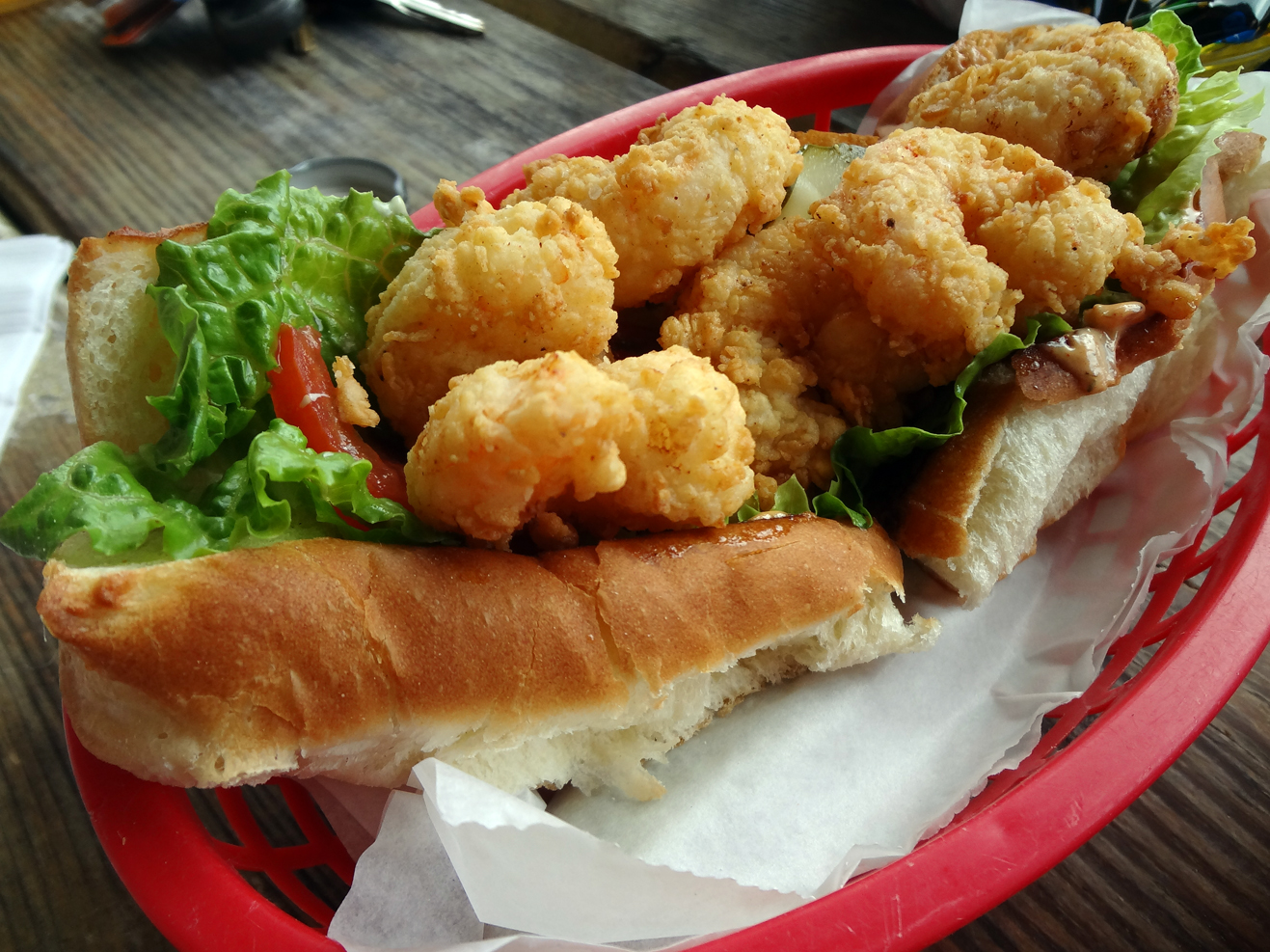 Headed to Star Provisions with some coworkers recently. What a great place for a weekday lunch – the inner courtyard of the complex that also houses Bacchanalia, Quinones, JCT Kitchen, and Sid Mashburn is so well-kept and zen-like. Very peaceful and calm.
Upon arriving in the Star Provisions/Bacchanalia space, hang a right to ogle and drool over all the glorious foods in the case. Then grab a menu and get in line to ponder your choices. After ordering, take your order number and accoutrements to a table – we went for the courtyard area. Then settle down and enjoy the atmosphere until your food arrives.
Our food came relatively quickly and did not disappoint. My coworker Teck and I ordered a shrimp po'boy ($9.95) and a salumi and gruyere sandwich with lemon mayo ($8.95) to split. Feeling celebratory, I also ordered a side of marinated mushrooms, a bag of Zapp's voodoo chips, and a Sprecher's cream soda. A filling and delicious meal.
The shrimp po'boy was extremely impressive. The shrimp were very large and perfectly tender. I don't think they could have been any more tender while still being cooked through; just superb. Also, the breading was not at all greasy. When eating this sandwich, you get the satisfaction of fried shrimp, while being able to actually taste the shrimp – and without being drenched in grease.
The salumi and gruyere sandwich (I totally had to look up salumi, I thought it was a typo) was simple but satisfying. The three flavors of the meat, cheese and lemony mayonnaise went very well together.
This was my first time trying Zapp's voodoo chips – a mixture of 5 flavors – but I found them to be tasty in an almost overwhelming sort of way. Five flavors are a lot of flavors. The cream soda was amazing. I had never previously heard of Sprecher, but being as the soda was delicious as well as caffeine- and gluten-free, I'll be keeping Sprecher in mind for future indulgences of the carbonated kind.
All in all, Star Provisions was simply a pleasure. The lines were not too long, the seating was ample enough to be comfortable, the food came quickly and was delicious, and the atmosphere was pleasant. The food costs more than other places (but not as much at my $14 shrimp po'boy from Urban Pl8), but this food is clearly higher quality and thoughtfully made. Worth it. 4 stars.
Star Provisions
1198 Howell Mill Road NW
Atlanta, GA 30318
emily
Nerd. Foodie. Gamer. Homecook. Perpetual planner. Gardener. Aspiring homesteader. Direct response graphic designer. I use too many damn commas.