Caveat: This is a lunch review
As mentioned in my King + Duke post, Ford Fry is pretty much running Atlanta's food scene right now (he was recently listed as a semifinalist for the Outstanding Restaurateur James Beard award which is a great honor). His latest restaurant, St. Cecilia is framed as a coastal European menu where seafood and pasta are in abundance. The location is a great spot in Buckhead, located in the Pinnacle building, right across from Phipps Plaza where diners get a view of Peachtree through their large glass windows when inside.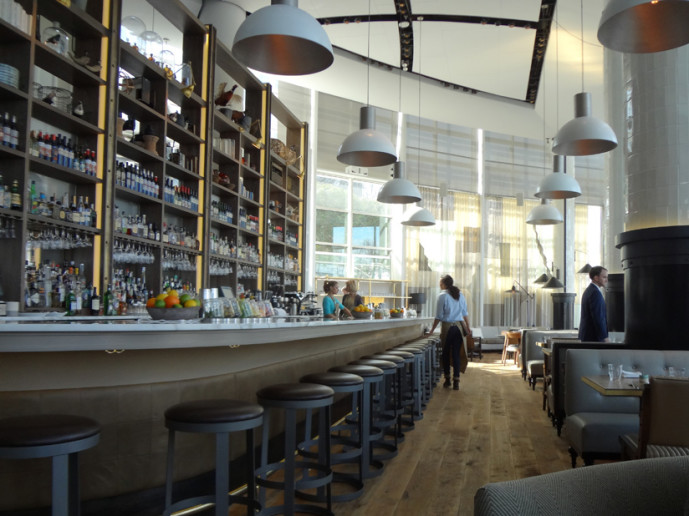 The lunch menu is very well-balanced with a good mix of apps, pastas, salads, open-faced sandwiches, and a few seafood dishes for those who want to splurge. The salt cod beignets are what stood out to me from for the table options. I liked seeing what I believe to be a mix of salt and paprika dusted on the beignets when they arrived. I would classify the beignets along with the aioli as okay. I found the aioli to be a bit bland and it didn't add much value to the beignet, even when incorporating a squeeze of lemon with it.
Emily and I decided to share a pasta dish and open-faced sandwich. We decided on the fontina melt and agnolotti pasta. The other two people at our table opted for the apple and mascarpone ravioli which is definitely an eye-catcher when scanning the menu. Our table-mates commented that their ravioli was a tad overly sweet but I didn't actually try it myself as their were only a few ravioli in each of their servings.
For me, similar to the beignet app, neither dish was necessarily bad but neither wowed me either. This may be because my expectations were so high going in being a Ford Fry fan and being seemingly giddy like a schoolgirl to try his latest restaurant. The one common ingredient in both of our dishes were mushrooms, what I perceived to be a medley of sorts.
The melt was definitely my preferred dish of the two. The thick slice of bread that was used at the bottom was definitely the best element for me. It was toasted and really served as a good base that held the entire dish together. A fried egg on top of pretty much any sandwich is going to a welcomed addition in my book and it served as a good addition here.The prosciutto was tasty but the mushrooms and fontina just seemed to get lost within the dish. I felt like I barely tasted any of the fontina which I imagined would be an integral part of the melt. Overall though, it was a good dish that could have been great for me with a few tweaks.
I was pretty disappointed in the agnolotti to be frank. I felt as though the entire dish was dry and under-seasoned. The pasta was definitely plump in appearance and the filling wasn't skimped on. Although the pasta was cooked well, the filling just fell short. The braised short rib inside felt dry to me and didn't have that burst of flavor I was hoping for. Also, the lack or limited serving of a sauce on this plate made it unenjoyable to the point I was glad I only had to finish half a portion.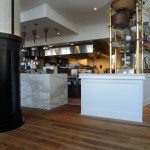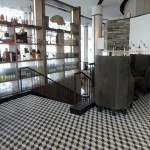 Overall, the layout and furnishings within this restaurant do make it really attractive when you step foot inside. However, for me, the food was a bit lackluster and it lacked the wow experience I have come to expect from Ford Fry's restaurants. Our server was good and attentive, I would recommend making reservations to be on the safe side if you wanted to arrive in between noon and 1pm though.
If I abided by my rule of judging whether to go to a restaurant for dinner based on a lunch experience, I would vote no. However, I didn't get to really experience the seafood dishes the restaurant appears to pride itself in. I will probably make an exception here due to my respect for Ford Fry and the overall good reviews I have seen coming from the folks who have visited for dinner.
Food: 3.0
Vibe: 4.0
St. Cecilia
3455 Peachtree Road NE
Atlanta, GA 30326
anish
I am a 20-something white-collar worker that enjoys the great food options Atlanta has to offer. I enjoy sharing my dining experiences and opinions to anyone who will listen. I hate being the guy next to your table taking cell phone pics but understand its place as a necessary evil in the food blogging world. I love to research places beforehand (some would say to a fault). The theory is if I am going to spend time and money eating out, it is worth the 10 or so minutes to vet it out beforehand. I have a laundry list of dining places I still want to go to but for every one I check off, four probably get added. For me though, that is probably the biggest perk of living in a big city.