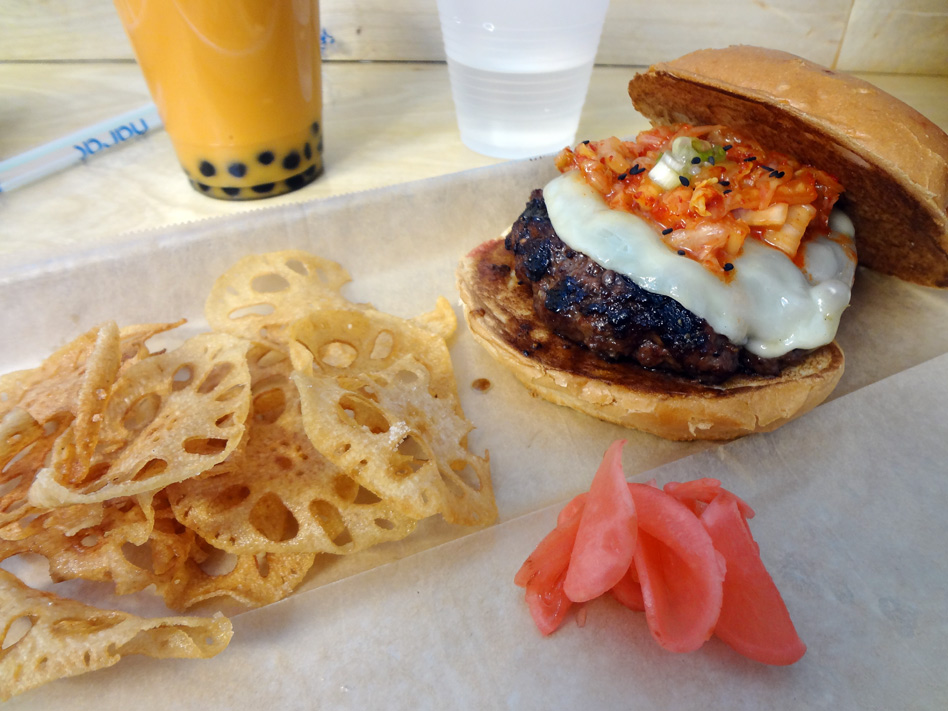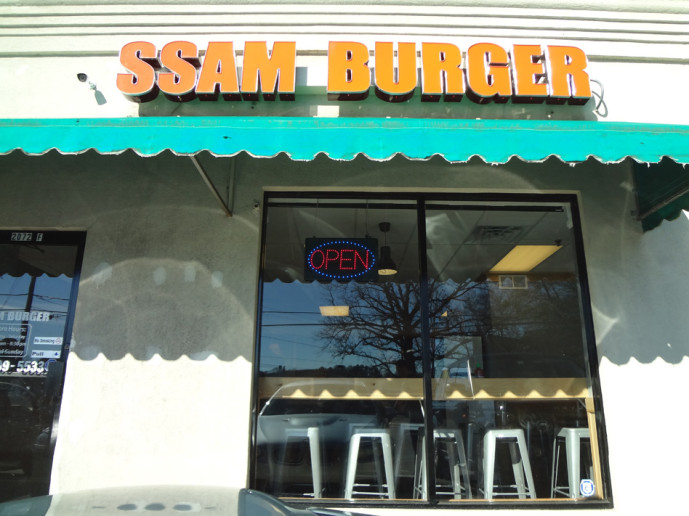 Last week, our Friday lunch crew (this week including Anish, Anthony, Uy, and Jaimyn) at work headed to the Westside to eat at Ssam Burger. Anish got wind of Ssam Burger from this Zagat article about international burgers. He and I both got the Kimcheese mentioned in the article, and as an added bonus, I split mine 50/50 with Anthony, who got the other burger mentioned in the article, the Saigon. I love dining with someone willing to split so as to try more things!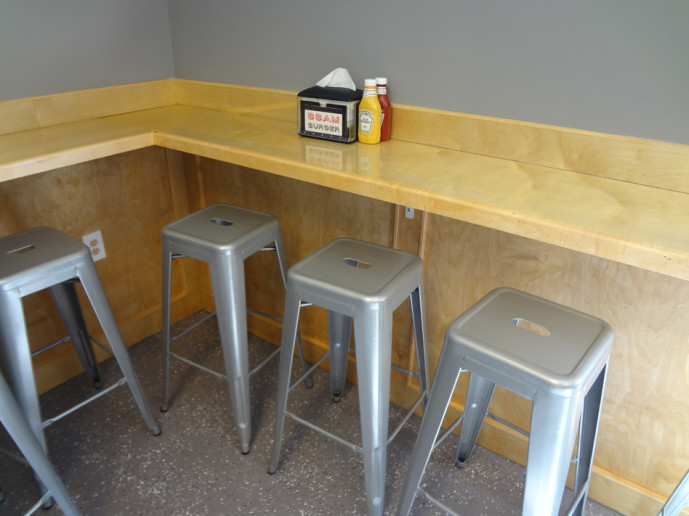 Each burger is $7.50 with a side. I chose the lotus chips and I wasn't disappointed. They were light and crispy but not so crunchy that they're obnoxious to chew.
The Kimcheese consists of a korean BBQ Angus beef patty, provolone, kimchi relish and Ssam sauce. The Saigon comprises a lemongrass BBQ Angus beef patty, cucumber, jalapeño, daikon/carrot pickles, cilantro, and Sriracha mayo.
Both the Kimcheese and the Saigon were tasty! The weren't overcooked, which I very much appreciated. The Saigon had a more complex mix of flavors, but there's a simple pleasure to the Kimcheese that shouldn't be discounted. Here's what Anish says about it all:
"Atlanta has an over-saturation of burger joints IMO, with every place claiming they have the best burger in town. I enjoyed Ssam because it presented a different twist on the classic American burger and also provided unique sides. The kimcheese burger was cooked medium by default which was a plus and the kimchi/cheese aided the burger nicely. I feel like there could have been a little more sauce added on but overall, it was a unique and quality burger. The lotus chips were light and crisp and a welcomed changed from fries. A filling kimcheese burger, lotus chips, and a bubble tea for under $12 makes this a quality lunch spot. 4 stars."
While I wasn't a fan of the interior of Ssam – the seating was incredibly awkward – the food was solid. For korean-inspired burgers, I think you could do better at Milano Bakery, but Ssam Burger is a great korean fusion joint, and is a great place to also get interesting sides. And the buns come from Holeman & Finch, if you care about that. A lot of the items on the menu were Coming Soon, and I'm looking forward to trying a Ssam bowl sometime in the future. 3.5 stars.
Ssam Burger
2072 Defoors Ferry Rd NW
Atlanta, GA 30318
emily
Nerd. Foodie. Gamer. Homecook. Perpetual planner. Gardener. Aspiring homesteader. Direct response graphic designer. I use too many damn commas.