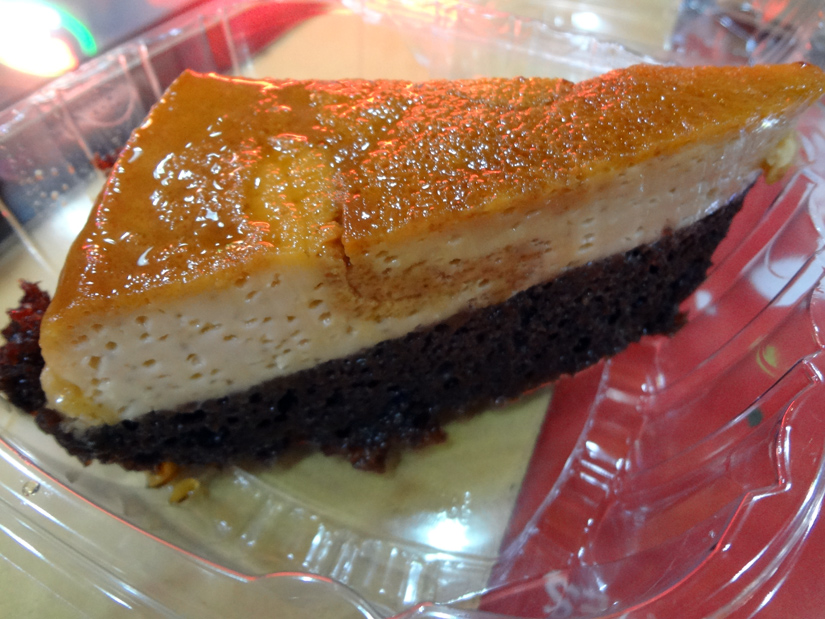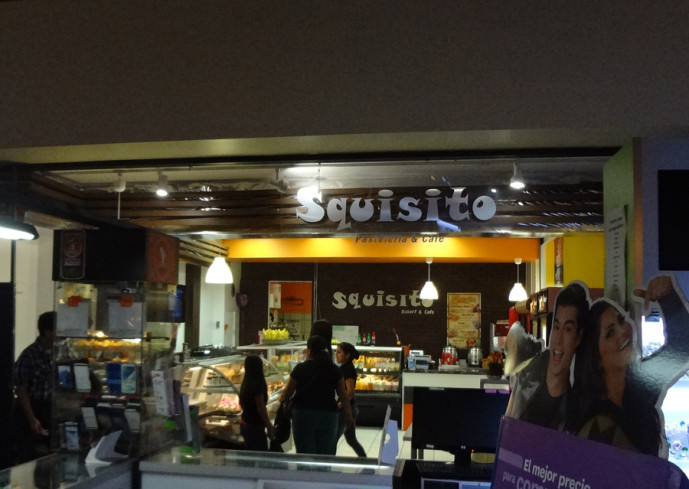 Squisito Bakery and Cafe has three locations, two of which are in Plaza Fiesta (a major feature on the southern end of Buford Highway). One location is "frente a la fuente" and one is "frente Ross." The third location is on Clayton St. in Lawrenceville. On our recent trip to Puras Tortas, we visited the Squisito frente Ross. There were a lot of good-looking things inside. Besides cakes, flans, pastries and fresh fruit dishes with chamoy, Squisito also seems to serve coffee and some simple cafe foods like sandwiches. I didn't see anyone order those hot items while we were there.
My spanish is no great shakes, but I managed to inquire about the chocoflan I had noticed on my way in. Having never seen anything like it before, I ordered a slice. Adam opted for a pastry from the case.
There isn't anywhere in Squisito to sit and eat, and since our gooey pastry was gooing all over the brown paper bag it was placed in, we made our way back to the food court to partake of our sweets.
The pastry was good; it was made of the bread we typically see in panaderias with a heavy coating of sugar, sliced in half and filled with what I assume is a sugared butter spread. I am having a hard time researching these traditional items online, so any insight you may have, dear reader, would be very helpful.
Like a hot toasted bagel sandwich with cream cheese, the filling of this pastry has a tendency to squeeze out when you take a bite. We found it easier to eat the two halves separately.
Now, I'm not sure how popular chocoflan may be in the latino community, but I'd certainly never seen it before my visit to Squisito. It's basically a flan-cake combo with a firm traditional flan for the top half and a dense chocolate cake for a bottom half. This was rich and dense and we saved about half of it for a later time, so we got to enjoy it twice. The two parts complemented each other well, and we really enjoyed it.
Squisito has a smaller inventory than other panaderias we have visited on Buford Highway, they are also in a small suite in the mall, so that can certainly be forgiven. This smaller footprint probably breeds a certain level of excellence, as they can only afford to have their best and most popular items taking up space. This is by my count only the fourth panaderia I've been to (La Sultana and Pan Chapin), so I don't feel that I can speak knowledgeably about Squisito's place in the scene, as it were, but for mall food this is certainly a solid choice. If you find yourself in Plaza Fiesta with a sweet tooth, drop by. 3 stars.
Squisito Bakery & Cafe
Plaza Fiesta
4166 Buford Highway NE, 1023A & 1010A
Atlanta, GA 30345
emily
Nerd. Foodie. Gamer. Homecook. Perpetual planner. Gardener. Aspiring homesteader. Direct response graphic designer. I use too many damn commas.