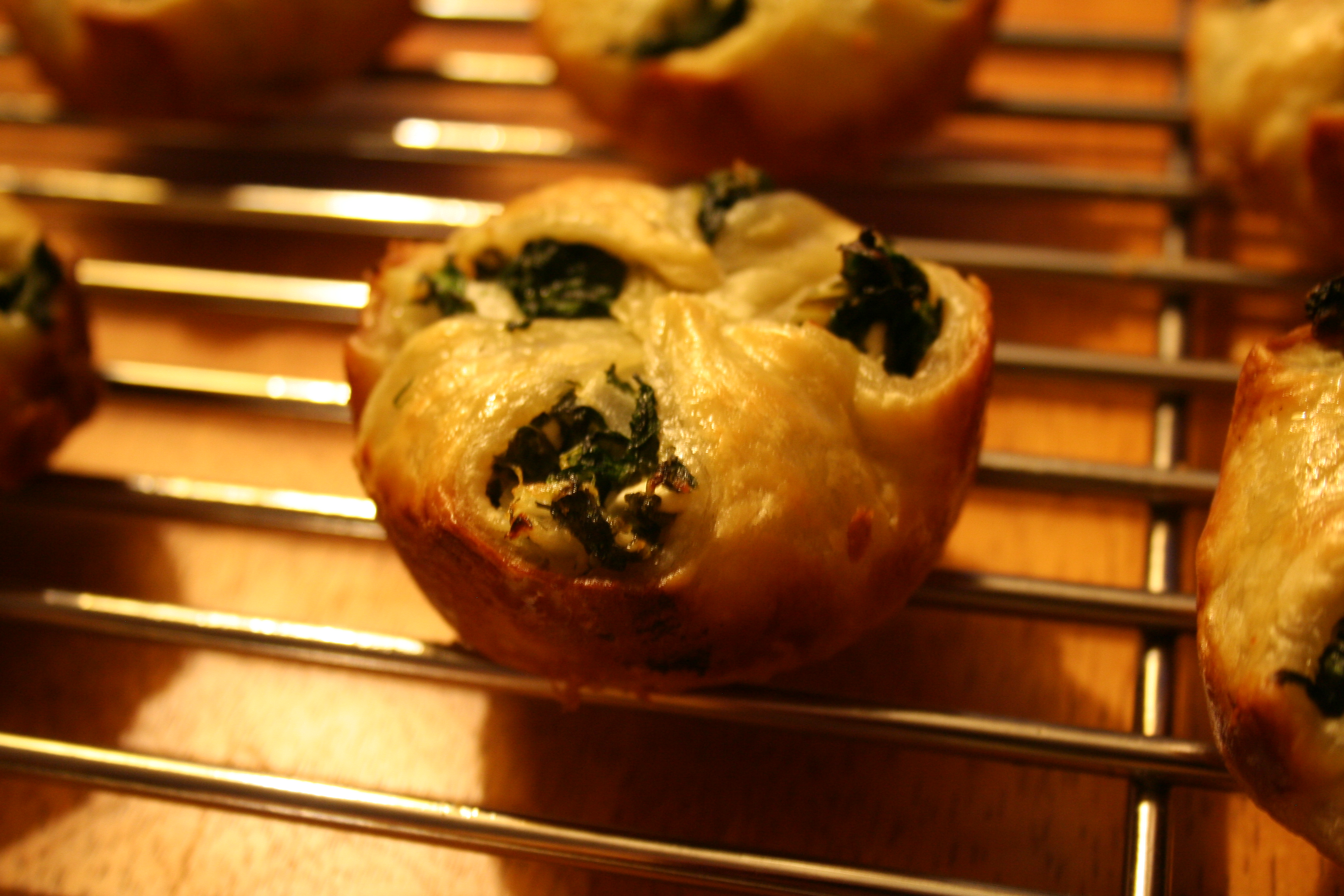 I hosted a little gaming party a few weeks ago in honor of International TableTop Day and as usual opted to make a few snacks to feed the horde of gamers in attendance (okay, like maybe 10 people).  I took the opportunity to try my hand at a recipe I'd torn out of one of my beloved Bon Appétit magazines: Spinach Puffs!
This recipe, without a doubt, falls into my favorite bucket of "easy recipes sure to make you friends and impress people."    Not that I had any enemies at my party I was looking to convert, but if I did, I'd be up a few additional friends now.
I'd always wanted to make spinach puffs before; they're one of those recipes that sounds fancy and by the time you're 27, you figure you should've made or at least tried them before.  The pictures in Bon Appétit reminded me of this unspoken spinach puff-commitment, and I was pleased to find that both the process and the ingredients required were pretty easy. I also thought it'd be nice to have both sweet and savory snacks at my party, so I figured this recipe was my ticket to success.
I doubled the recipe just to be safe, and I'm really glad I did.  The puffs went from their bowl into people's mouths faster than I could believe.  I managed to finish both batches shortly before the party started, so they were all mostly warm by the time people started cramming them into their collective maw.  I'm almost sad there weren't any left over for me to munch on later!
The filling itself was very simple: frozen 20oz frozen spinach, 1 cup feta cheese, diced onion, and 2 eggs.  What blew me away the most, though, was the addition of dill.
O, dill!  Where have you been all my life??  I know I've had dill in other recipes before (most notably a butter-dill salmon my brother has made before), but I've never baked with it before.  My god, SO DELICIOUS!  I was astounded by how a couple teaspoons of dill in the filling expanded the flavor of the puffs and made them amazing.
Besides the filling being simple, the assembly of the puff pastry was beautifully simple as well.  The recipe requires you to defrost and then roll out the pastry into a 12″ x 12″ square and cut it into 9 pieces.  Luckily if you purchase the Pepperidge Farm brand (the only puff pastry brand available near me), it's already folded into 3rds.  That means the lines on which you need to cut are already drawn for you!
Once you have both your filling completed and your pastry cut, the filling process is super-easy.  The folding over of the ends was a little tricky and required some stretching of the dough, but wasn't particularly difficult.  Into the oven they went!
And really…that was it!  They came out browned, puffy, and delicious.  There wasn't a person there who didn't love the puffs and wished there were more.  The only issue I ran into was that, surprisingly, there was more filling than I had puff pastry for.  Even after using up 2 full sheets of puff pastry, I had plenty more filling to use.  Perhaps I should have filled the puffs more, but I didn't feel that any of them were under-filled.  Suffice it to say, I probably could have made at least a half-dozen more puffs.  Good knowledge for the future!
Suffice it to say, if you have a party and are looking for some simple, savory treats, definitely give these puffs a try.  They're a vegetarian delight!  Mmm…
Spinach Puffs
From Bon Appétit.
Mary Gezo
Formerly of both n00bcakes and !Blog, the two magically become one on Spatialdrift; expect some lazy baking and serious nerditude. Also, I love semicolons.