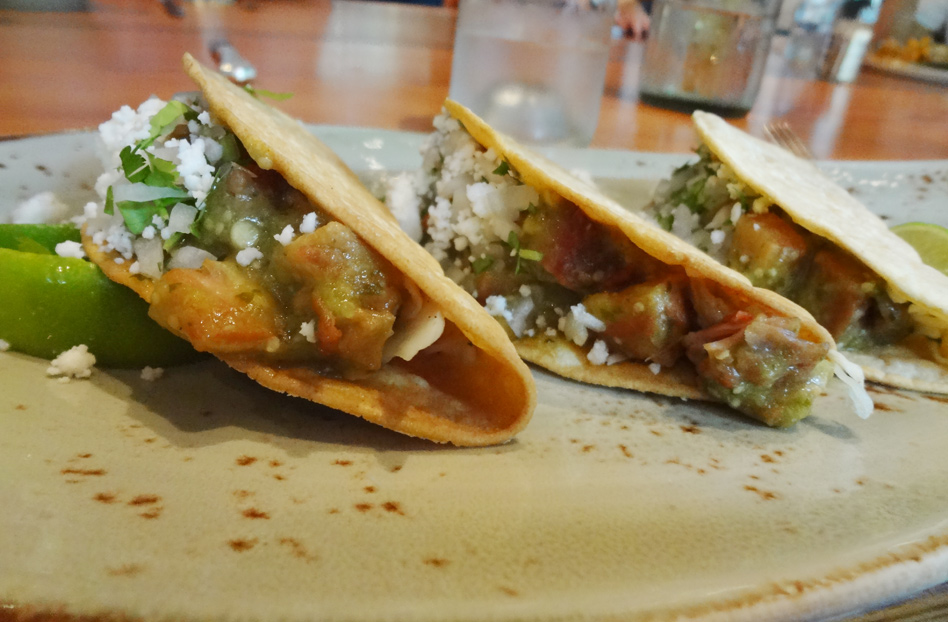 The Spence closed summer of 2016.
Caveat: Lunch Review Only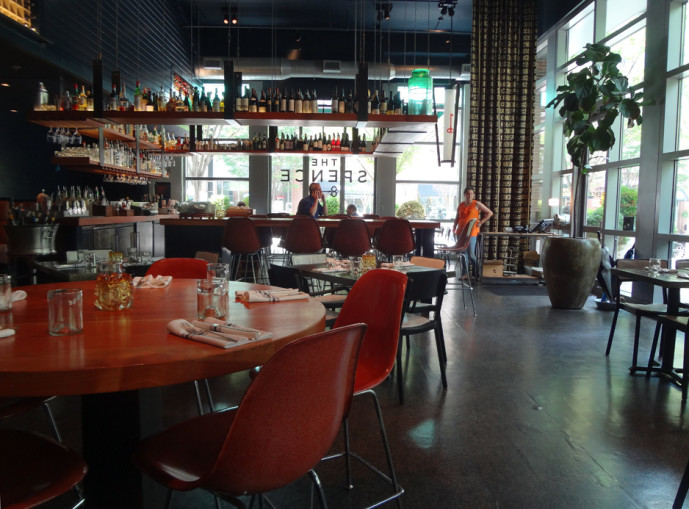 For anyone unfamiliar with The Spence in Midtown, it is a restaurant run by Richard Blais (also of Flip Burger). Blais is a celebrity chef having competed on Top Chef and actually winning Top Chef Masters. He has been a good advocate of the Atlanta dining scene and it always helps to get to know a chef vicariously through TV and then being able to their restaurant and seeing how the execution is in person of what always looks amazing on TV. One of the things I love most about Blais is his passion for molecular gastronomy (seeks to investigate the physical and chemical transformations of ingredients that occur in cooking). In a day and age when a lot of restaurants opening around town have very similar menus and stick to certain lanes, he presents food in a manner that's exciting both visually and in taste (the milkshakes made with liquid nitrogen you can get at his burger joint Flip are phenomenal).
As much as I love going to Midtown, I still feel there are only a few restaurants that appeal to me. There are a ton within a 10-minute drive in Inman Park, Old Fourth Ward, Howell Mill, etc but there aren't many right in the heart of Midtown. However, The Spence is an exception, located right off of Spring St & 5th St.
The menu is pretty straight forward, snacks/small plates, mains, sides, and desserts. I have been here before for dinner twice and one of my favorite small plates here or frankly anywhere is the bone marrow with tuna tartare and a quail egg on it. Bone marrow has an interesting connotation amongst various people. Some people think others only like it because it sounds fancy and other just think it looks flat-out gross. I get the anti-carinove aspect of it but there is no denying when done right, it is delicious. I recently had the a full bone marrow at King and Duke and one I thing I noticed was as much as I like the taste, the taste, richness, and volume become a little much. Bone marrow for me is something that is great and decadent for a bite or two but then becomes overpowering after that. The reason I love The Spence's rendition is not only do they serve good marrow but they pair it with quality tuna and an egg on top which makes for the perfect bite on the bread they serve that accompanies it. The bread I have had with it has been hit or miss, soggy and not grilled enough but the star here is obviously the marrow and it has been spot on every time.
For this particular lunch visit, I opted for the pork belly crispy tacos and guajilla salsa. I probably should have gone for the Juicy Lucy burger which seems to be a staple here but I was looking for something a little lighter. I know hard shell tacos are an American creation and probably frowned upon by Mexican food purists and although I usually prefer corn or flour tortillas, these shells were really crisp, held up well, and weren't overly greasy at all. However, the pork belly inside was a little underwhelming and a little tough. Definitely not the moist and tender chunks I was expecting. The guajillo salsa that accompanied it didn't add much and as good as the shell was, the contents inside fell short. I also got a carrot and parsnip side as the tacos just came out as is. The lime vinaigrette paired nicely with the vegetables, good side dish but nothing extraordinary.
Overall, I liked The Spence much better for dinner than I did for lunch. I feel like with dinner, you get to experiment and sample more and really dive into what Richard Blais is all about. You would be doing yourself a disservice if you didn't order a dessert on your visit as that is where a lot of that molecular gastronomy and creativity shine. However, I'll probably be back for lunch at some point and will probably go for the staple with the Juicy Lucy. The Atlanta dining scene needs more chefs like Blais that take risks and keep it interesting for the diner.
Food: 3.5
Vibe: 4.0
The Spence
75 Fifth Street NW
Atlanta, GA 30308
anish
I am a 20-something white-collar worker that enjoys the great food options Atlanta has to offer. I enjoy sharing my dining experiences and opinions to anyone who will listen. I hate being the guy next to your table taking cell phone pics but understand its place as a necessary evil in the food blogging world. I love to research places beforehand (some would say to a fault). The theory is if I am going to spend time and money eating out, it is worth the 10 or so minutes to vet it out beforehand. I have a laundry list of dining places I still want to go to but for every one I check off, four probably get added. For me though, that is probably the biggest perk of living in a big city.