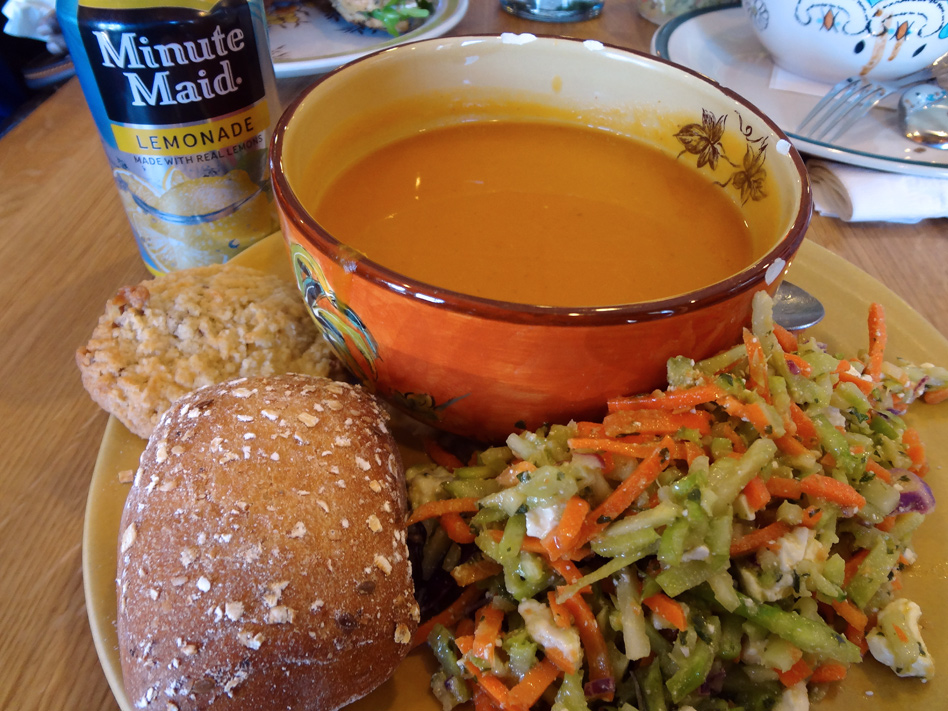 I recently went to the famous Souper Jenny for the first time – the original location that first opened in 1999. Fifteen years later, Souper Jenny is so popular that a second location recently opened in Decatur.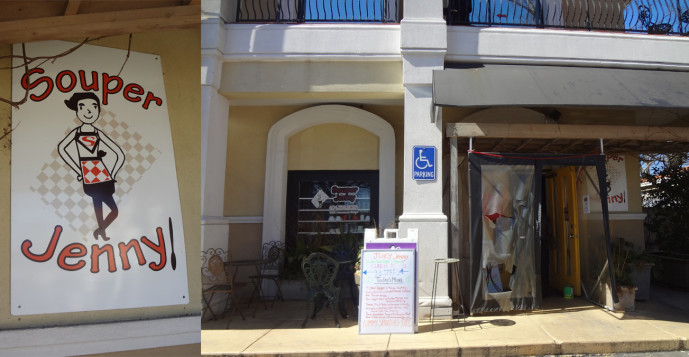 In the same building of the original Souper Jenny is another Jenny joint, Juicy Jenny, serving juices, smoothies and a small array of healthy foods. Cafe Jonah and the Magical Attic located nearby is another Jenny joint, too.
This health-forward cafe with a focus on soups often has lines out the door, as it did on the day we visited. It is also cash only, and has a generic ATM just inside the door.
I (and the other two ladies I was dining with) got the soup and side lunch special that comes with one soup, one side, a roll, a drink, and a cookie for about $13. I chose a butternut squash soup with a side of broccoli slaw, a Minute Maid lemonade, and a pale, nutty cookie.
Unfortunately, Souper Jenny was absolutely slammed, and there was no room for us to sit, so we were politely sent packing down to Juicy Jenny to eat. Personally, I would like to have been told before ordering that there was no seating, and gotten my food to go instead of awkwardly tottering down the sidewalk with a heavy tray of food, but it happened to work out. We were one of the first they sent away and instead of sitting in an incredible full and loud atmosphere at Souper Jenny, we had a pleasant, quiet meal in Juicy Jenny.
I was impressed with the amount of food I received. My compatriots are not as gluttonous as I am, and they both took parts of their meal to go (Yes, I knocked back the whole thing). The food was good and due to the philosophy behind the food I felt good about eating it (except for the sugar water AKA Minute Maid lemonade, but that was a moment of weakness).
The butternut squash soup was good, with decent a pleasant texture – mostly smooth with with some small chunks. My roll was delicious dipped in my soup. Slaws are one of my least favorite categories of food (don't ask why I ordered it), but the broccoli slaw was pretty darn good. I like the big chunks of feta. The cookie was tasty as well. I should have known better than to get that damn Minute Maid lemonade. I'll get water next time.
Claire (you remember her from Yeah! Burger and Jeni's Splendid Ice Creams) loves Souper Jenny. Since she's the resident expert and dined with me on my first excursion, I thought I'd include her overall thoughts and tips about Souper Jenny:
1. I love the freshness of the ingredients they use.
2. The staff is always very friendly.
3. I love the weight watcher points they calculate for the soups.
4. They come up with very creative and healthy soups.
5. One of my favorites, besides "My Dad's Turkey Chili," is the tomato artichoke.
6. The $13 lunch special is a great value that never leaves me hungry.
7. The menu changing daily can be a hit or miss experience for me. There are some days when I have a craving but the menu just does not scream to me.
8. Be sure to always have cash!
9. If you are going during the warm seasons, be sure to not go right at noon because the lines can be long. However, their line always seems to move quickly.
Thanks Claire!
I wasn't able to take in much of the atmosphere in Souper Jenny, since we had to evacuate so quickly to Juicy Jenny, but it seems like a pleasant enough place. $13 is more than I'd care to spend on lunch, and my meal wasn't the best or most flavorful meal I've ever had, but I know the quality of the ingredients is high, the nutrition is right, and the portions are large. Perhaps there are other soup and other sides will like more. Souper Jenny is looking like 3 stars for me.
Souper Jenny
56 E Andrews Drive NW
Atlanta, GA 30305
emily
Nerd. Foodie. Gamer. Homecook. Perpetual planner. Gardener. Aspiring homesteader. Direct response graphic designer. I use too many damn commas.