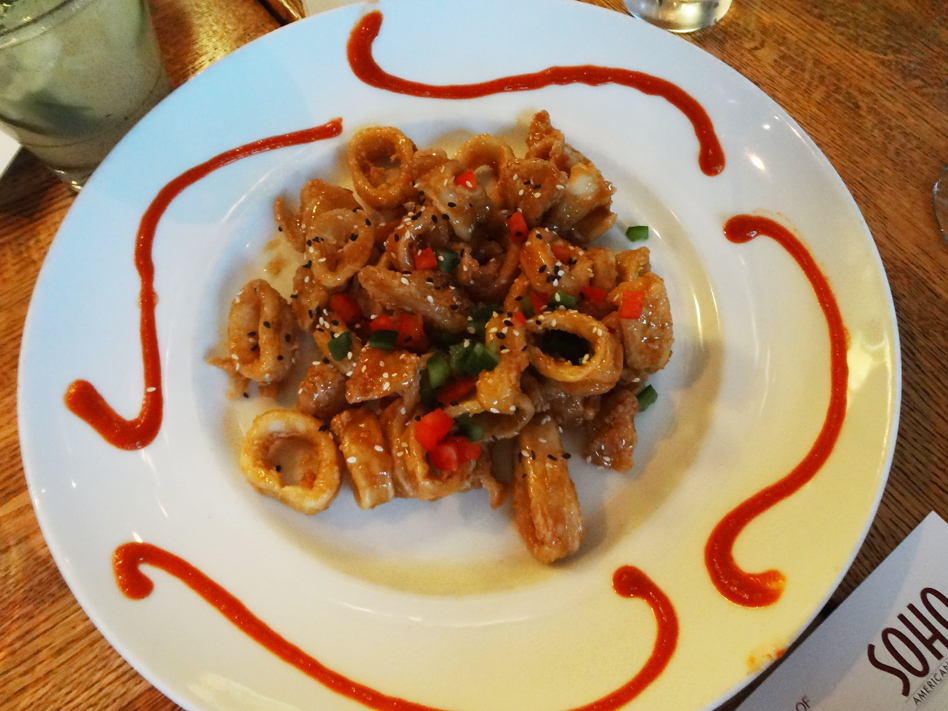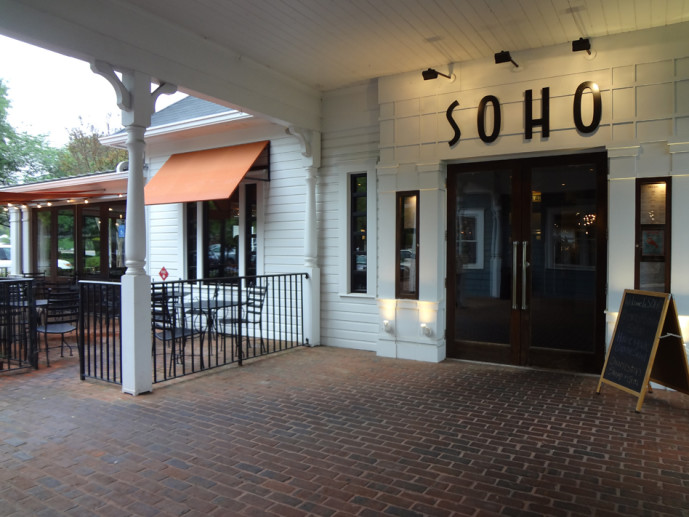 Adam and I recently dined at SOHO Vinings with many other notable Atlanta food bloggers, at an event organized by Malika of the Association of Food Bloggers. We'd never been to this neighborhood favorite, even though it has been around since 1997.
Our evening kicked off with a white peach bellini and a ginger cucumber collins. I enjoyed my crisp and refreshing bellini, while Adam was pleasantly surprised by his collins. He doesn't enjoy cucumber, but his drink had enough other flavors to come off as well-balanced and not overly cucumbery.
Then came a parade of appetizers. The Hawaiian poke tuna is a seafood tartare combining fresh and roasted tastes, american and asian influences. The sauce on the side was wonderfully spicy. The Wagyu beef carpaccio was delectable – I especially enjoyed the fried caper topping garnish, even if I avoided the crispy bread.
The General Joey's calamari is aptly named – you can definitely taste/feel the General Tso's heritage in this dish. It's a very asian fast-food kind of a take on calamari, with fiery serrano peppers for garnish. I liked it, but as longtime readers know, I am a bit of a health nut when I'm not out exploring Atlanta's good scene, and while I can appreciate the dish, it's just got for me. I've come to appreciate light, crispy calamari that lets the taste of fresh seafood shine through. As Marie deftly noted (I'm generalizing her statement, probably poorly), sometimes the things that are "The "X" for people who don't like "X", aren't the dishes that people who already love "X" will appreciate. I thought this was completely on point. I can certainly see how the adjustments to this classic dish would help those who don't typically like calamari to enjoy it. It's just not for me 🙂
Next up was an onslaught of entrees. I perused the SOHO menu in advance of this event and I was interested in the unique offering of the elk and was glad to see it on our tasting menu. I suppose it shouldn't be surprising that elk meat tastes like most red meats. This dish was cooked to perfection, and those worried about the pervasive myth of alternative proteins being "too gamey" need not fear with this dish!
I am not yet a discerning consumer of white fish, and so I will have to admit that the sea bass and cobia tasted much the same to me – and were both done to the perfect temperature. The lump crab risotto was a favorite of Adam and I, and we found the forbidden rice to be interesting but not superior to the risotto.
The winner according to the Allreds was the grilled eggplant lasagna. We love out eggplant and our lasagna, but as fervent meat-eaters, we did not necessarily expect our favorite dish to be vegetarian. However, this was well prepared, was not too dry, and the eggplant flavor did not overwhelm the palate. We went back for seconds.
Last but not least, the desserts.
We were served the classic chocolate bread pudding, apple cobbler, and banana foster waffle. The chocolate bread pudding was so dense and moist that it came off like a cake, but this was not a bad thing in our book. We enjoyed it quite a bit. The apple cobbler was a solid showing and the bananas foster waffle was an unexpected twist. A great ending to a great meal at SOHO.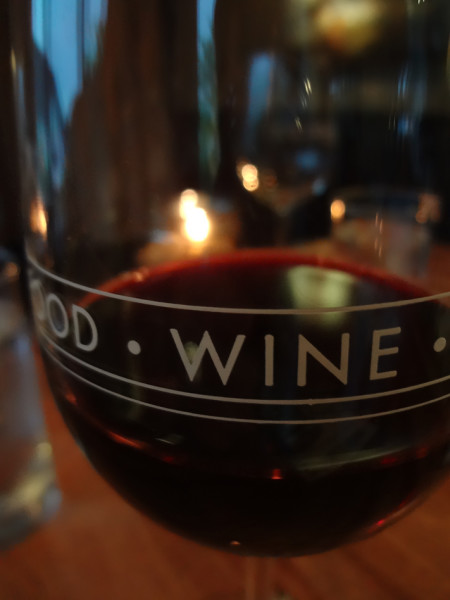 As dedicated home cooks, we often make american fare. It's what we grew up with and know best, and the ingredients are readily available at the nearest grocery store. This makes me much less interested in going out to eat at american restaurants, because I have a strong sense of "been there, done that, could make it myself". But I am glad we went to SOHO, because they do have some interesting twists on their menu. The prices are a little rich for our blood, but I am sure that comes from sourcing quality ingredients. If dining out at american spots is your thing, perhaps you should give SOHO a try. 3 stars.
Since this was a media event, our food and drinks were comped, but our thoughts, words, and blurry pictures are our own!
SOHO
4300 Paces Ferry Road SE
Atlanta, GA 30339
emily
Nerd. Foodie. Gamer. Homecook. Perpetual planner. Gardener. Aspiring homesteader. Direct response graphic designer. I use too many damn commas.