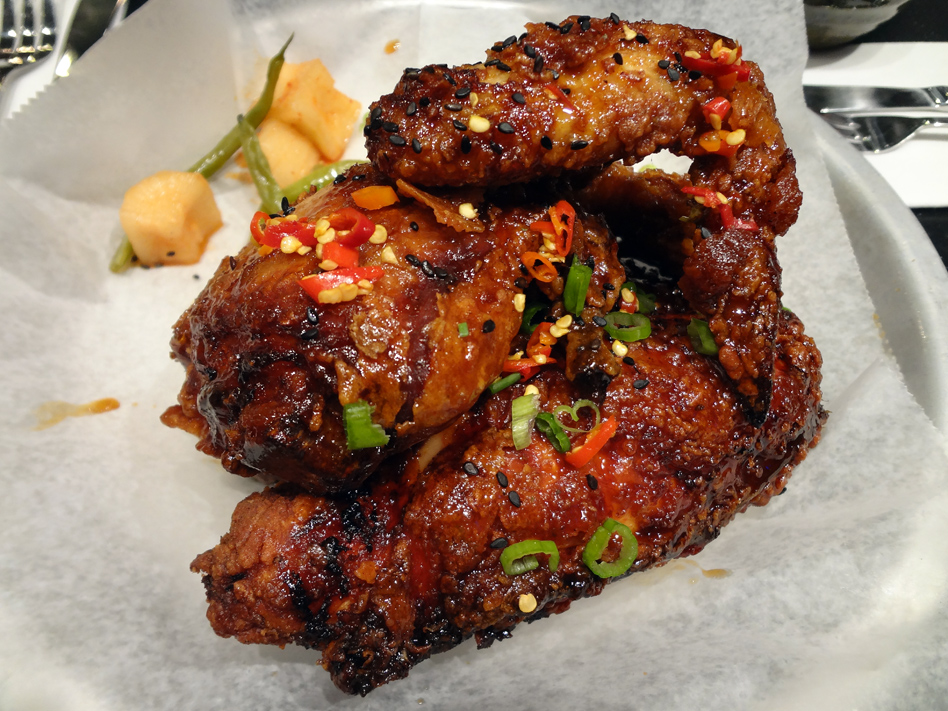 Ultimate sadness – Sobban closed in December of 2015. Owners have pledged that Heirloom Market's little sister will rise again one day… I'll be waiting!
I finally made it to Sobban this week – not once, but twice! The first time was with Grant and Marie and I was so excited, partially because it had been so long since we'd seen them, and partially because I've been dying to eat at Sobban since long before it even opened.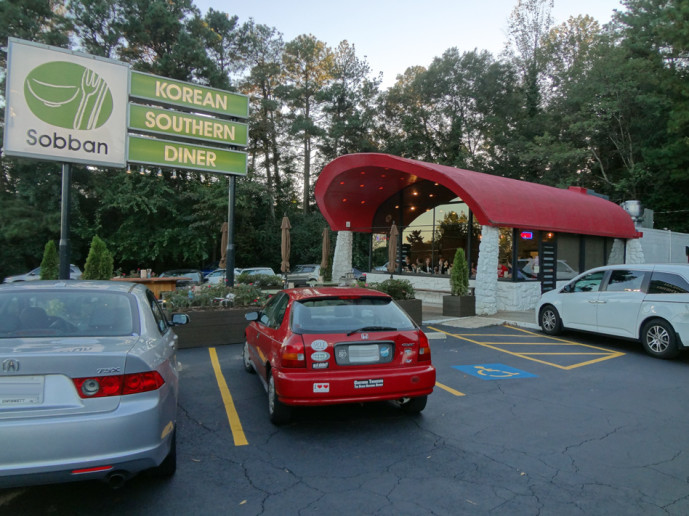 I have been keeping a close eye on Sobban for a few reasons. The fate of the distinctive building Sobban inhabits (a 1969 Arby's according to their Facebook page) is important to me as it is a local landmark. It has been empty for most of the time I've been aware of it. Then along came Kitsch'n 155 for two years, and then nothing again. The it was announced that the folks behind Heirloom Market were going to open an american southern+korean concept in the space. Heirloom Market is awesome and I do love me some ethnic food, so I've been sold on visiting from day one.
Sobban has been open for about three weeks and it is still constantly slammed. We arrived around 6:30 and every seat in the house (and nearly every parking space) was continually filled until we left about two hours later. We waited out on the patio to get a seat, and were eventually seated family style with two other parties.
It the current state of chaos, I can't really agree with the kid-friendly designation; it just seems like it would be a stressful situation with a small kid, but some parents are total superheroes and I've never had kids myself so take my opinion with a grain of salt.
While we were waiting (Grant and Marie hit awful traffic), I accidentally received a draft Makgeolli, with Georgia yuzu peach sorbet ($6). I asked the waiter if he was sure the drink was for me and he assured me it was. It totally wasn't, but it was lovely all the same, so thanks to Daniel the beverage director for being cool about it. It was delicious!
For starters, Adam and I ordered the 50 Seju ($5), which comes with a lovely block of ice and preserved lemons and the kimchi deviled eggs ($6). It was very nice to be able to order the 50 Seju, and the presentation and portion size were great! The eggs were tasty, but they didn't knock our socks off (not as unique as other dishes).
Grant and Marie got the goji goon mandu – seared shiitake, chive, and ground local beef dumplings ($8).
For our meal, the hubs and I split a bibimbap ($10) and the korean fried chicken ($12). The bibimbap was just okay. All the ingredients were fresh and nice, they just didn't combine to become something better than the sum of their parts.
The korean fried chicken has a shockingly huge portion size… must be half a chicken. The flavor and texture are not what I was expecting, but quite good. I think I was expecting that kind of dry, powdery breading, just heavily spiced. Instead I got like a better kind of General Tso's chicken. Actually just using that phrase is a bit of a disservice, but it was the same sticky, sweet, spicy feel. Just tastier. The chicken inside was quite juicy; very delicious.
Marie and Grant split the braised cod ($14), which I sampled and was quite nice, and kimchi rice ($4).
For dessert we had the Sobban bingsu ($5) – I was very tempted by the chocolate one, which comes with Pop Rocks on time. I don't think bingsu is my jam (this was my first), but the dish itself was fine. Interesting flavor and texture combinations.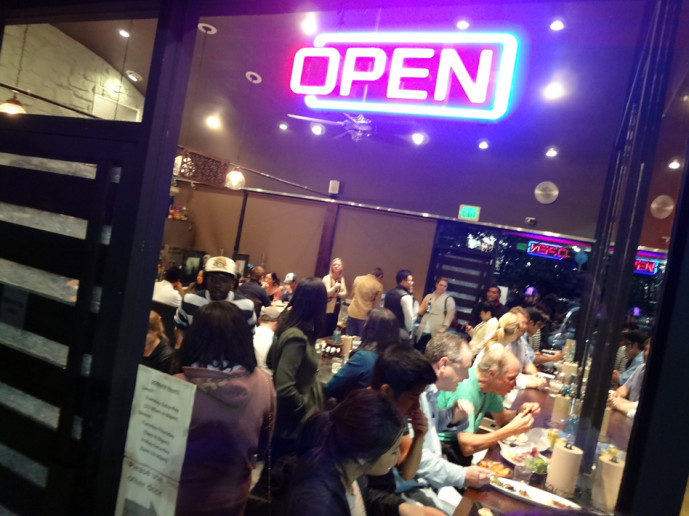 Just two days later I returned to Sobban for lunch with coworkers in tow (Anthony, Jaimyn, Mark, Ty, and Uy). The place was slammed again, and we wound up having to sit outside in the cold. The patio is nice though, and they had heaters on, so we survived the experience.
I ordered the bulgogi sandwich ($10) from the lunch menu, and some cinnamon ginger tea ($3.50) to warm me up. The tea came out right away and served to keep me warm. It was also very pleasant.
The bulgogi sandwich was absolutely divine. It was probably horrible for me and I am totally okay with that. Scrumptious and filling.
Some other new things that hit the table were the nori corndog ($6) and the chicken kalguksu ($10). Ty said that the hot dog was great, especially the hot mustard sauce. He would recommend buying at least two, though. Anthony expected bigger noodles for his kalguksu, but he thought the taste and the portion size were just right.
Between the hubs and I, and my five coworkers we had a 2.5 star rating, two 3.5 stars, and four 4 stars, for a rounded average of 4 stars. Plan to wait and be crowded and rush if you go now, but even if you give Sobban some time, be sure to give it a try. It's a special little fusion joint in a special little building and I wish it good luck!

Sobban
1788 Clairmont Road
Decatur, GA 30033
emily
Nerd. Foodie. Gamer. Homecook. Perpetual planner. Gardener. Aspiring homesteader. Direct response graphic designer. I use too many damn commas.