This is one of the rare spots that both Emily and Anish have reviewed separately. To see Anish's review, go here.
On the Saturday following our Meat Week excursion to Daddy D'z, we attended another Meat Week event at Smoke Ring in the Castleberry Hill district. I'd heard a few good things in advance about Smoke Ring, a fairly new "Georgia-style" barbecue restaurant and was looking forward to it, despite the still somewhat inclement weather we were having here in the metro area.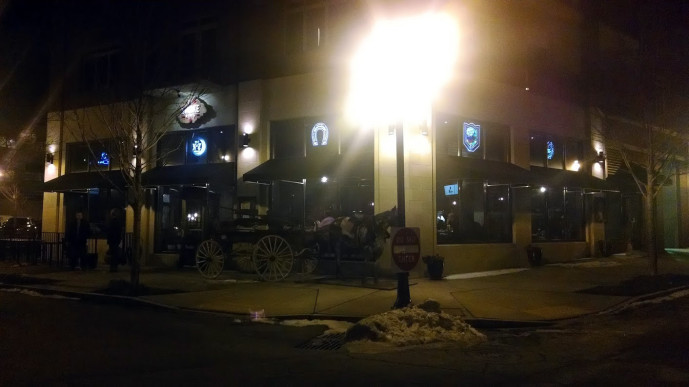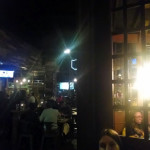 There was a fairly large Meat Week crowd this evening, and we were happy to find our friends Grant and Marie in the crowd, along with Marilyn Wolf, of Atlanta etc., the #3 ranked blog on Urbanspoon Atlanta.
We sat at a large, curved wooden table that wrapped nicely around a sweet little round booth that looks a bit like a wooden, circular Tardis. Nice architectural details abound here, including three little brick alcoves housing the letters B, B and Q.
To start, Adam and I grabbed some drinks (I picked the Derby cocktail to soothe my cold-sore throat) and the BBQ deviled eggs appetizer ($4).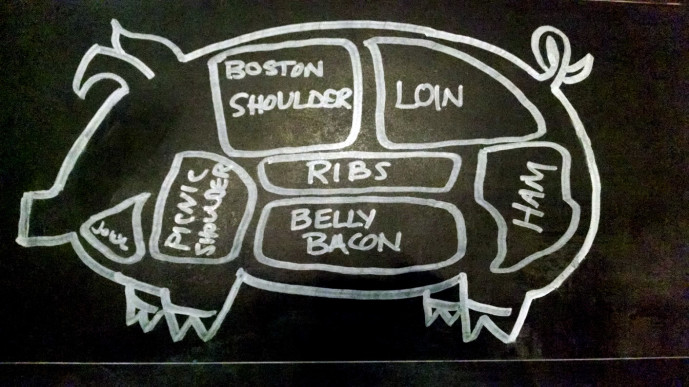 The deviled eggs were good, but not as novel or amazing as they read on the menu. That's okay though, because the price was reasonable and deviled eggs are delicious.
For dinner, we followed in the footsteps of a few who have come to Smoke Ring ahead of us – we ordered the Show Stopper pulled pork sandwich ($12) as per Belle Viviere's recommendation and the smoked brisket burrito ($14) as per my division SVP's recommendation. The pork sandwich comes with a choice of side, so we picked up the chipotle corn on the cob with cotija cheese. For fun, we also snagged a side of the three cheese mac and cheese.
Holy cow – er, pig! The meal was good. It's hard to know what to gush over first. The burrito's brisket was tender and amazing and the flavors were great! That the barbecued beef was both juicy and tender came as a particular surprise to us – it seems that you either get tender and dry or moist but still chewy. This was pork-level moisture and texture in a beef dish!
Speaking of moist, tasty pork, the Show Stopper was just that; it was so incredibly delectable. The cotija-coated chipotle corn on the cob was great (gives Bone Garden's a run for its money) and the mac 'n' cheese has a slightly otherworldly quality. Adam and I have concluded that the Smoke Ring folks must be in the Alton Brown camp of treating mac 'n' cheese a bit like a custard, because the texture was heavenly and very different from your typical oily mac 'n' cheese.
The prices were certainly a bit easier on the wallet than at Daddy D'z, though we wound up spending far more because we got two entrees, and app and some drinks. It was just more comfortable and welcoming. We had a great time and were suitable impressed by the food! I am surprised that Smoke Ring is not better known, and that they have received such mixed reviews on Urbanspoon. Well, we liked it quite a bit: 4 stars.
Smoke Ring
309 Nelson Street Southwest
Atlanta, GA 30339
emily
Nerd. Foodie. Gamer. Homecook. Perpetual planner. Gardener. Aspiring homesteader. Direct response graphic designer. I use too many damn commas.