This is one of the rare spots that both Emily and Anish have reviewed separately. To see Emily's review, go here.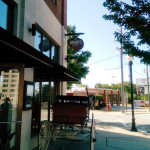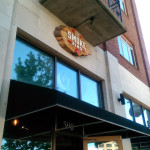 Smoke Ring is one of many barbecue joints that have opened up recently in the Atlanta area. Although I don't think we necessarily need anymore barbecue joints, the location of this one is an important step for the city in my opinion. It is located less than a mile from The Dome in an area that I feel has been underserved and underdeveloped restaurant-wise.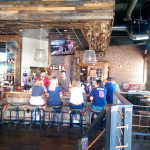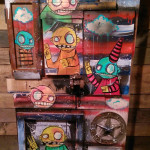 I often have friends who stay in downtown Atlanta for conventions, etc., and when they ask me where they should go eat, there isn't usually much to recommend within walking distance of their hotels. It is nice to see a place with a solid concept like Smoke Ring open up nearby and offer a non-chain, local restaurant feel to the area. I am sure the new stadium coming in 2017 will definitely help re-energize the area food-wise but hopefully the restaurant scene can get a head start in advance.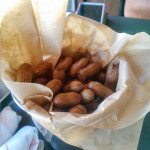 Smoke Ring has all the typical meats you would expect from chicken, pulled pork, brisket, ribs, spare ribs, and wings. Their menu is fairly diverse and offers different meats inside of a variety of items from sliders, tacos, sandwiches, and even burritos. On this particular visit, a buddy and I started out with an order of their cajun boiled peanuts, underbelly sliders (crispy pork belly, Guinness mustard, caramelized onions & bacon marmalade), a half rack of ribs with mac & cheese and jalapeño cornbread, and the highly recommended smoked brisket burrito.
The boiled peanuts were well seasoned, a little messy as you can imagine but a good holdover while we waited on our food. The pork belly sliders had a lot of enticing components included, but the bun was semi-stale and left the dish feeling flat overall. The quality of the pork belly was good but the bacon marmalade didn't really have the punch and flavor I was hoping for. The hand-cut fries that were served on the side were hot and crispy.
I like my ribs to be a little tough but found I had to use a little muscle to tear them apart which resulted in the meat coming out a little dry. However, the flavor on the rub was good. The sides that we choose to accompany were hit and miss. The shelled mac and cheese was really good and came out with a creamy texture. However, the jalapeño cornbread was a huge letdown as they came out dry and flavorless.
Saving the best for last, the brisket burrito lived up to the hype I'd heard about it. Yes, the portion size is as humongous as it looks in the picture. As big and hearty as it looks, it actually ate very light and all the ingredients blended well. Even though the brisket we had been served was in a burrito, it was definitely the best of the three meats we sampled.
Overall, the meal at Smoke Ring was enjoyable but had its hits and misses. As stated, I would highly recommend the brisket burrito but be prepared to leave stuffed if you choose to eat it alone. The inside of the restaurant and had a warm, woodsy cabin feel to it. Service was good and the food came out quickly, though the place was pretty empty during our visit. A meal for two came out to less than $50 without alcohol which was reasonable considering the amount of food we got. The bar area was pretty cool and I can see it getting busy and being a good spot to pre-game for events in that area if you aren't in the mood for the likes of a Taco Mac, Dantanna's, Stats, etc.
Food: 3.5
Vibe: 4.0
Smoke Ring
309 Nelson Street Southwest
Atlanta, GA 30339
anish
I am a 20-something white-collar worker that enjoys the great food options Atlanta has to offer. I enjoy sharing my dining experiences and opinions to anyone who will listen. I hate being the guy next to your table taking cell phone pics but understand its place as a necessary evil in the food blogging world. I love to research places beforehand (some would say to a fault). The theory is if I am going to spend time and money eating out, it is worth the 10 or so minutes to vet it out beforehand. I have a laundry list of dining places I still want to go to but for every one I check off, four probably get added. For me though, that is probably the biggest perk of living in a big city.