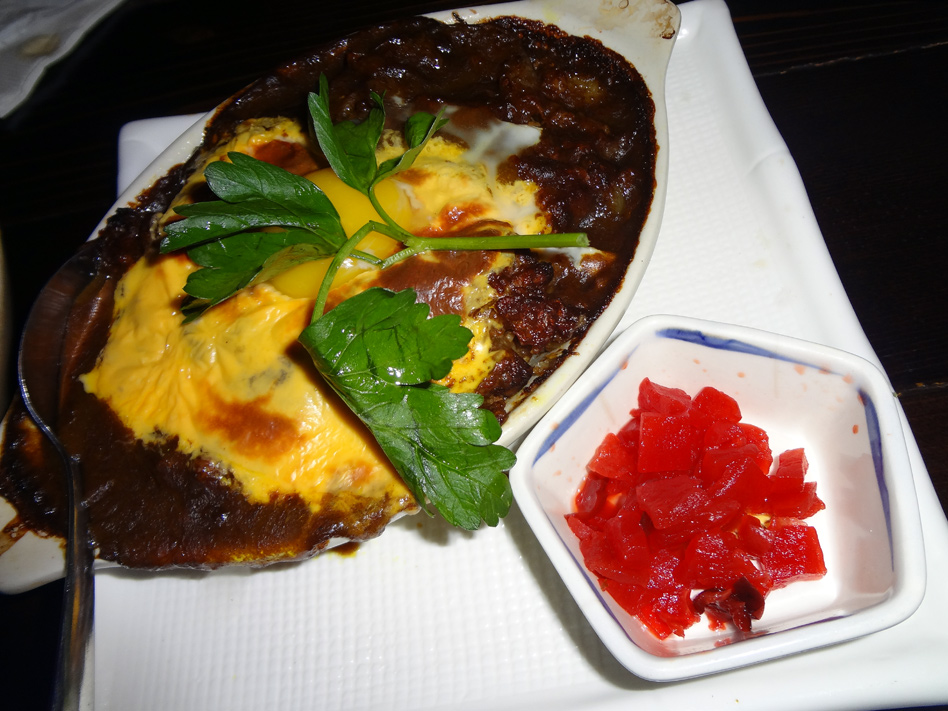 Recently the hubs and I, along with Ashley, Stephen, and Laura headed to Shoya Izakaya for some japanese izakaya dining in Doraville. An izakaya is a japanese drinking and dining joint. You don't really go for the food alone, or eat an entrée per se. You order small plates to share of food designed to go well with drinking while tossing back some booze and hanging out with your coworkers or friends.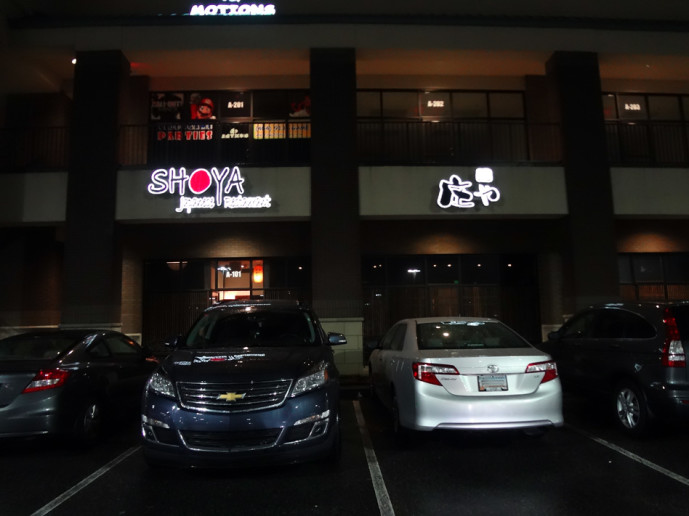 Adam and I were lucky enough to dine at izakayas three times while we were in Japan in March '13. Here's the post of about food and drink in Japan; look towards the end of the post for our discussion and photos of izakayas. We'd heard some positive things about Shoya and were really looking forward to reliving our izakaya experiences stateside.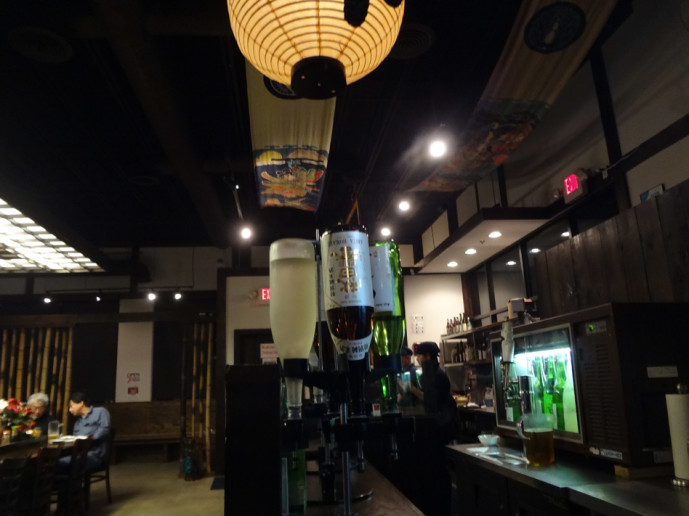 This place may seem like a hidden gem or secret to some folks due to its location or their unfamiliarity with the style, but it's certainly not a secret the asian community. When we showed up there was a healthy wait and we waited with mostly asian families.
Izakaya menus are, in my experience, large book-like things full of pictures of most of the various offerings, and Shoya Izakaya is true to its roots in that way.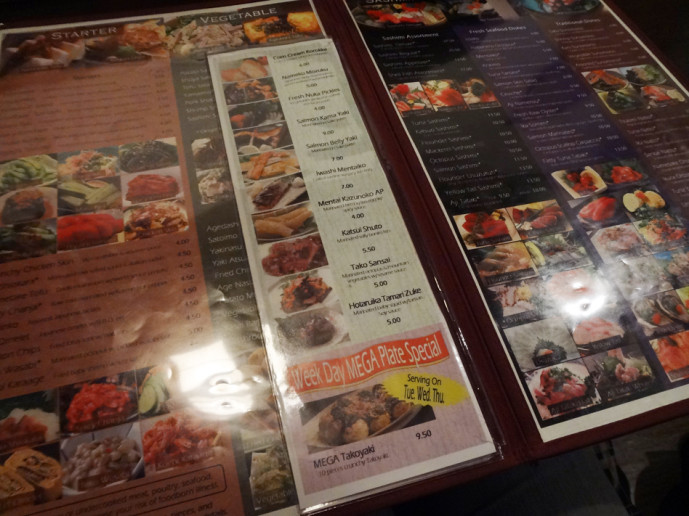 We deliberated a lot, but we did definitely get drinks right away because doing izakaya completely sober is just incorrect. I got started with a strawberry calpico hai – a shochu hai drink made with strawberry calpico, a popular flavored fermented yogurt drink called Calpis in Japan. (P.S. the drink will celebrate its centennial in 2019… whoa.) I liked my drink well enough, it basically tasted like candy as it is supposed to. Adam got a whiskey highball and did not enjoy it at all – instead of making it with soda, they made it with water. Not what he was looking for, and I don't blame him.
In our first round of ordering, we got a tonpei yaki, a type of okonomi-yaki (japanese savory pancake) made of sliced pork side and eggs. In our case it was served over a healthy portion of raw cabbage. It was tasty.
We also got kushiyaki (meat and veggie skewers), as well as ika maruyaki (whole grilled squid), pork gyoza, and baked curry. There was also a seaweed salad (~$3) in there somewhere that I failed to photograph.
The ika maruyaki was a huge disappointment to me. First – and I mean this lightheartedly because I am sure Shoya is a clean restaurant – I am fairly certain they dropped our squid on the floor. The grilled squid is always pictured "in order" and served "in order". Our came in a jumbled up mess, and I am really not sure why.
Not growing up in a upper-class situation, I really don't talk or care about plating as much as some other bloggers do, but in this case the plating was so atrocious that even I was upset. On top of that our poor squid was absolutely slain from a culinary perspective; it was extremely overcooked and unpleasant. The only upside to this dish was the spicy mustard which was quite good and helped hide the failings of the squid.
The baked curry, on the other hand, became an instant classic with our group. It was a really phenomenal dish. The temperature, textures and flavors were all fantastic. If you plan to visit Shoya Izakaya (and you should, more on that later) I highly recommend that you order this dish!
When we were ready to order our second round of drinks and then food we had a hard time getting ahold of service to order. We had to push our call button several times. We also had a pretty long wait for the food, too. This is the kind of wait that in an izakaya lets you sober up and lets your food settle. Basically, you're no longer tipsy and wanting to eat everything on the menu, haha. So I recommend ordering your next round before the first one is complete, especially if you see that the restaurant is packed.
As I said, we'd ordered our second round of drinks (wouldn't want to accidentally become sober while still at the izakaya). I switched from the Calpico hai to a fresh lime shochu. I was concerned in the ordering that I hadn't emphasized that I wanted the fresh version of the drink, but our waitress nailed it.
A true gentleman, Adam juiced my lime for me. The drink was nice. As for Adam, he didn't get another watery whiskey but instead opted to have a draft Sapporo beer.
For our second round, we got yaki onigiri, thick-cut bacon, satsuma age (fried fish cakes), and unagi kabayaki/barbecue eel (~$5.50).
All of these second-round dishes were solid, but in almost all cases I am have seen better examples elsewhere. The spicy mustard, presumably the same type that came with the squid made a second appearance with the bacon, and was still completely delicious. I somehow failed to snap a photo of the barbecue eel (let's blame the booze).
Enough of my thoughts. Here are some of Ashley's:
"Shoya has an insanely long drink and food menu. This is probably good and bad, as it gives you an incredible number of options but can be quite overwhelming, especially if you don't know Japanese food to begin with. Given that I do have some limited experience, I find it a motivator to come back and try more (decent sized groups for sharing dishes definitely works here).

"I have found dishes I'm in love with (baked curry, tonpei yaki, and the eel), and some not so great, mostly just not appealing to my particular set of taste buds. I have had their sushi as well. Not the best in Atlanta, but I would say it still ranks in the upper middle of the pack.

"The service is mixed, at best. I get that they're rather well-known and therefore quite busy, but sometimes the servers will drop something off at the table and rush right back off without looking at drinks or even pausing to see if you have any further need of assistance. You have to be ready to flag them down or push the little service button (sometimes several times in a row). Honestly, since service isn't that big a deal to me (it's much more about the food) and they have such an array of legit Japanese food, I put Shoya at 4 stars."
I think Ashley hit the nail on the head. Across the realm of real japanese izakaya style dining, we've experienced both the real deal as well as Miso Izakaya here in Atlanta, and now Soya Izakaya. While, unsurprisingly, it's pretty much impossible to surpass the "real deal," Shoya does stand as the best that you can do in Atlanta so far as we can tell so far.
The prices are a little steeper than I must have been expecting (and actually, even steeper than in Japan, though I'm sure they have to import certain things and that costs money), and the quality is not quite as good either. But Adam and I feel that's more to less to be expected. The service is certainly more american-style compared to japanese-style, but that's to be expected as well because it's a cultural thing. All in all, while it's obviously not the real deal, this is as good as you could expect to find. 4 stars.
Shoya Izakaya
6035 Peachtree Road
Doraville, GA 30341
emily
Nerd. Foodie. Gamer. Homecook. Perpetual planner. Gardener. Aspiring homesteader. Direct response graphic designer. I use too many damn commas.