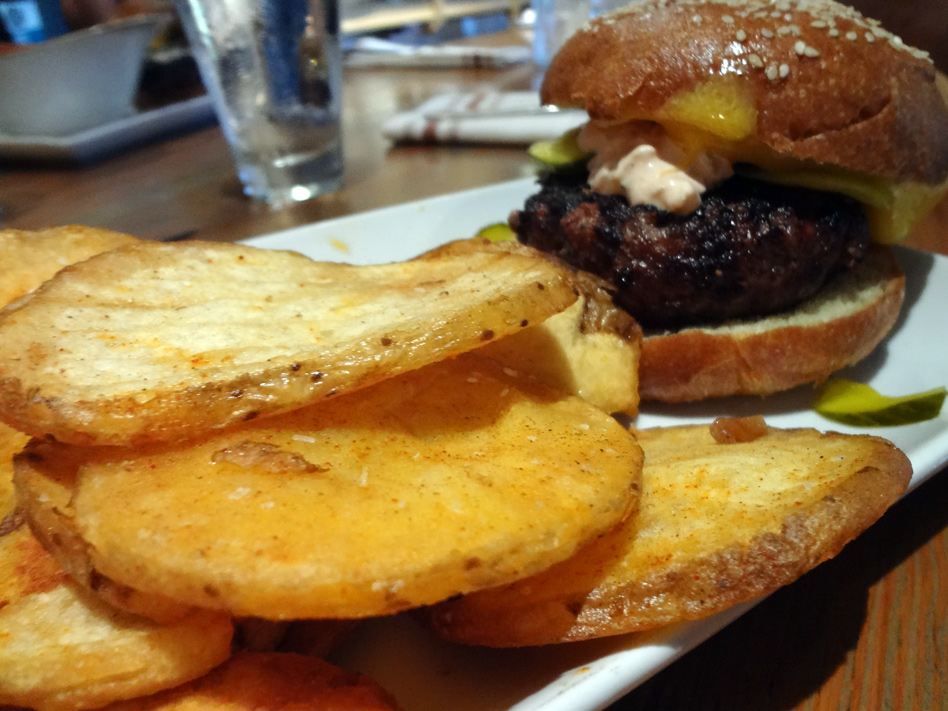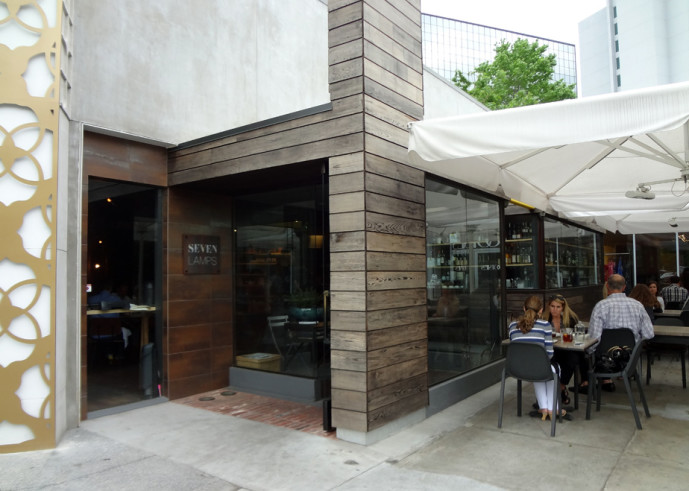 Seven Lamps is a restaurant that opened fairly recently in Buckhead that serves the ever popular and growing "craft food" category. Per the website, the name is derived from "the seven principles of architecture: sacrifice, truth, power, beauty, life, memory and obedience… Co-owner and Executive Chef Drew Van Leuvan recognized that these important principles are also very applicable in the kitchen."
The restaurant is right around Lenox Mall but surprisingly, I can't imagine it getting a ton of foot traffic through its doors. It is located in the "Shops around Lenox" strip near Dantanna's and Suit Supply, but is tucked in the corner with no outwardly visible signage which has led to people I've met there calling me up, believing they are lost. Nonetheless, every time I have gone it was has always been packed, so word-of-mouth seems to be working for them. Within walking distance of the mall, I would probably say Seven Lamps is your best bet if in need of a meal.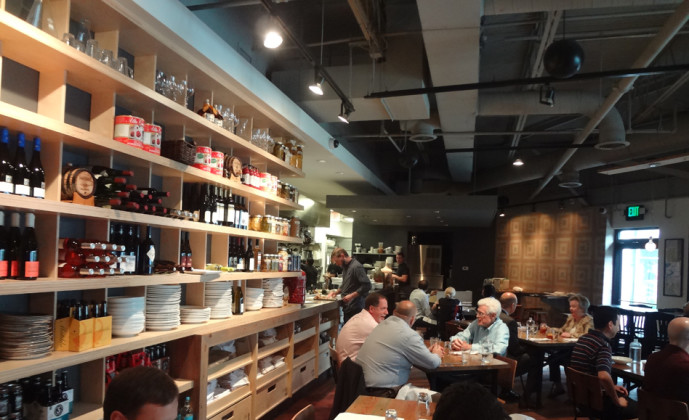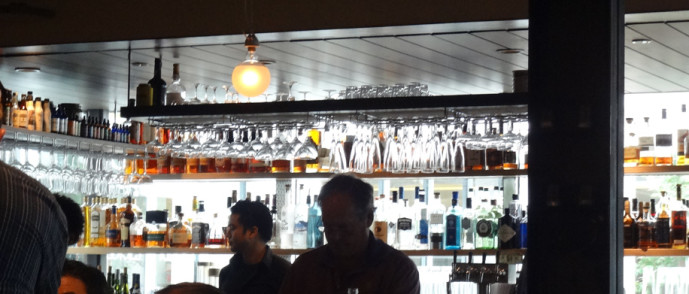 Both the lunch and dinner menu aren't anything unique and seem to feature the new holy trinity of every American restaurant that opens up which includes oysters, artisan cheeses, and charcuterie plates. I am not necessarily complaining, as I enjoy all three and Seven Lamps has a strong offering in each. It's hard to resist the urge to order everything available as that can quickly rack up if you're not careful. The menu also features small plates, pastas, and sammies/entrees depending on what time of day you go.
On the last particular visit, I went for lunch. Seven Lamps features an off-menu burger that has been receiving a lot of hype recently. One thing there is not a shortage of in Atlanta is a.) burger joints b.) finer dining spots doing their own rendition of burgers and adding a cork to it, in this case, it not being on the menu. When the restaurant first opened, it didn't seem to be heavily publicized and was under the radar but now the servers mention it when going through the menu and it is advertised on their website.
It is comprised of a 50/50 split of brisket and top round. Its 8oz portion size guarantees you won't leave hungry and it's loosely packed which gives it a nice consistency while eating. There were a plethora of ingredients on top that included pickles, caramelized onions, and – I believe – pimento cheese. None of these ingredients took away from the burger though, and definitely let it be the star. One of the things that separates a good burger from an average burger IMO is also the bun quality. It was great here and held the burger well. The burger was cooked to my liking, right in that sweet spot between medium and medium rare but what I really enjoyed was the char and crispness that developed on the outside of the patty. For sides, they give you an option of three to four things that include a soup, salad, and their cottage fries. Their cottage fries are thinly sliced potatoes that are fried and dusted with some sort of chili powder. On this particular visit, they were a bit soggy and lackluster but overall, they have been nice, light, and crisp on previous visits.
I have tried 3 or 4 other sammies and everything has been high quality and delicious. It seems like there are a few staples such as their crispy cheese sandwich, corned beef, and PLT while also including a few rotating items as well. The oysters have been good and reasonably priced as well as the cheese/meat plates which strike a good balance in variety and well worth the cost. The pastas are also super flavorful and well thought out.
One interesting thing to note is that the pastas come in lunch and dinner portions ($13/$20) and when the gnocchi was ordered during lunch, it was assumed rightfully or wrongfully that the lunch portion would be served. However, when the portion size and bill came, it was actually the dinner portion that was rung up. I understand that a waiter is probably going to put in whatever makes them the most money but it seemed semi-deceptive and asking if the customer wanted the lunch or dinner portion should have happened when placing the order IMO.
One other area of Seven Lamps that I would be remiss if I didn't discuss would be their cocktail program. When I go out to eat, I usually prefer to order a cocktail with my logic being I can get the same glass of beer or wine served at a restaurant at home but don't have the chops or tools to craft a well-balanced cocktail. The staff at Seven Lamps has been gaining a ton of good press for their cocktail program and deservedly so. The new style of communal seating at long tables seems to be a hit or miss amongst most people. I am personally a fan and its part of what makes this spot great to grab a drink.
If in the area and in need of a meal, I would probably recommend it and King + Duke as two of the top choices in Buckhead. If if need of a cocktail or drink post work, it can definitely fit the bill there as well. Overall, Seven Lamps isn't a restaurant that's offering anything super unique in the Atlanta dining scene but to their credit, what they do serve is well prepared and flavorful.
Food: 4.0
Vibe: 4.0
Seven Lamps
Shops Around Lenox
3400 Around Lenox Rd Atlanta, GA 30326
anish
I am a 20-something white-collar worker that enjoys the great food options Atlanta has to offer. I enjoy sharing my dining experiences and opinions to anyone who will listen. I hate being the guy next to your table taking cell phone pics but understand its place as a necessary evil in the food blogging world. I love to research places beforehand (some would say to a fault). The theory is if I am going to spend time and money eating out, it is worth the 10 or so minutes to vet it out beforehand. I have a laundry list of dining places I still want to go to but for every one I check off, four probably get added. For me though, that is probably the biggest perk of living in a big city.