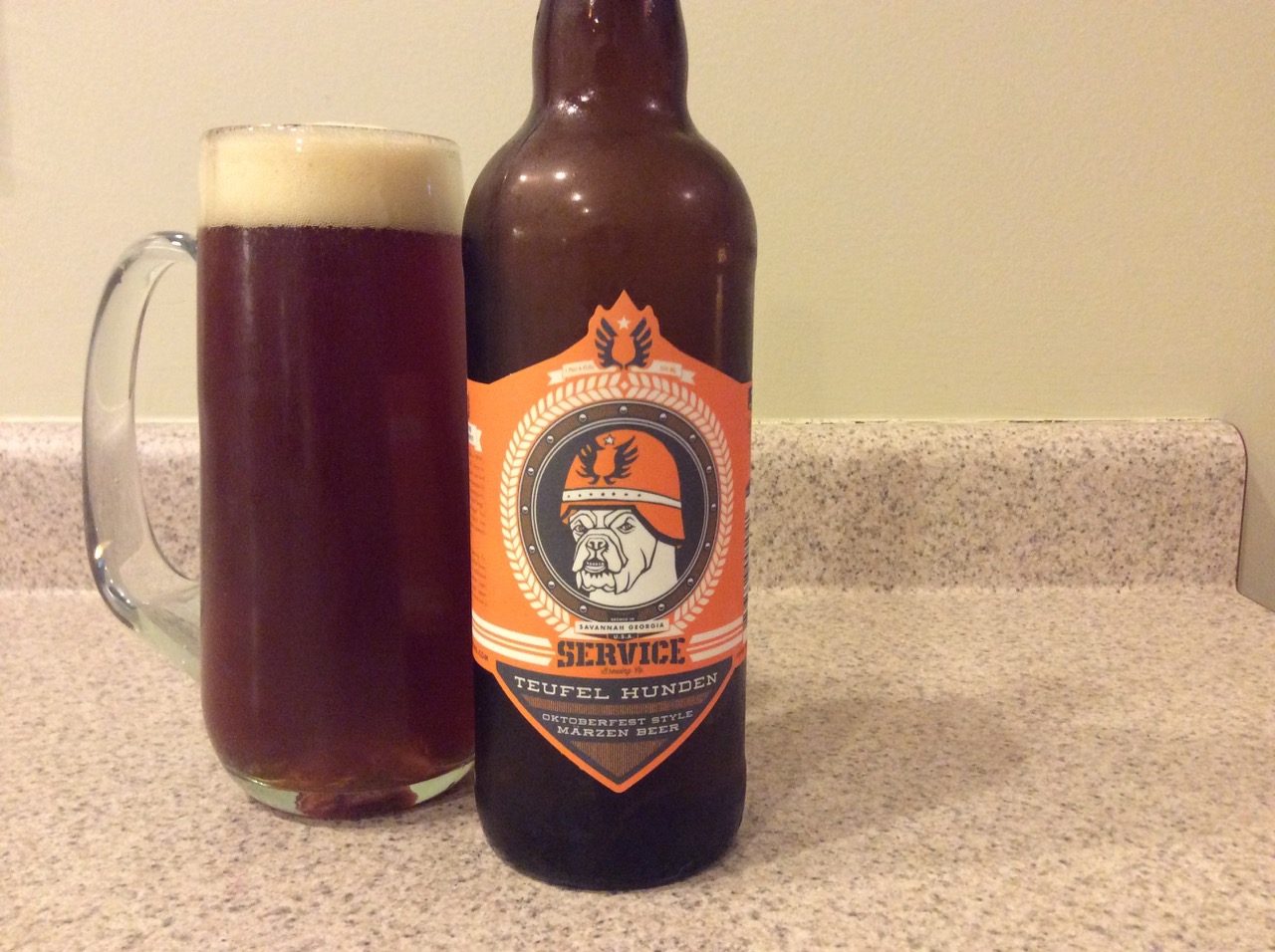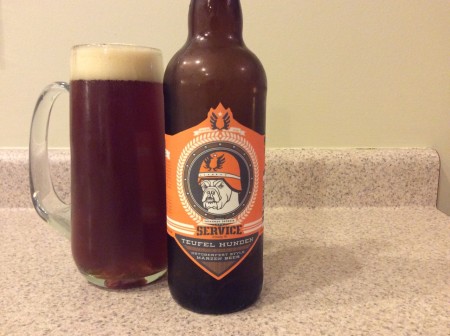 Brewery: Service Brewing
Location: Savannah, GA
Brew: Teufel Hunden
Merchant: Ale Yeah Decatur
Service: 22 oz Bottle
Style: Oktoberfest/Märzen
Color: Copper (22 SRM)
IBU: 25 (Estimated)
ABV: 5.4%
Temp: Cold
Pour: Teufel Hunden pours a deep amber to copper color that looks nice flowing into my tall glass mug*. It's bottle conditioned so stopping the pour with an ounce or two remaining would have been a good idea. But since a thick beige head started forming right away I was distracted by my effort to get that cool effect where the head spills over the top just a little bit. Neither happened, oh well. The head is an inch thick though and looks dense enough to hold a penny. Don't worry, I'm not going to try it.
This is my first taste of anything from Service Brewing in Savannah, GA. Could be a tough break here since Märzen is German style traditionally served in the fall at Oktoberfest — this bottle is not fresh. It is a style that ages pretty well though, even at the low, low gravity of 5.4% this should be fine. What concerns me most is the track record of American craft brewers brewing German beer styles. Not good. I'm pouring this because someone I trust told be this might change my mind.
Smell: Mmm…caramel. Toasty sweet caramel with a little woodiness. You have my attention.
Taste: First there is sweet malty caramel and toasted bread flavors. Some hops follow behind which is nice but they're rightfully subtle. As is a dark fruit flavor, fig and date. The sweetness is right on point, this is pretty legit. It doesn't have that cheap yeast flavor you get from too many American efforts in this style. It could also be that the carbonation is appropriately light. Why, you could drink this all day at fall festival event as the weather and the leaves start turning. Oh, wait.
Mid pint: This bottle is half a year old so I imagine the hops have mellowed out a bit but now halfway thru and the balance is great. The head has laced the glass marking every pause between drags. I love that effect and too few beers can do it.
I might be a pint in but, come to think of it, why don't we drink more sweet and low gravity beers in the summer? This is, after all, called a Märzen which is German for March. In the olden days they had to do that because brewing took time, often months. But now they brew in giant kettles and force carbonation at the bottling line. Some beers can take as little at three weeks. If my math is correct we could be drinking Märzen's by June. Oh, wait.
Final thought: I will be tenaciously seeking out a fresh bottle of Teufel Hunden like a devil dog this fall. Like the Marines it's named after, this Märzen is legit. Being former Army, I think that's the nicest thing I've ever said about Jar Heads. (Washes mouth out with the last of the beer.)
Pair with: Hot dog with sauerkraut and spicy mustard or a pretzel with the big salt chunks on top and a spicy cheese dipping sauce would be great. But seriously, I'm thinking about cheese soup.
3 Caps
* As a side note, a cool story I have to tell you about this glass mug. Five of these came to me after my wife's dear grandmother passed at the young age of 96. Her husband, the grandfather who passed a decade ago, brought these hand blown beer mugs home from WWII Germany. I had six initially. Yes, I broke one, and felt absolutely terrible about it. This guy carted six delicate artisan glass mugs home from Europe — probably in a duffle bag. I tried to contraband a bottle of Jack Daniels in my duffle when the Army shipped me off to Somalia and that beast broke (having booze soaked laundry in Africa in the summer with no washing machines was a unique experience), what a pain. Anyway, a Jack Daniels bottle is a tank compared to these. Mad respect. Maybe I should rethink my jar head comment. Nah.
Wayne Pelletier
September 1991. I drew from a tall, golden, hazy glass of a fresh and local hefeweizen in Bamberg Germany. Since then I've tasted more than a thousand brews. Here in the Greater Atlanta area we're pretty fortunate. Our local heavies: SweetWater, Atlanta Brewing and Terrapin all do world-class work. But the scene goes much, much deeper. That's where I like to find fresh pints. The goal is to draw attention to those finds on a 3-cap scale. Three seems simple but that isn't to say everything is great, average or terrible. Quite the contrary is the reality. I have come across very few craft/micro beers that are just no good. I assume these are all good beverages brew by good people with good intentions and you should as well. If I cross paths with a local brew that is truly terrible I won't waste your time, or mine, writing a review. 3 CAPS: Hurry. This is a rare brew worth going out of your way to find. I swear it. 2 CAPS: A very good beer. Stands out as great in the style. 1 CAP: A decent brew that is average for the style. Prost!