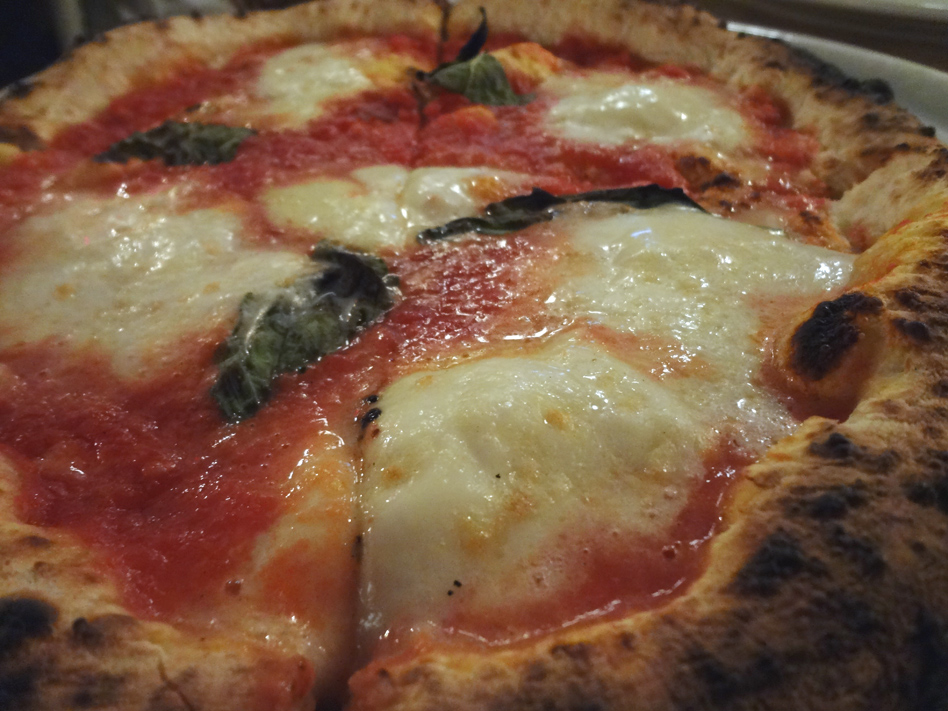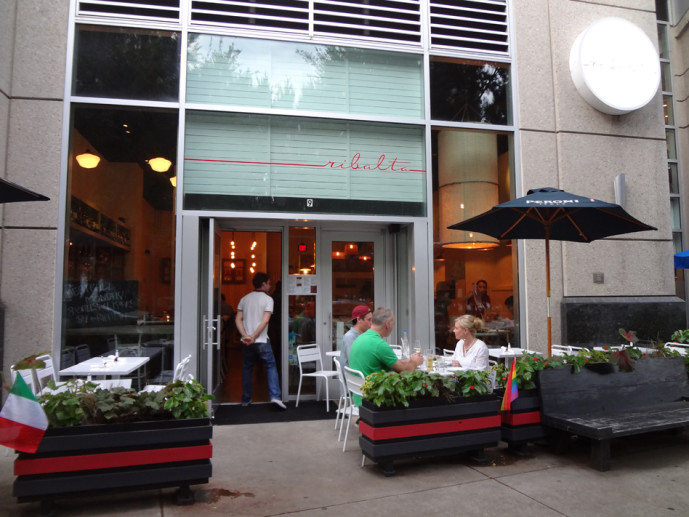 This post is incredibly overdue, as Adam and I first visited Ribalta for a media event in October. As with Yeh Tuh, we decided a refresher would help provide more accuracy and extra depth to what might have otherwise been a bit of a stale post.
Here's the run-down from our first visit, shortly after the Atlanta location of Ribalta opened:
Ribalta serves a variety italian dishes but mainly focuses on the tradition, and art of Neapolitan pizza. The New York location opened in April of last year. Located in Midtown, this location is upscale but still casual enough to make guests feel comfortable.
Our first drink was the Aperol Spritz, a signature cocktail with prosecco, soda, aperol, and orange. We were surprised how light and fresh this was. We didn't taste the booze at all. If you like to nurse your drinks, do know that it may separate after a while. It's really not a big deal though!
After toasting our spritzes, the kitchen sent out one appetizer or small plate after another. The pizza fritti, like an "italian hushpuppy" can be savory or sweet. The savory one we tried had a great texture and firmness that we really enjoyed. The zucchine scapece (fried zucchini) was an interesting combination of zucchini, vinegar, mint and garlic. It was surprisingly light for a fried item.
The trio of meatballs we sampled was part of the meatball special, which includes a pair of dessert meatballs as well that I'll circle back to in a little bit. The three flavors were (left to right): the chicken and mushroom, the "grandma," and the salmon and arugula. The chicken and mushroom were of white meat, but still were moist and soft in a creamy white sauce. The "grandma" meatballs are classic: a veal/beef combo in a traditional, chunky red sauce. Reminds me a little of the "grandma" pizza i get every time I visit Queens, though that is typically meatless. The salmon and arugula meatballs were a fantastic combination. Very untraditional as far as I know, but great. The salmon meatballs would be nothing without the arugula sauce, but the combination was flawless.
We lucked out, as the pasta of the day was decadent. A rich, garlicky pesto cream sauce with shrimp cooked to perfection. With the line-up we were consuming, there was no way we could have handled a full portion, but I absolutely wanted it!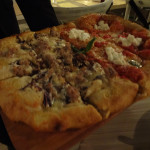 The octopus a la lunchana – baby octopi slow-cooked in San Marzano tomato sauce with kalamata olives and Sicilian capers – was next. The octopi were very tender (not at all like the pulpo we get on Buford Highway) and the sauce was boldly flavorful.
Finally! It's time to talk to pizza. First up was the house speciality, pala pizza. As I mentioned at the top, Ribalta is all about the traditional Neapolitan pizza. The pala is an extra crispy, twice-baked version. Seeing as how two whole pala pizzas were not in our future, we received a slice of two flavors: the Zola and the Ciliegino.
Speaking for myself, I went back and forth on which flavor I liked more, the Zola – radicchio, sweet italian sausage, gorgonzola, mozzarella and truffle oil – or the Ciliegino – cherry tomatoes, basil, mozzarella, and buffalo mozzarella after baking. The white pie was intriguing and novel, while the red classic and comforting. I would like to say that they used a light touch with the truffle oil, which I appreciated. It's easy to overdo it (I'm looking at you, Bonelick popcorn). Adam as totally mystified by the twice-baked dough – and I was inclined to agree! We really enjoyed the firm crust of the pala – great texture with none of the "sharpness" some crispy breads have – no cut gums or palates with this.
<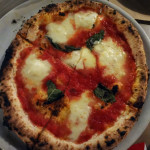 After the pala, we had traditional Neapolitan-style pizza (smaller than the normal order, FYI), the DOC. Topped with buffalo mozzarella and basil it was good, maybe a little lackluster, but only in comparison to the pala. It was also a much lighter affair, very "digestible", in the way one might think of some beers as being quaffable.
You might have noticed as we did that "lighter than expected" was a theme for this meal. Several of the fried, or meat-/bread-heavy dishes were lighter fare than expected – a pleasant surprise really, considering the way you sometimes feel after indulging a bit too much at a pizza joint.
Now, this observation does not apply at all to the dessert-balls, the last balls of the 8-meatball special I mentioned earlier. These things were dense and decadent. Like cookie dough rolled up in cream and chocolate sauce. Yum.
That wraps up the initial visit. Now, let's see how Ribalta looks and tastes, six months later. I dropped by for a Friday lunch with Adam, an a host of coworkers current and past. The lunch menu was surprisingly light on pizza, but there is a pala pizza combo, where you can get 2 slices with a cup of soup or salad ($10).
Having had the potato croquets at Don Antonio, I decided to get an order of the same here to compare. A single order here gets you more, and they definitely had more of an ooey-gooey, greasy, comfort food feel here than at Don Antonio. It was light a giant, cheesy tater tot. Everyone who tried enjoyed them.
Adam went for the pala combo with the white pie and a cup of chicken and vegetable soup. I opted for the pala combo with red pie and a small arugula salad.
My powers of observation failed me on this particular Friday, so many of the photos I snapped of my compatriot's meals are inexcusably blurry. Sorry 'bout that.
The menu is largely the same as the last time we visited, the only difference being a slight increase in some prices. I am sure that is part of the natural process of feeling out your restaurant's space in the market and learning about all the unforeseen operational costs.
Overall, everyone seemed to really enjoy their meal – all the feedback I received from my fellows was positive. As for Adam and I, we felt much the way we did the previous time: it's certainly good pizza. The prices are similar to Antico, but the variety is much wider and the atmosphere is nicer (it's a different dining-style overall, so that's a bit of an apples-to-oranges comparison). We enjoyed what we ate, but we just don't see ourselves making the drive to become regulars: it's just a wee bit too pricey, even for as good as it is. With the glut of Neapolitan-style pizza joints that have cropped up in this town, the competition is fierce and there's really not much of a reason to go more than a few miles for a pie, it would seem. So far, I think I'd sooner go to Don Antonio or Antico than, depending on what part of town I'm in. If I were based in Midtown, however, perhaps I'd feel differently?
Still, I think Ribalta could be a good spot for a small, casual business lunch or to meet an out-of-town acquaintance staying in Midtown. 3 stars.
Since the first visit to Ribalta was a sponsored media event, we received complimentary food and drinks, but the second visit was both incognito and paid for by me. Regardless, my thoughts and words are always my own.
Ribalta
1080 Peachtree Street NE
Atlanta, GA 30309
emily
Nerd. Foodie. Gamer. Homecook. Perpetual planner. Gardener. Aspiring homesteader. Direct response graphic designer. I use too many damn commas.