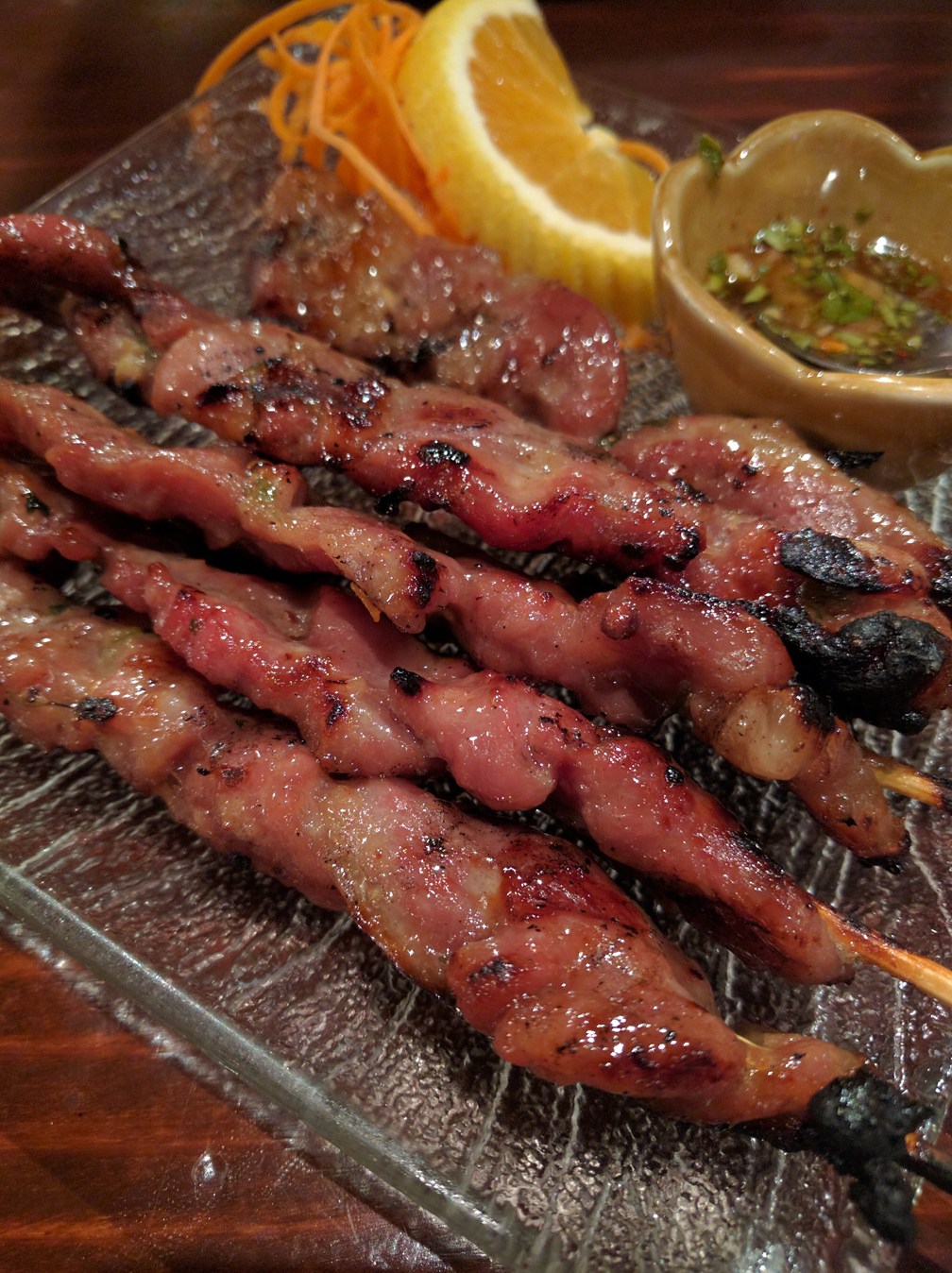 I have a little bit of prejudice against thai restaurants. Not because I don't like thai food, but because I feel like I can't really get to know it… it feels like thai restaurants are more likely to be americanized, like many chinese restaurants are. And the name "Rain Thai and Sushi Bar" did not inspire confidence as to getting authentic food, since I associate sushi with Japan and not Thailand – perhaps incorrectly since there seem to be about a million thai and sushi joints across the US and beyond.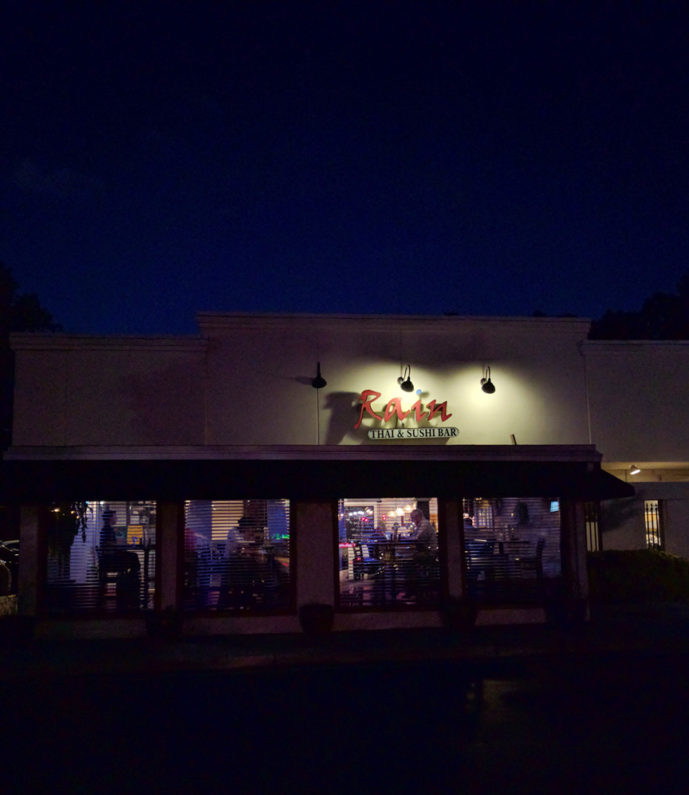 So maybe I just need to get over it – these places wouldn't exist if they didn't have patronage and why does everything have to be "authentic" anyway? What does that even mean for life in the post-prejudice melting pot world I so fervently hope we are close to achieving?
But the menu surprised me a little; I saw some familiar thai dishes as well as some new ones with convincingly "thai enough" names to make me feel a little better, since I seem to be hung up on this whole authenticity thing. While we didn't order anything from it, the specials board looked like fun… sake martini and all. Being that the name Rain Thai and Sushi seemed to imply we should order both thai food and sushi, we did just that.
We started with the moo ping appetizer which we both thoroughly enjoyed. I especially liked the nam jim jaew, which seems to be mostly fish sauce, chiles, tamarind pulp, green onions, and sugar. Good dish that I would order again.
I ordered the curry duck. It was served with white rice that is not pictured. The dish was marked as spicy and while it had some heat it was overall pretty mild, but yummy. There was a decent amount of duck involved to make it seem worth the price, and it was well-prepared with nice texture.
Adam got the Home Alone sushi combo, subbing out the California roll for a spicy tuna roll for an extra three bucks. We aren't fans of California rolls. The quality of sushi was less than Adam has hoped for, but perhaps just what one should expect from a mid-range non-japanese restaurant. Or is that cuisine-prejudice rearing its head again? At any rate, it was just fine, but not wonderful. We didn't get a dish for our soy sauce, and after trying to use a saucer for that purpose, someone finally took pity on us and brought one along.
The service was attentive and very friendly despite the regular flow of people while we were there. We saw regulars get greeted with genuine pleasure, so this seems like a great neighborhood joint if it's the type of place that suits your fancy. I probably wouldn't come back myself unless a friend wanted to, but that's more to do with me than with Rain, which seems to be well-loved by its clientele. 3 unobjectionable, safe stars.
Rain Thai and Sushi Bar
2345 Cheshire Bridge Road NE,
Atlanta, GA 30324
emily
Nerd. Foodie. Gamer. Homecook. Perpetual planner. Gardener. Aspiring homesteader. Direct response graphic designer. I use too many damn commas.