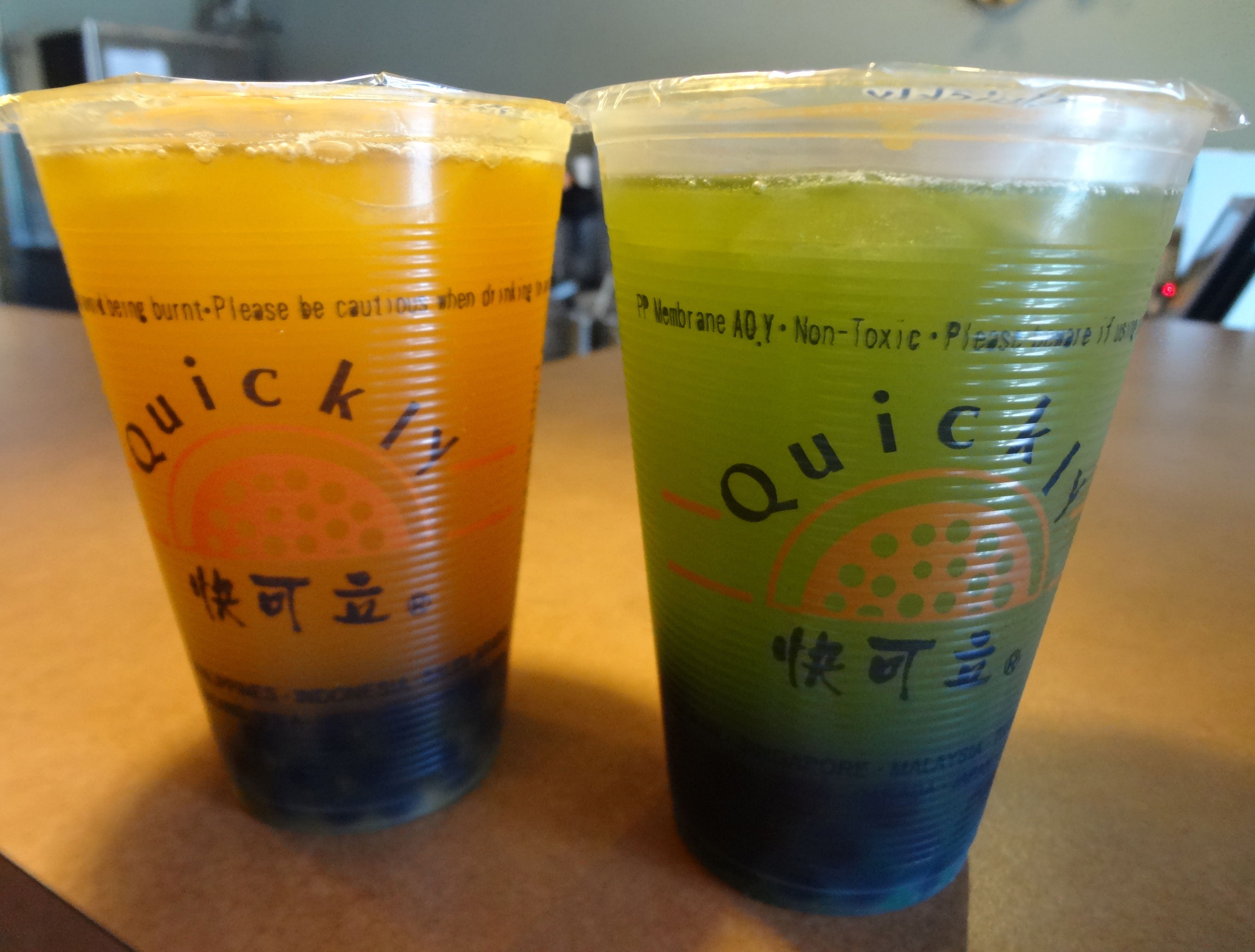 Quickly, originating in Taiwan, is the largest bubble tea franchise in the world with more than 2000 locations on four continents. There are more than 60 Quickly locations in San Francisco alone, but only three locations in Georgia.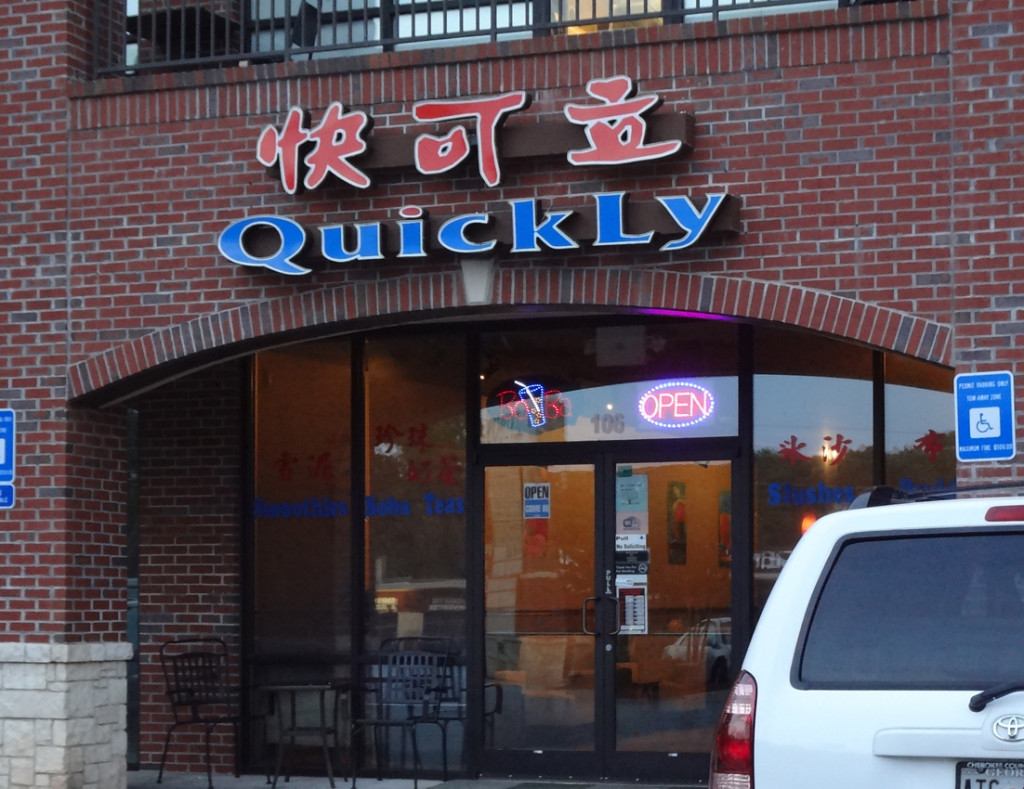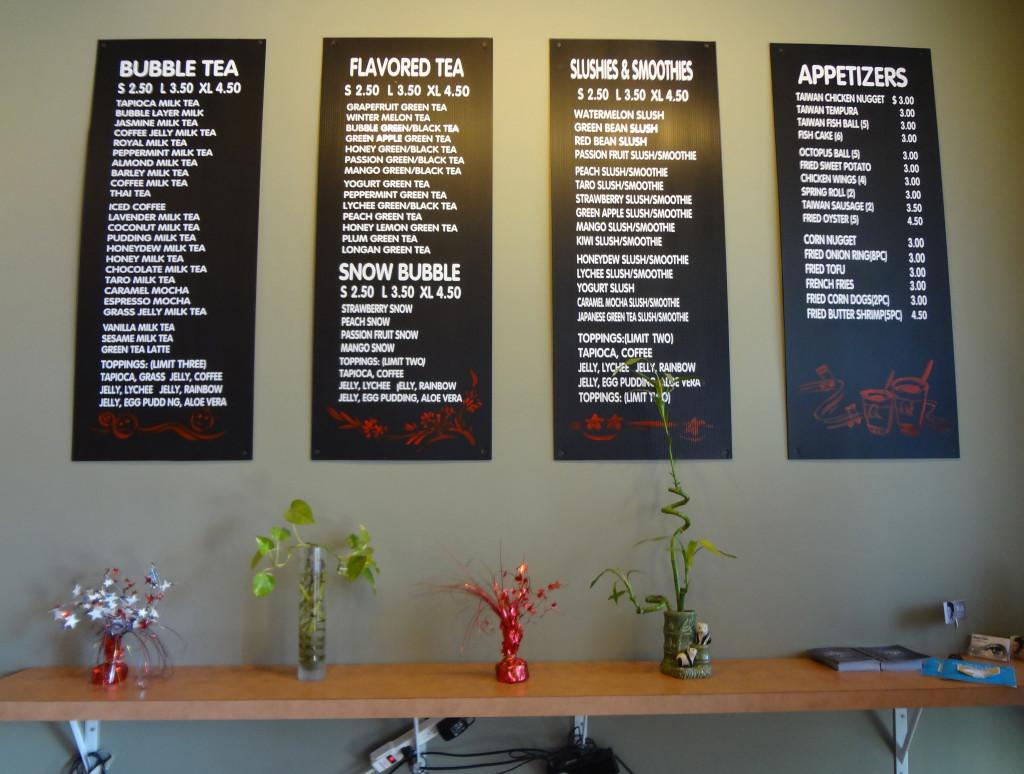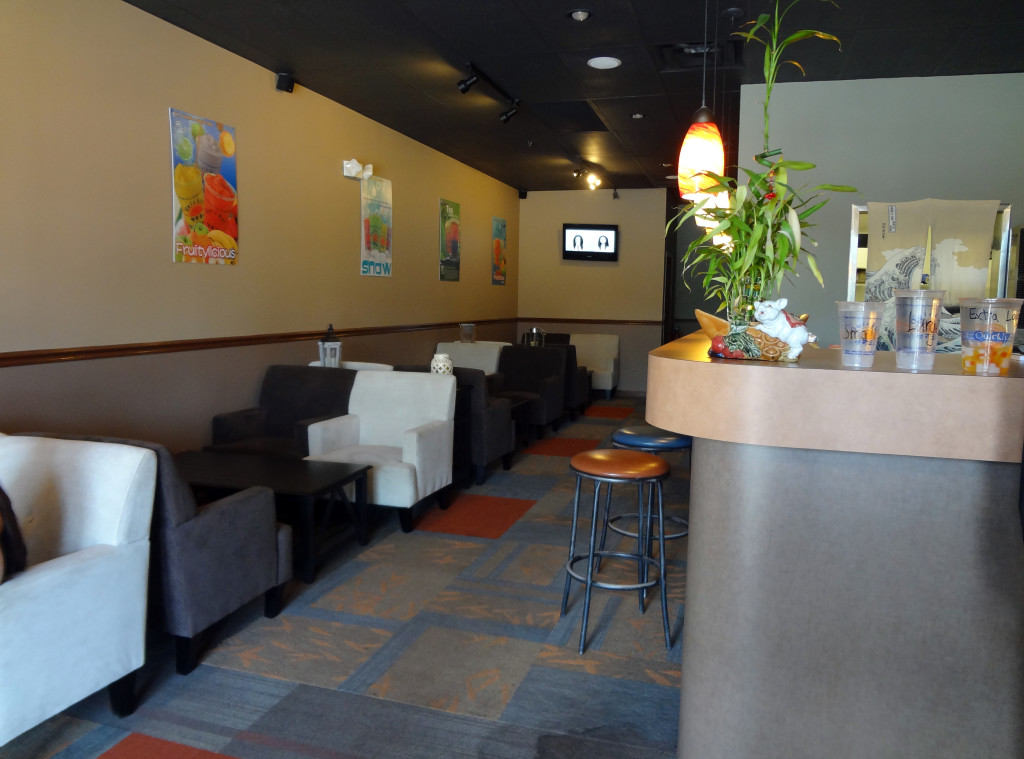 The hubs and I, along with our besties Ashley and Stephen, have been frequenting Quickly since we all moved to the area nearly three years ago. In this time, we have partaken of much of what they have to offer, and seen the location get a facelift.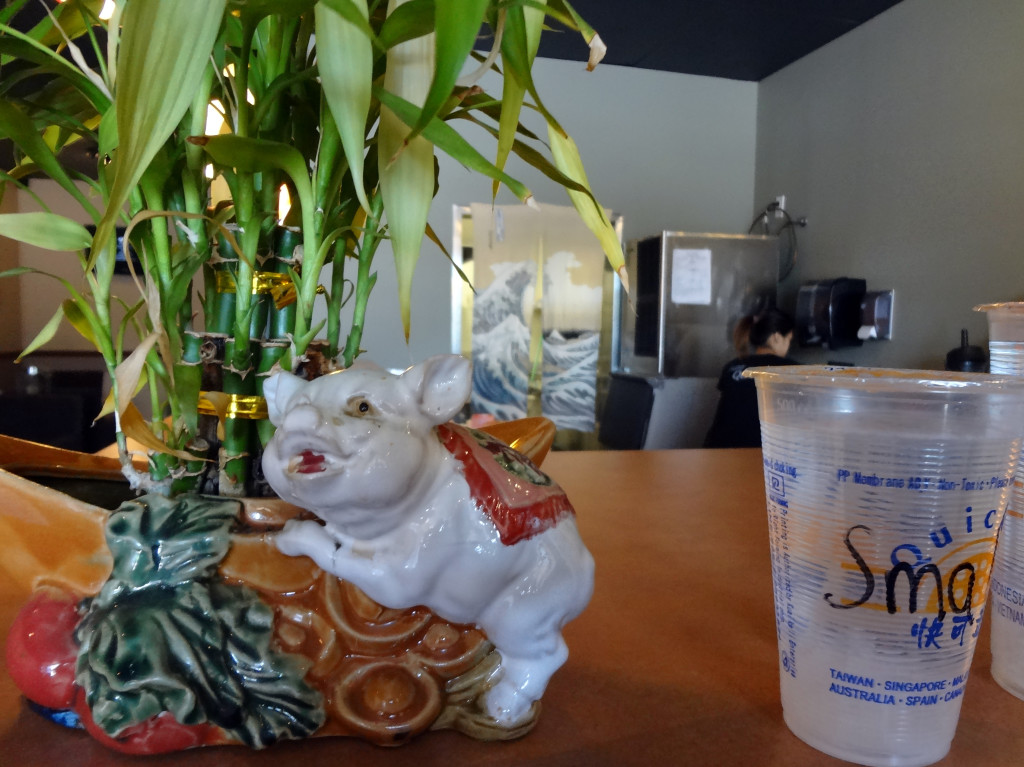 Invented in Taiwan in the 1980s,
bubble tea
is a milk tea, slushie, shake, or smoothie with tapioca balls (AKA bubbles, boba, or pearls) inside.
Here's a complete list of what boba shakes Ashley has tried at Quickly:
Special layer milk tea
Royal milk tea
Peppermint milk tea
Caramel mocha milk tea
Espresso milk tea
Watermelon slush
Green bean slush
Red bean slush
Peach slush
Purple corn slush
Taro slush
Strawberry slush
Green apple slush
Kiwi slush
Yogurt slush
Caramel mocha slush
Pineapple slush
Avocado smoothie
Caramel avocado smoothie
Besides some of those listed above, Adam and I have tried:
Plum slush
Chocolate milk tea
Almond milk tea
Lavender milk tea
Passion fruit slush
Honey milk tea
Thai tea
Some thoughts on Quickly from our resident bubble tea expert, Ashley:
I've tried quite the variety of drinks at this location, and I most definitely have my favorites. I always get the small ($2.50, cash only), though the drinks are available in large ($3.50), and now an extra-large (not sure what the price is, but going off of the trend, I'd say $4.50). When I want something chocolatey-sweet, I go for the Caramel mocha milk tea, but when I want something kinda fruity, I go for the Yogurt slush. If you've ever had one of those little Japanese yogurt shots, then you know already what that particular slush tastes like. If they plan on doing it again this summer, I'll be easily addicted to the avocado smoothie, which surprisingly used actual avocados.
Stephen (the hubs) and I decided to try everything on the board that sounded weird. We got through taro (tasty), purple corn (strangely tasty), red bean (too grainy), and green bean (wish I could take that one back), and we haven't quite gotten the nerve up to finish. We know the ones we like, so it's hard to go there and specifically choose something you are 90% sure you won't really like, to put it mildly.
Anyway, the wait is short, the drinks always come out tasty and accurately, and best of all, I can walk there from my house! Ok, so that one doesn't really count, but still. The same three or four people always seem to be working when I go, and they're efficient without being rude (even to us somewhat slow white folk). They just remodeled, which I believe is an effort to keep up with their more chic (but slower to put out orders) neighbor, SweetHut.
Speaking of neighbors, part of the reason I still go to Quickly is that I've tried bubble tea at a handful of places, yet I still find that the price and taste combination at Quickly wins out most of the time. I've had bubble tea from Lee's Bakery, Dai Loi, Nam Phong, Mini Hot Pot, Sweet Hut, Mozart Café, Milano Café, and Quickly (assuming I'm not forgetting anything). I am particularly fond of having boba in my bubble tea, so I judge these places on the combination of boba and drink base. I think Sweet Hut has the best boba (it's a honey boba!), and Quickly has the second best (the consistency of fresh gummy bears). The drink choices are most varied at Sweet Hut, Mozart, and Quickly. No one uses much in the way of real ingredients, except on occasion. But I guess you can't really expect much more with such a low price tag.
I found the thai tea to be disappointingly just like regular thai tea. The plum and passion fruit slushes were fake-tasting and syrupy, not like the real fruits (because they use syrups). Both the almond and the lavender milk teas tasted strong but were still somehow light drinks – while drinking each of those flavors, I wasn't quite sure if I liked it or not, but I think they were each interesting enough that I would try them again if the mood struck me. The chocolate milk and honey milk teas tasted exactly how they sound like they would taste. Like Ashley, I am a huge fan of their avocado shakes, and will certainly have them again if they offer them again this summer.
With the remodel, Quickly is now offering other "toppings" (can you really call them toppings when they immediately sink to the bottom of your shake?) beside tapioca balls. There are several types of jelly – grass, rainbow, coffee, lychee – as well as egg pudding and aloe vera. Because these are new, I haven't tried them all yet. I already know that grass jelly is not my favorite, but I did recently try the coffee jelly, only to discover that it has the same consistency as grass jelly. Bah. If I were simply eating it, I would enjoy it well enough (especially since it is coffee flavored), but I don't find the texture pleasant when combined with the drink. I am rather curious about the egg pudding though…
Another thing I recently tried for the first time was eating from the appetizer menu. It may be small and consist entirely of fried foods, but it is a menu, by god, and we're here to eat all the food on Buford Highway. So, the hubs and I ordered the taiwan fish balls ($3) and the taiwan sausage ($3.50) in an attempt to get the most unique and, hopefully, distinctly "Quickly" items.
We were very surprised and impressed! The noshes were small, but appropriately-sized for the price, and very good. The sausages were savory and sweet, and though they were greasy, it wasn't a gross and heavy grease, just light and sweet. The fish balls were light, and they had a thin, powdery dusting of a spice blend. They were surprisingly hot, but it was a effervescent heat – just plain pleasant to eat and perfect for eating alongside super-sweet boba teas. This is like the boba tea version of otsumami – japanese snack foods tailored specifically to accompany beer or sake. And they really knocked it out of the park in that respect. Two thumbs up for these snacks.
What Quickly does (boba shakes and accompanying salty snacks), it does exceedingly well and at a fantastic price point. It is no surprise that they are an international success, because they have it down pat and are the leader of the pack for this niche: 4.5 stars.
Quickly
5090 Buford Highway NE
Doraville, GA 30340
emily
Nerd. Foodie. Gamer. Homecook. Perpetual planner. Gardener. Aspiring homesteader. Direct response graphic designer. I use too many damn commas.