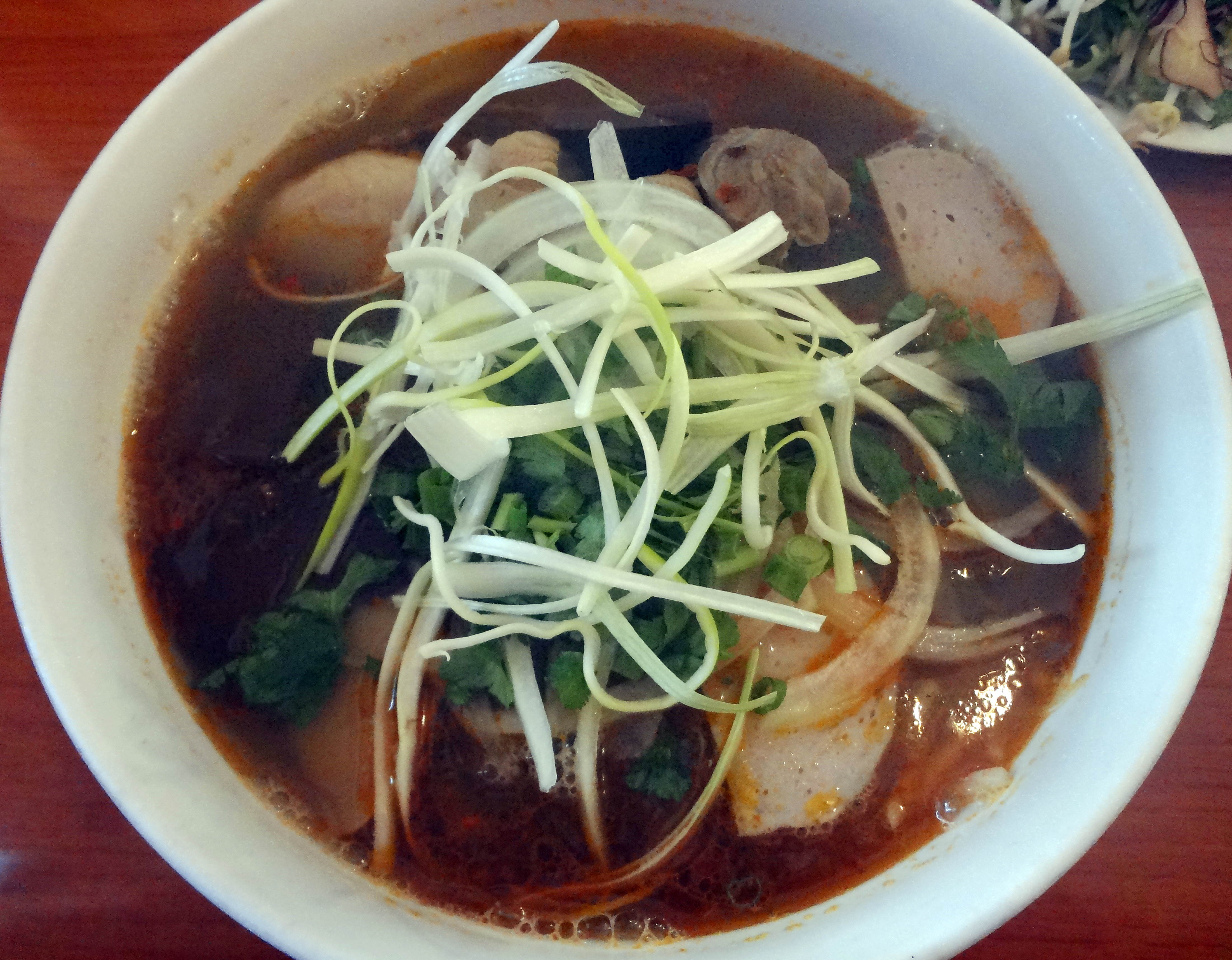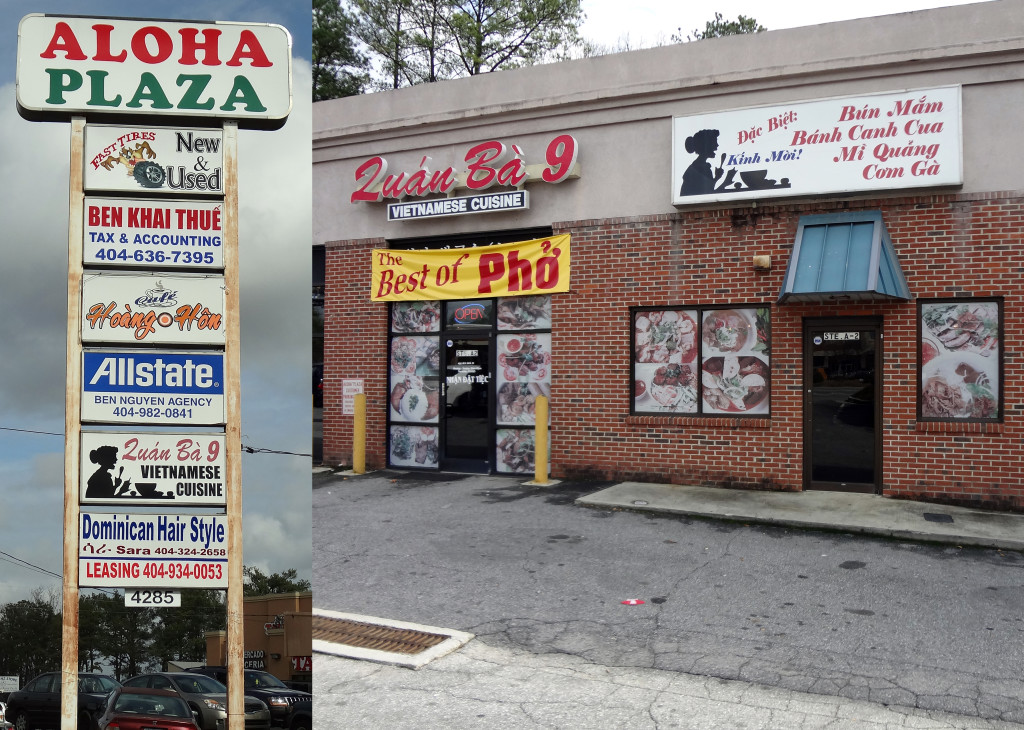 Across the street from the Independent Plaza is oddly-named Aloha Plaza (no Hawaiian connection that I can see). Inside this strip is Quan Ba 9, the subject of this week's review. Quan Ba 9 is apparently not exactly a secret, having been profiled by the Creative Loafing a while back, and a lot of other Atlanta food blogs as well.
Regardless of all that, we'd never heard of it before, so we didn't know what to expect. The inside is pretty nice, and we were treated well by the staff. We started with pork spring rolls ($2.95), and out waiter pointed out the sauce that he recommended we mix in with the dipping sauce if we wanted some more flavor and kick. The rolls and sauce were quite good (so good that I didn't have a single thought of photographing them, just scarfing them down.
The only hiccup was that they wanted? needed? to substitute the beef in my dish (Central Vietnamese Spicy BEEF soup, $7.50,) with pork. Not just a cut of pork, but several different pork products. This is not necessarily a bad thing, but I definitely did not set out from my house thinking, "I wanna eat me some liver," so I had to adjust my thinking somewhat. But the liver wasn't so bad (I could probably use the extra offal in my life, nutritionally speaking). In fact, the soup itself was quite tasty. I would have to take this soup back to Beef Noodle Soup (our nickname for
Van Bakery
and have it at the same time as their northern and southern to really be able to talk about the differences between the three. Clearly, there is a lot of learning to be done in the arena of viet cuisine.
Actually can I even say viet? I see it around but don't know if it's a real term, slang, or a slur (I don't think so, and I certainly hope not). Someone should enlighten me.
Anyway, Adam ordered the vermicelli noodle bowl, topped with beef, shrimp, and sliced pork eggroll ($8.50), we we both liked just fine. I would rate it equal with the equivalent dish at Chateau Saigon, but not as good as the one at Dai Loi #2.
Overall, Quan Ba 9 is surprisingly pleasant, given te run-down appearance of the shopping strip, but in the end it seems pretty average to me, given the wide variety of Vietnamese joints available nearby. Though, I did the "Hangover Cure" soup on their specials menu, so perhaps that warrants a second try sometime. 3 stars.
Quan Ba 9
4285 Buford Highway NE
Atlanta, GA 30345
emily
Nerd. Foodie. Gamer. Homecook. Perpetual planner. Gardener. Aspiring homesteader. Direct response graphic designer. I use too many damn commas.