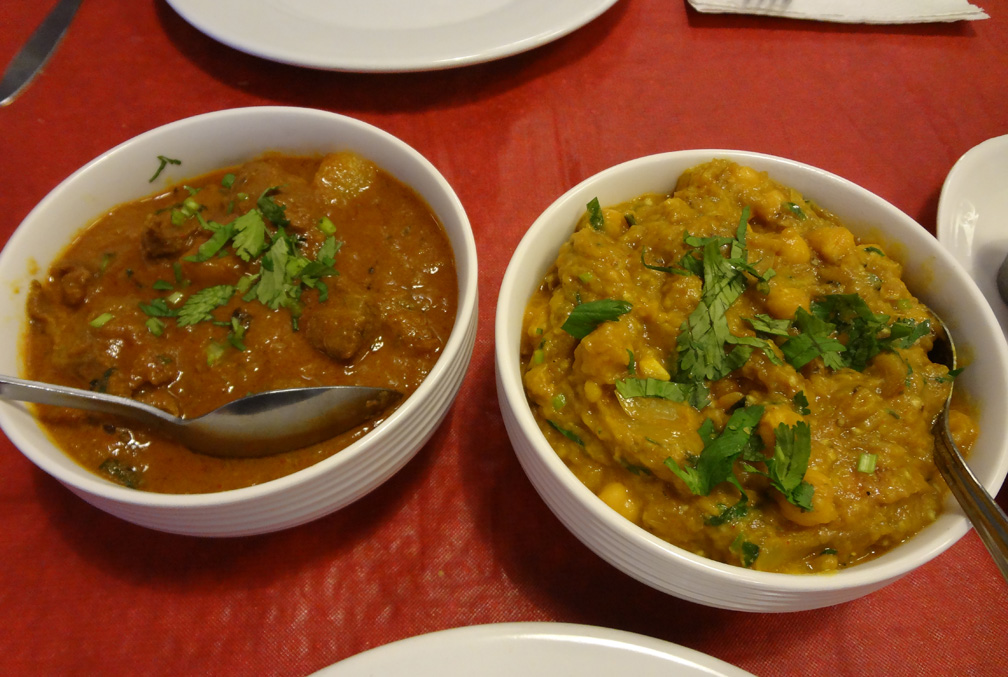 Purnima is a new halal indian and bangladeshi restaurant on Buford Highway, in the same building as Pho 24, and has been open for about a month now.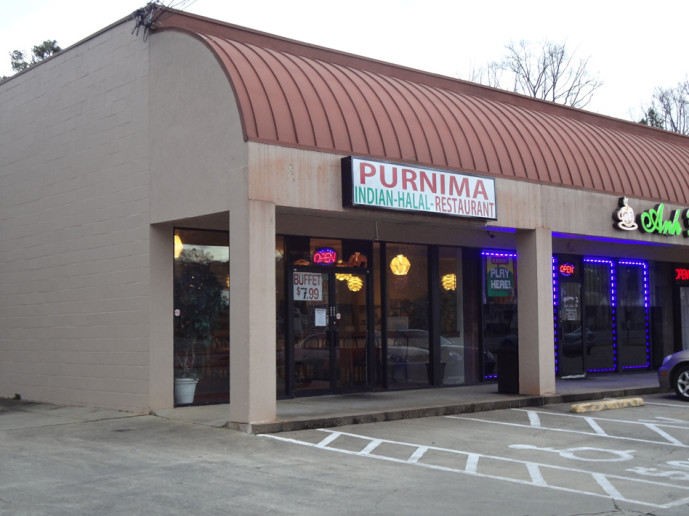 Adam and I dropped into Purnima early on Sunday afternoon, and we were the only ones in the restaurant pretty much the whole time, other than one guy who was either a regular picking up takeout or just a friend of the owners.
Our server was very nice and helpful. He also asked us if we wanted him to put on the game, and we assured him that heavens no, we much preferred the 70s-era soap opera-like indian movie on the TV. We had a lot of fun with the movie, which was cute, campy, retro and a little satirical of its own genre.
To start, we ordered vegetable samosas (~$3). It came out with imli ki chutney (the red tamarind sauce) and hari chutney (the green cilantro sauce). Both sauces were great and generously portioned.
For dinner we ordered lamb tandoori medium spicy (~$11) and the chickpea and eggplant dish whose name has slipped my mind (~$8) to split, as well as garlic naan ($3). Our dishes came with a lovely large plate of rice.
Our meal was very satisfying, so much so that we discussed taking some home, but it seemed so little, and Adam and I are in the habit of cleaning our plates anyway, so we did.
After our meal, our server brought us each out a firni – rice pudding – on the house! How sweet. We had previously expressed our intend to order one, but he surprised us. It was very good; this firni blows Panahar's rice pudding right away.
We had a really good time at Purnima, though it would have been more comfortable if we had not been the only patrons. Hopefully this will change as word gets out. This is a plain but pleasant place with a sufficiently sized menu full of great options at good prices.
Speaking of good prices, there is a $6.99 lunch buffet, which undercuts Panahar's price significantly. I'll have to gather some coworkers and go give it a shot.
Adam and I definitely recommend Purnima, and as much as we have previously enjoyed Panahar, we welcome some friendly competition and the presence of options for indian and bangladeshi cuisine on Buford Highway. Go have some tasty food, get great service, and watch vintage flicks. 4 stars.
Purnima Indian and Bangladeshi Restaurant
4646-A Buford Hwy
Chamblee, GA 30341
emily
Nerd. Foodie. Gamer. Homecook. Perpetual planner. Gardener. Aspiring homesteader. Direct response graphic designer. I use too many damn commas.