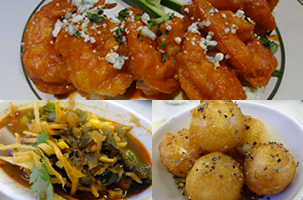 I recently attended a lovely progressive dinner at Hartsfield-Jackson Atlanta International Airport (say that three times fast) with a passel of food bloggers. I am generally quite proud of the ATL's airport, the busiest airport in the world for 13 years running (and many times before that), so I jumped at the opportunity to attend this dinner. Hosted by The Association of Food Bloggers and HMS Host, this event not only hooked me up with some delicious spots to dine the next time I am in the airport and allowed me to meet some great Atlanta food bloggers, but it also got me behind airport security without a plane ticket – something that I haven't done since 2000, and am not likely to do again unless I wind up escorting a particularly young or infirm family member to a gate sometime.
The meal started off on the second floor of the Atlanta ChopHouse, overlooking the Atrium. This is the only spot we dined at that you can reach without going through security. In fact, the room we dined in is a meeting room for businesses to book meeting with colleagues from out-of-town, so neither party has to go through an undue amount of trouble. A nifty idea.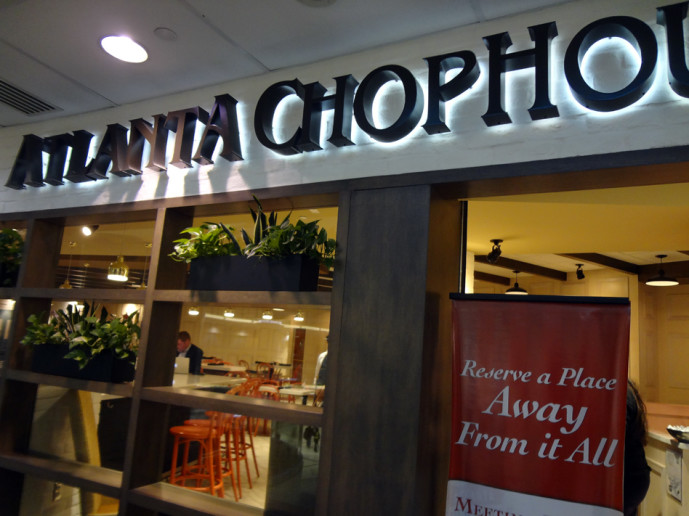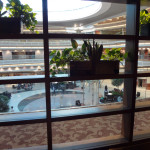 The ChopHouse is a high-end chain of restaurants that are often found in airports, through there are a couple of street locations across the country – just not in Atlanta. It opened in HJAIA in December of 2012 and this was my first visit.
I got started off with a lovely glass of malbec (this became an issue since I had fasted all day, haha) and we were served many large plates of ahi tun and buffalo shrimp. The ahi tuna came with a light salad that included grapes, jicama, and celery.
The tuna was not the best I have ever had. Unfortunately, we all gabbed and took a million photos (food bloggers, sheesh!) before digging in, so this may have been a factor that led to a tepid temperature and to my lack of awe with the dish. I would try the dish again under different circumstances… if I weren't already too busy stuffing my face with the buffalo shrimp, that is.
Oh, the buffalo shrimp! I ate way, way too many of these babies for the first stop in a progressive dinner. I blame the wine and their succulent nature. These large, moist shrimp were swimming in spicy buffalo sauce… actually decently spicy as opposed to wussy "spicy" that you often encounter. These were heaven and I could have stayed and popped them all night.
I don't think a quick chat about two appetizers can constitute a full review for ChopHouse, so let's just call this a first look. At first blush, I am very impressed. I would love to come back and be reunited with my beloved buffalo shrimp and try some entrees on for size. Two thumbs up.
Atlanta ChopHouse & Brewery
Domestic Terminal Atrium NE
Atlanta International Airport Atlanta, GA 30320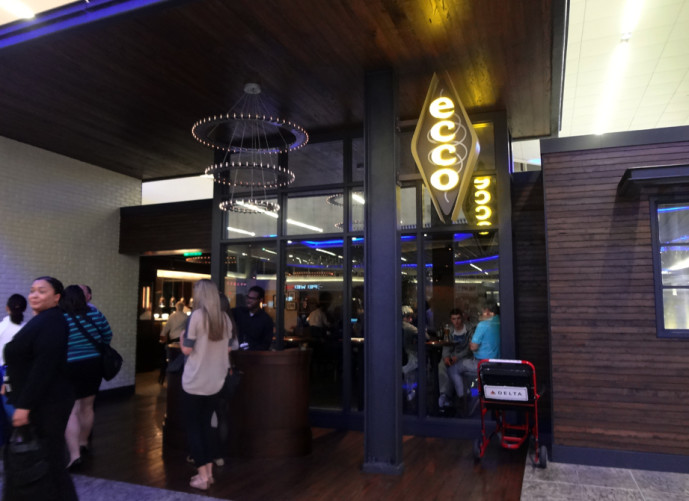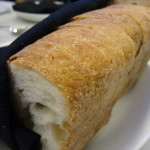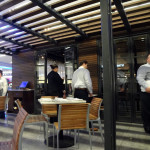 Next up was Ecco, in the F concourse, on the other side of security. I am tickled by the concept of buildings within buildings, and I think Ecco's building with its fake windows and patio with pergola is pretty precious.
When we sat, the table was already set with loaves of bread and boards of meet and cheese with delightful made-in-house condiments. One was an apricot jam with mustard seed and the other was an agradolce – a balsamic reduction with fennel, celery, and onion among other things. They were both great, and our server helped explain them, each and every one of the meats and cheeses, and which condiments worked best on what.
We bloggers were treated with Gigi Says ginger vodka cocktails, which were light, fresh, and very effective. Then we were treated to short rib stuffed piquillo peppers. These things are delicious, and the beef is Brasstown Beef – local fare is always good to see! I would definitely recommend this dish. Just great.
You know what else was great? The fried goat cheese balls. I had heard of these puppies' fame, but nothing could have prepared me for the sticky, gooey deliciousness. These are a must-try, hands down. Multiple rounds had to be brought out because they are such a favorite with everyone – and so poppable, too.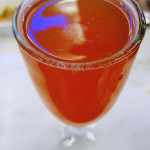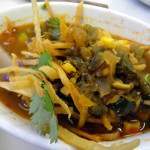 We also got a nice sample of The Original El Taco's chicken tortilla soup. This is the only El Taco thing we got to sample, and while it was good, it just couldn't compare to Ecco's offerings.
Last up for Ecco was another round of cocktails to send us on our way to the Food Court. What thoughtful, lovely folks!
I'd heard of Ecco before, and it's been on my (nearly 300 restaurant strong) to-eat list for a while, but this airport version was so impressive that the street location of Ecco just got prioritized a bit more, so I can share what I loved with Adam and explore the menu more. You don't have to have an international ticket to visit the F Concourse, so if you find yourself with time to kill in HJAIA, definitely check out Ecco. 4 stars!
Ecco
Concourse F Mezzanine
Atlanta International Airport
Atlanta, GA 30320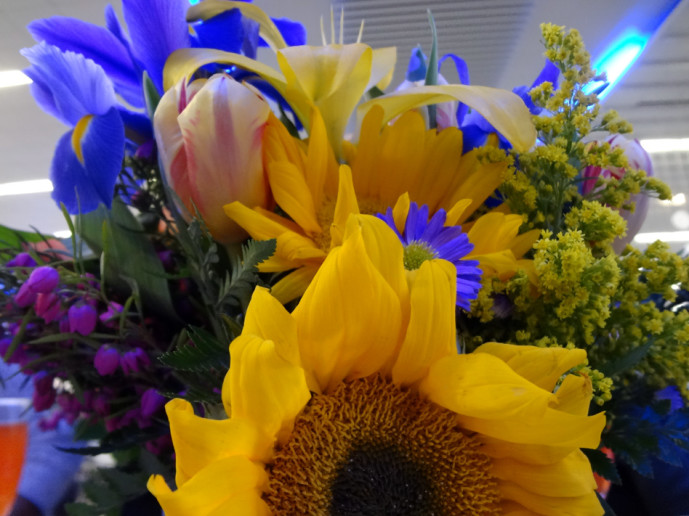 After departing Ecco, we just walked a little ways (a couple dozen feet, really) to the center of the Concourse F food court. I'd never been in this part of the airport before. It looks just like a nice food court at a mall.
The fine folks from The Pecan Bistro brought us over some chicken and waffles. Now, I know all about this classic dish with its origins going all the way back to the late 1700s and early 1800s. But, I'd never managed to get any in my face before, and so The Pecan Bistro will always have the distinction of being my first chicken and waffles experience!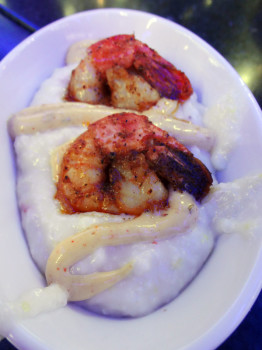 I was grateful that they came out with honey mustard instead of a ton of straight syrup. The chicken was great; it was tender, juicy and the breading was good. The waffle didn't impress me much and I wound up abandoning it due to an increasing lack of space in my stomach. I'm not sure I quite get this dish just yet, but I'll have to try again a few more times before i can say that for sure.
Next, we had shrimp and grits drizzled with cajun crème sauce, and boy was this creamy and delicious! I enjoyed the dish thoroughly, despite being a bit full! This is an item from the street location's brunch menu, and I am not sure if they serve it all the time in the airport of if it is a brunch thing there, too. I would recommend the dish regardless.
Lastly was the pecan pie. There is no sense in sugar-coating this one; I did not enjoy this pie. I thought it was dry, I didn't enjoy the texture, I got some pecan shells (or something equally hard) in my slice, and the topping tasted like Cool Whip. I think I might just be a pecan pie snob, but I would skip over this item if you visit The Pecan.
With one item being noteworthy, one being disappointing, and one being okay I'd say The Pecan Bistro is middle-of-the-road. 3 stars.
The Pecan
Concourse F Mezzanine
Atlanta International Airport
Atlanta, GA 30337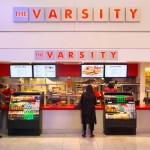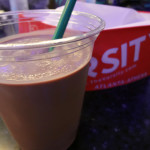 Lastly, The Varsity sent over some chocolate shakes and frosted oranges – and hats! Incidentally, these are the only items the Varsity offers that I would consider ordering or recommending to a friend. The place is classic, and everyone should go once just because, but I would not venture to say that the food is good. I just love me some FOs.
I was stuffed to the brim, but I still managed to down most of my frosted orange before I decided to do myself a favor and walk away from it. I wasn't brought up to waste food and it is still hard to see (oh, all those leftover buffalo shrimp at the ChopHouse… it still pains me), but sometimes you just have to let go.
The Varsity
Concourse F Mezzanine
Atlanta International Airport
Atlanta, GA 30320
I had a great time getting to know some of the offerings at Hartsfield-Jackson Atlanta International Airport – thanks again to the Association of Food Bloggers. I've been selling myself short by just sitting in my little chair by my gate and just getting a sandwich or coffee if I am famished. There are some reasonable mid-ranged places in pleasant areas where you can sit at a table like a human being, and there are nicer joints that create a whole atmosphere for you. While I was aware of latter type, I never feel much like taking a risk or exploring when I am traveling for fear of complicating my day further, but ChopHouse and Ecco were completely on point and I would definitely recommend either of those if you are looking for a nice place to relax and have some totally scrumptious food at the airport.
Here's a list of other posts by bloggers who were there:
This piece from Peaches Please with luscious photography that makes me quite envious
Eat Local Even When You're Leaving Town from Occupy My Family
Atlanta Airport Food Doesn't Suck from Miss Foodie Fab
This chapter from Marie, Let's Eat!
(Since this event was hosted in-part by HMS Host, I received my food and beverages without charge. However, the words and opinions above are my own.)
emily
Nerd. Foodie. Gamer. Homecook. Perpetual planner. Gardener. Aspiring homesteader. Direct response graphic designer. I use too many damn commas.